The petrochemical and polymer industries are in the midst of a major realignment as companies position themselves for growth with the low-carbon/circular economy at the forefront of strategic thinking.
The engineering thermoplastics (ETP) sector is poised to play a key role in this transition and help push innovation over the next decade – just as those materials have helped transform industrial activity over the previous decades.
But the market landscape will likely look a lot different in 2022 as some familiar, long-standing producers of virgin resin and compounds change tack. Some have already announced plans to sell or spin-off their ETP businesses in preparation for the economic challenges ahead.
High profile materials divestments
In November, DuPont said that it intends to divest a substantial portion of its Mobility & Materials segment. This includes Polyamide 66 (PA 66) engineering resin – originally given the trade name nylon more than 80 years ago – and more than 70 years since the first retail sales of its nylon stockings. The sale – which will include many of its long-standing products – will be used to acquire Rogers Corp for $5.2 billion.
Lanxess intends to transfer its High Performance Materials (HPM) business unit to an independent legal corporate structure. HPM supplies high-performance plastics used primarily in the automotive, electrical and electronics industries. And in September, DSM said it was reviewing strategic options for its two materials businesses – Performance Materials and Protective Materials. Sale of the businesses has not been ruled out. Also, Trinseo has put its European styrene operations and a polystyrene business that supplies the polymer in Europe and Asia up for sale.
Surprise amid strong demand
Some market participants expressed surprise over the timing of the announcements, particularly as demand for ETPs is expected to remain strong moving forward.
One market participant wondered aloud if these moves signalled 'the beginning of the end' for Polyamide 66 (PA 66) resin in the automobile sector. Another market source disagreed, saying PA 66 resin 'definitely has a future' in the fast-growing electronic-vehicle (EV) industry, along with PA 6, polycarbonate and other materials.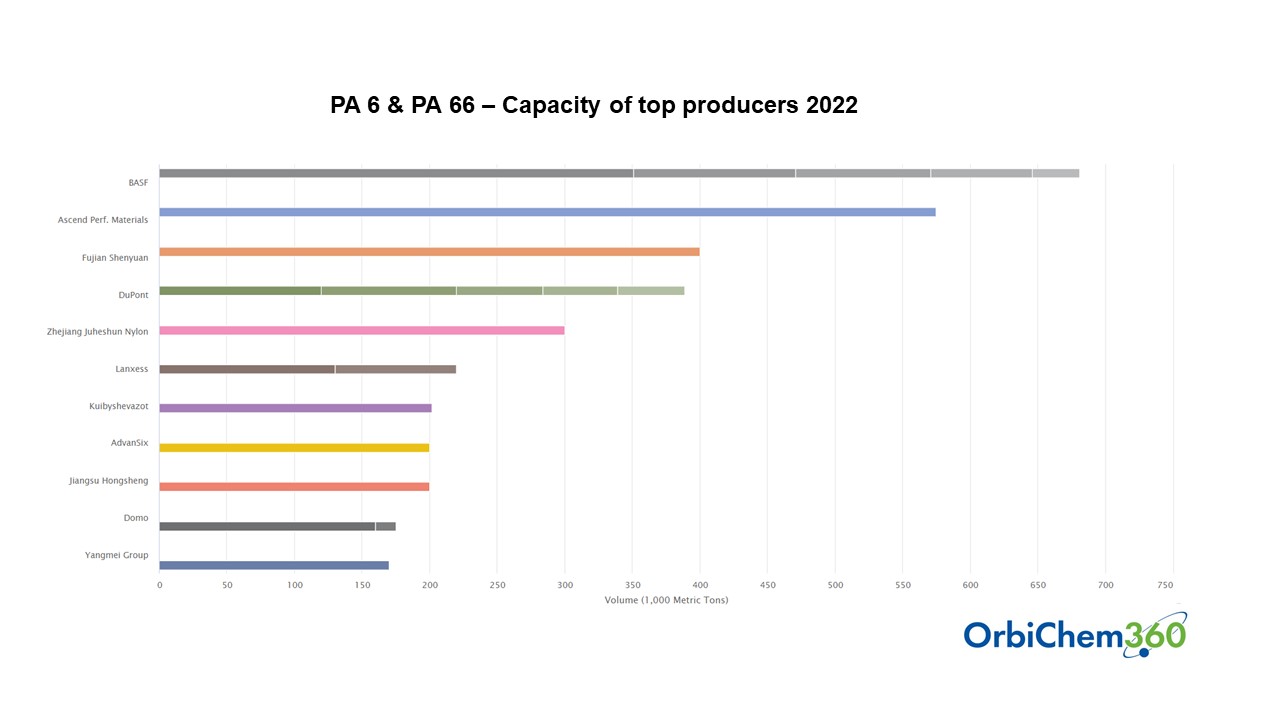 Many countries have announced plans to cease sales of combustion engine vehicles by 2035, if not sooner. Some ETP consumers are concerned about further consolidation in the polymer compounding sector, particularly as large and small independent compounders have been purchased by polymer producers in recent years.
---

"Engineering plastics is poised to grow faster than GDP...

driven by modernisation trends"

Jason Miner, senior global chemicals analyst, Bloomberg

---
Market participants also are eager to see which business units will be sold first, and are curious about the identities of potential suitors. Reports published in December indicate strong interest from private equity firms. Some market participants believe other engineering thermoplastic producers are interested in some of the business segments.
A senior global chemicals analyst at Bloomberg Intelligence told Tecnon OrbiChem that use of engineering plastics 'is poised to grow faster than GDP in our view, driven by a wide range of modernisation trends'.
'Newer automobiles remain a key driver of growth. For example, BASF includes expected plastics growth in its regular assertions that battery electric vehicles contain 2.5 times (the volume of) chemicals (of all sorts) versus internal combustion cars,' said Jason Miner.
'Celanese emphasised similar growth in June when it bought the Santoprene business from ExxonMobil with the goal of bolstering its overall automotive offerings,' Miner added.
Tecnon OrbiChem's business information platform OrbiChem360 indicates that DuPont produces PA 66 engineering resin at three locations in North America. The sites at Parkersburg, West Virginia; Richmond, Virginia, US and Kingston, Ontario in Canada have total capacity of 214,000 tpa.
Du Pont also produces PA 66 at Uentrop-Hamm, Germany (120,000 tpa) and Jurong Island, Singapore (55,000 tpa). As for PA 6 resin, Lanxess has production sites at Uerdingen, Germany, (130,000 tpa) and Antwerp, Belgium (90,000 tpa), while DSM has plants at Emmen, Germany (70,000 tpa) and Jiangyin, China (50,000 tpa).
DuPont produces POM homopolymer resin at Parkersburg, West Virginia (75,000 tpa) and Dordrecht, Germany, (95,000 tpa). As for PBT resin, DuPont has production capacity of 40,000 tpa at Cooper River, South Carolina. In Europe, DuPont and Lanxess own a 50:50 joint venture called DuBay Polymer with 80,000 tpa of capacity at Uentrop, Germany, while DSM has 30,000 tpa of production capacity at Emmen, Germany.
DuPont divests
Businesses within the Engineering Polymers and Performance Resins divisions of DuPont's Mobility & Materials segment are earmarked for divestment. And its stake in the DuPont Teijin Films joint venture is up for sale.
Brands including the polyamide Zytel and the polyacetal Delrin – both invented by DuPont – are on the market. The company's thermoplastic elastomer Hytrel; its polybutylene terephthalate Crastin, the ethylene acrylic elastomer Vamac and PVF film Tedlar are on the divestments list.
Their combined revenues exceed $4 billion and – based on full year 2021 estimates – the EBITDA figure is around $1 billion, according to DuPont. The transaction is expected to close in the second quarter of 2022. It is subject to customary closing conditions, regulatory approvals and approval by Rogers' shareholders.
E-mobility driving high performance materials
For Lanxess, the portfolio of the HPM business unit includes the engineering plastics polyamide and polybutylene terephthalate (PBT), as well as thermoplastic fibre composites. The business unit is characterised by the high backward integration of its production processes. According to a Lanxess press statement, 'electromobility in particular is a promising field of application for the Lanxess plastics, which are used predominantly for car bodies, battery housings and charging infrastructure'. The business unit employs around 1,900 people at 14 sites worldwide with sales in the low single-digit billion euros range, the company says.
DSM's Performance Materials business – with annual sales of $1.9 billion – includes polyamide 6 and 66 as well as special polyamides such as PA46, PA410, and PA4T PPA. Other products include PET and PBT, thermoplastic copolyester (TPC), and polyphenylene sulphide (PPS). A DSM press release outlines a strategic decision '…to fully focus its resources and capabilities to address the urgent societal and environmental challenges linked to the way the world produces and consumes food.'
---

"Companies that innovate see margins that average higher

than those of commodity polymers"

Jason Miner, senior global chemicals analyst, Bloomberg

---
'The portfolio of products used in autos may be going through an accelerated turnover as the demands change,' Miner said. 'Yet those companies that continue to innovate see margins that average higher than those of commodity polymers. Of course, there are applications in healthcare, electronics, energy and elsewhere, that draw heavily on engineering plastics. While commodity plastics remain a game of scale, investors and managers in specialty chemicals increasingly see high-performance plastics as a way to avoid the growth risks inherent in the spread of bans on single-use polymer products.'
Coincidence? Or driven by ESG...
It could be merely coincidence that these companies have placed well-established businesses for sale at the same time. However, with shareholders increasingly putting pressure on large corporations to support Environmental, Social, and Corporate Governance (ESG) initiatives, plastics – especially single-use plastics – may not be as desirable in a company's portfolio as they once were.
In the 1967 movie The Graduate, the lead character Benjamin Braddock (portrayed by Dustin Hoffman) was famously advised to consider plastics as a foundation for future success.
It is difficult to foresee any future that doesn't include plastics in one form or another. It is, however, clear that companies are taking a hard look at the megatrends around the material. And in doing so, they are coming to terms with expected changes in consumer needs as well as consumer activism.