Acetic acid has been made by biobased routes for centuries, albeit in a dilute form. If wine or other alcoholic beverage made by fermentation is allowed to become exposed to air, the ethanol content is converted to acetic acid. That is how vinegar (in Latin acetum) is made.
Today, however, the vast majority of acetic acid is made synthetically.
Worldwide acetic acid production capacity is at almost 21,000 kilotons per annum in 2023, according to Tecnon OrbiChem's data intelligence platform OrbiChem360.
Historically, it was derived from petroleum via cracking, yielding ethylene. The ethylene is hydrated using an acid catalyst to produce the alcohol ethanol. The oxidisation of ethanol to acetaldehyde, with subsequent oxidisation using a manganese catalyst, yields acetic acid.
Nowadays acetic acid is generally produced via carbonylation – reacting methanol and carbon monoxide over a catalyst. However, not only is it an energy-intensive route, it relies on the fossil-based natural gas as the source of feedstock syngas.
Acetic acid is used in the production of vinyl acetate monomer (VAM) employed in paints, coatings, sealants, adhesives and ink for textile printing. It is also used to manufacture the purified terephthalic acid (PTA) that goes into textiles and plastics.
Until this decade, BP was the world's largest producer of acetic acid, alongside US-based Celanese. In 2020, BP agreed to sell its acetyls portfolio to another British firm Ineos. Already a major acetic acid producer, Ineos became the world's second most prolific producer. Across its brands Ineos Petronas, Lotte Ineos and Ineos Acetyls, the company's production capacity is over 2000 ktpa.
Over 90% of the total amount of the world's current acetic acid output uses petrochemical-based production routes. This is accompanied by a great deal of CO2 emissions.
---
"...It is estimated that for every kilogram of acetic acid produced from methanol – the route used by Ineos and other producers – 1.6 kg of CO2 is emitted..."
Tecnon OrbiChem
---
Research by a team including scientists from Northwestern University in Illinois, US estimates that for every kilogram of acetic acid produced from methanol – the route used by Ineos and other producers – 1.6 kg of CO2 is emitted.
Captured carbon to key chemical feedstock
The team went on to develop an acetic acid from carbon monoxide derived from captured carbon. In this process, captured gaseous CO2 is converted to carbon monoxide (CO) using an electrolyser. The team then passed the resulting gaseous CO through a second electrolyser. This part of the process relies on another catalyst to transform the CO into various molecules of two or more carbon atoms.
Internationally-supported, grants from four Chinese organisations, Canada's Natural Sciences and Engineering Research Council plus others funded the work, according to the press release.
Harvesting methane for acetic acid output
Using another ubiquitous greenhouse gas as a feedstock – namely methane – to produce petrochemical industry intermediate and/or end products such as acetic acid is also under investigation. The dry reforming of methane (DRM) yields syngas – a mixture of hydrogen and carbon monoxide. In a study by Bandung Institute of Technology scientists produced almost 500 kmol/h of acetic acid – with 99.4% purity – using 4.7 MMBtu of energy per ton of acetic acid.
In another study – published in the scientific journal, scientists demonstrated a photochemical flow reaction process producing acetic acid from a methane resource. By dissociating methane into methyl groups and using oxygen for carbonyl formation, a cascade reaction between the methyl and carbonyl groups generated an acetyl precursor, the team found. The precursor was subsequently converted to acetic acid – purely from methane and oxygen with no additional reagents.
---
"...India's Godavari Biorefineries is urging India's government to support the biobased chemicals sector with incentives similar to those for ethanol blending..."
---
Biobased acetic acid
Swedish company Sekab produces acetic acid sustainably. The company converts different types of biomass from forestry and agriculture into ethanol. The ethanol yield is then refined to biofuels and chemicals. Acetaldehyde, ethyl acetate and acetic acid are the chemicals. Sekab's output is validated under ISCC (International Sustainability & Carbon Certification) standards.
Using molasses-based ethanol for feedstock, India's Godavari Biorefineries Ltd produces biobased acetic acid at its Maharashtra-based facility. The company has operated since 1939. Speaking at the NextGen Chemicals & Petrochemicals Summit in Mumbai earlier this month, its executive director Sangeeta Srivastava urged India's government to support the biobased chemicals with incentives as it has with ethanol blending. There is some pushback when it comes to its use as raw materials in chemicals and biofuels. It is felt that such a vital raw material should serve food chains only.
In Europe, Lenzing – a producer of specialty fibres for the textile and nonwovens industries – commercialised biobased acetic acid along with partners including German specialty chemicals company Evonik 40 years ago. To mark that milestone, Lenzing announced the launch of its first CO2-neutral biobased acetic acid in a press release earlier this year. The new product is made with sustainably-sourced beech wood.
An alternative alternative approach
BASF has approached acetic acid and sustainability rather differently for a number of years. Methane sulfonic acid is marketed as a sustainable acetic, sulfuric and phosphoric acid alternative since the early 2000s.
Designated Lutropur, the German firm stepped up its output to 30 ktpa a little over a decade ago. BASF rose the output to 50 ktpa in 2021. It is marketed as readily biodegradable and nonoxidising.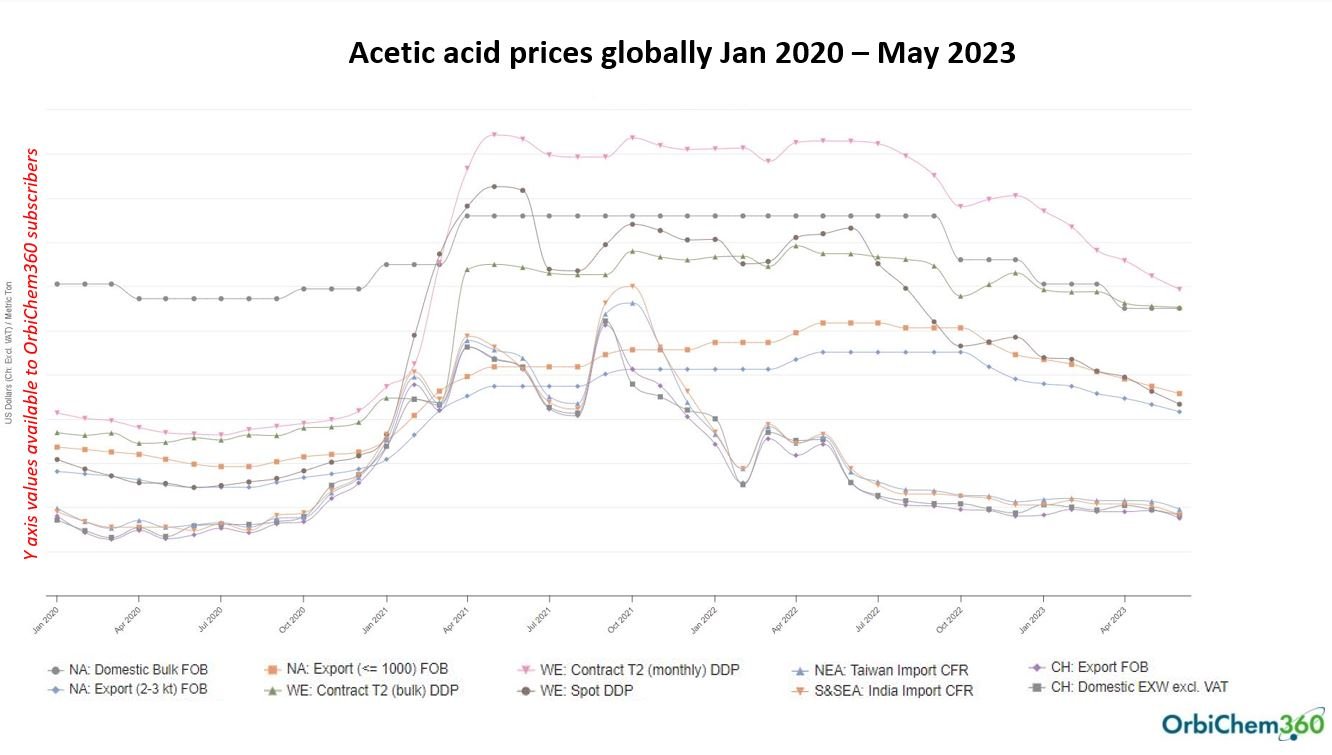 Source: Tecnon OrbiChem
In terms of acetic acid prices, as seen in the graph above, volatility characterises the current decade. As explored in our white paper Acetic acid markets stuck in supply side doldrums, the subsector experienced an array of stoppages in 2021. Force majeures impacted plants across the world, and weather-related issues were key to supply issues in the US - as further explored in our earlier blog post and white paper available here.

Prospects for the acetyl chain
The global energy crisis triggered by Russia's invasion of Ukraine has put solar power on a fast track. Even before the war the cost of new solar and wind power had become more cost-effective than new coal and gas power, according to an International Renewable Energy Agency report.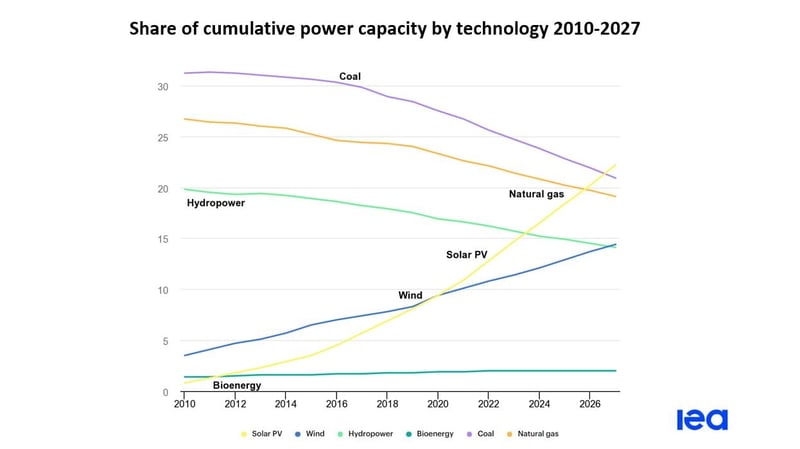 Source: Power Capacity by Technology from IEA, World Energy Outlook 2022
And as utility bills have rocketed in 2022 and 2023, consumers are increasingly turning to renewable energy sources. The US Energy Information Administration says electricity generation using solar grew nearly 8% in Q1 2023 compared to Q1 2022. In the EU, solar energy is the source presenting the highest growth pace.
And in China, solar energy installations rocketed well over 9000% (from 4.2 GW) in 2012 to nearly 400 GW last year. As explored in our blog post Solar energy boom sparks EVA capacity expansions, Chinese acetic acid producers have enjoyed high prices as the country's transition to renewable energy accelerated. Photovoltaic solar panels include two layers of ethyl vinyl acetate (EVA) sheeting. A flexible material, it is used to seal the solar cells within the panel structure.
With solar energy projections in mind, the future for acetic acid looks bright. Bringing sustainability to its production could be a further boon as we approach 2050.
The one-minute video above outlines the benefits of an OrbiChem360 subscription. For a demonstration of how Tecnon OrbiChem's insights into global chemicals markets can inform your business, hit the button below.