Our third white paper in the series A chemicals industry crystal ball features commentary, graphs and price level forecasting for a further 10 key chemicals.
A compound vital to the manufacture of unsaturated polyester resins (UPR), polyurethanes (PU) and plasticisers – and subject to swingeing price changes in Asia from 2020 – diethylene glycol (DEG) is included.

Another volatile chemical in terms of pricing – specifically in Europe as a graph in the white paper showing price levels from 2018 demonstrates – adipic acid is also included. Its near doubling price between 2020 and 2022 disrupted a range of end markets including automotive and consumer.
Mixed xylenes – a market currently disrupted due to increased demand from gasoline blendstock buyers – n-Butanol, propylene oxide, epichlorohydrin (ECH) and monopropylene glycol (MPG) are also covered in our latest white paper.
Lastly, our latest commentary and graphs on the chemical trio that make up PET packaging – ethylene glycol (also known as monoethylene glycol), purified terephthalic acid (PTA) and isophthalic acid (PIA) – feature in the paper.

---
Free white paper download:
A chemicals industry crystal ball: Forecasting key products
(Click here to go direct to the form at the end of this blog post)
---
Assessing the chemical mix
ChemForesight leverages datasets prepared by our consultants based on regular interaction with a roster of producers, industry contacts and market participants. The datasets, which are available to subscribers of our chemicals business intelligence platform OrbiChem360, help our analysts assess the relative tightness of given markets.
Without reliable supplies, and a degree of predictability in pricing, manufacturers of end products like PET packaging and products may struggle to maintain optimum output. Though the main feedstocks for plastic packaging – MEG, PTA and PIA – remain abundantly available, there are always other factors which impact on the supply chain.
---

Increases in output – though a buyer bonanza driving price downwards –

can threaten supply streams

elsewhere in the value chain
Tecnon OrbiChem
---
Beware of buyer bonanzas
China's upcoming increase in meta-xylene output is a case in point – a development our consultants explore in the white paper. PIA markets stand to be impacted by that, as, in turn, do all participants in the PIA supply chain.
While it remains true that an increase in output can result in a buyer bonanza, there is danger of prices being driven so low that operational costs exceed a chemical's potential income in another part of the global value chain for that chemical. Removing that competition has further consequences.
A driver for procurement team agility, it offers invaluable insight to buyers that may need to shift supply contracts or find spot deals at short notice.
A prior blog post and white paper authored by Tecnon OrbiChem business manager Javier Rivera, PET supplies range from tight to short, to balanced to long. Where are you? explores this phenomenon in depth.
---
A case in point: MEG in PET
Market forces – such as new plants coming onstream or stoppages at current facilities, changes in buying behaviours or unforeseeable surges in demand for a particular product – all play their part in where contract and spot prices for products settle. The pie chart graphic below shows how the total global output of MEG is broken down by region and country.
OrbiChem360 subscribers gain access to a further level of insight – namely, owner and capacity details for relevant facilities within each given country shown below.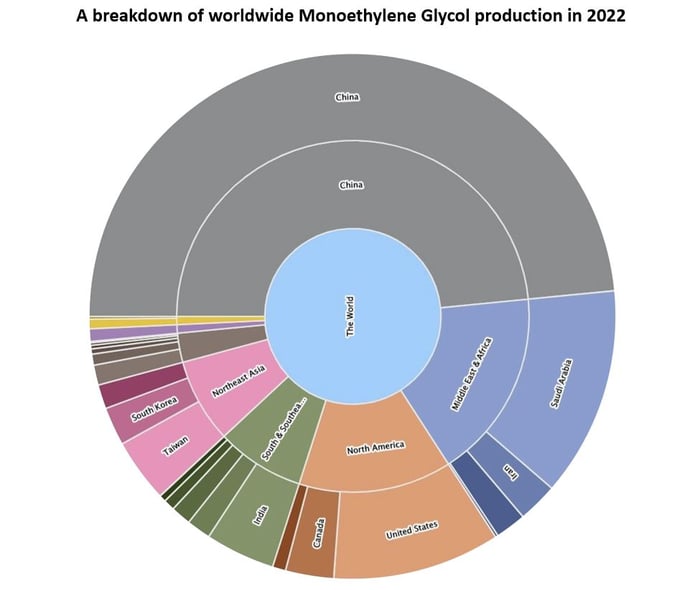 Source: OrbiChem360
As the graph below shows, utilisation rate has collapsed from a very high level pre-Covid to a mere 60% level in 2022, which illustrates the present oversupply in the world.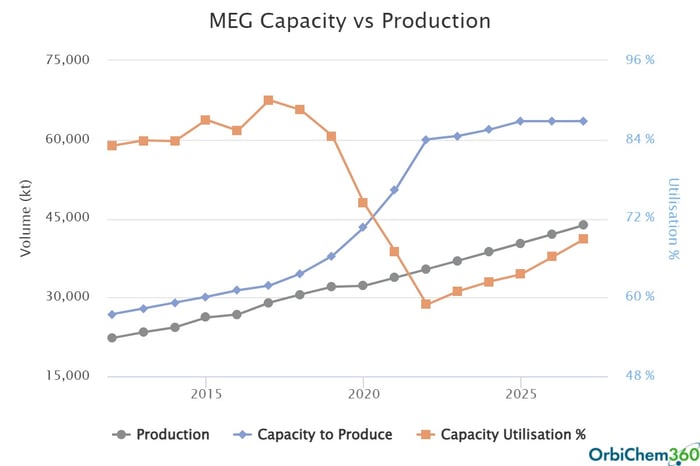 Source: Tecnon OrbiChem
Our blog post Supply chain visibility: Price forecasts aid procurement & planning outlined our founder Charles Fryer's motivation for developing the ChemForesight tool in 2017. This white paper – in common with its earlier iterations – includes an explanation of the three Crude Oil Scenarios ChemForesight leverages and how they are applied to make a price prediction.
White paper 1 is here. White paper 2 is here.
For a demo of ChemForesight and/or more information on how our chemicals intelligence data platform OrbiChem360 can bring visibility to supply chains relevant to your business – and aid planning and procurement – email us at info@orbichem.com