At the risk of perpetuating a troubling 2023 trope, the construction sector is contradictory on a global scale right now. While growing populations and increased single occupancy housing needs are highlighting a sheer lack of dwellings, targets to manage that crisis are not being met.
The rising interest rates and soaring material costs impacting construction and housing sector dynamics have one key result, weaker demand for end products and the chemicals used to make them.
Worrying news on abandoned construction projects in Germany's construction sector emerged in recent months. Then the government unveiled relief measures designed to prop its construction-industry up last month. It will inject EUR18 billion to kickstart affordable housing schemes, according to Reuters.
No matter where in the world dwindling construction economies are found – and they will often domino at global scale – they are tantamount to an economic health litmus test. A test with unwelcome results.
What's more, housing, construction and infrastructure downturns will always impact chemical markets. So far, the housing and construction trends evident in 2023 – and the expectations they are setting for next year – are no exception to the rule.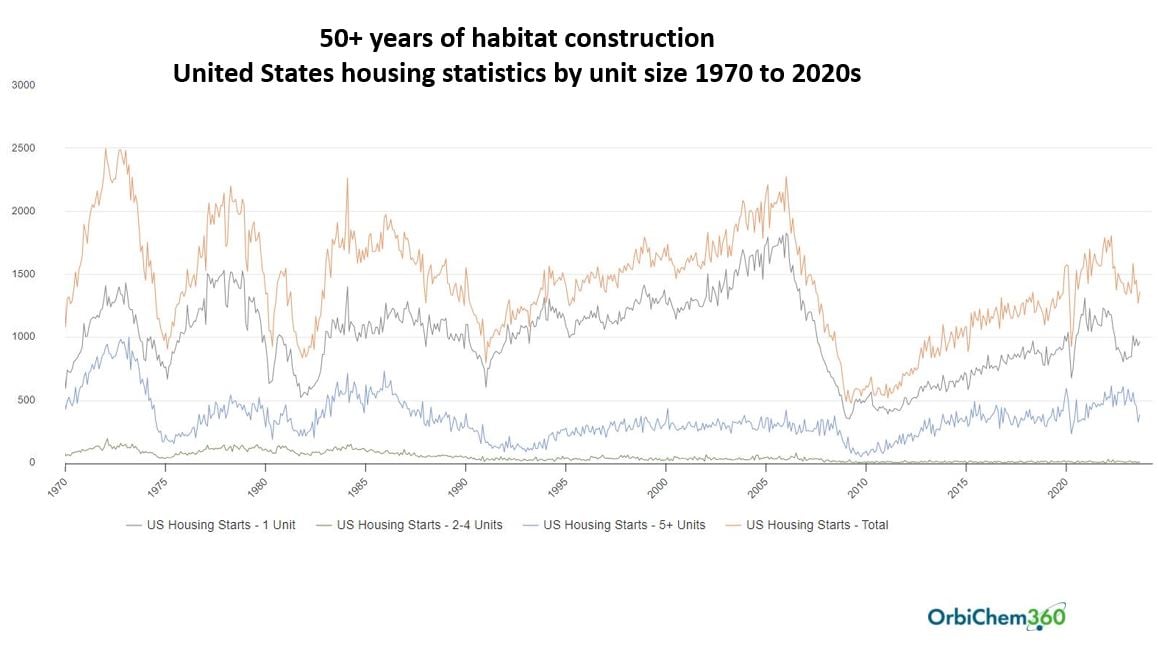 Source: Tecnon OrbiChem
From rock bottom upwards
As of today, most indicators point to a world close to the bottom of yet another economical cyclical cycle. Tecnon OrbiChem's business manager Jennifer Hawkins' succinctly pinpointed Q3 2023's closing mood in noting that there was a feeling matters could only improve... "it cannot get any worse, and that any change now will surely be for the better..."
Fleetingly there was hope, and there may soon be again... But an uptick in building materials sales is the key sign industry participants seek. Only on that can we begin to see the other side of the cycle.
Is there hope then in news that giant construction-orientated downstream chemical companies keep enjoying exceptionally high margins?
Tecnon OrbiChem's Poland-based consultant Jaroslaw Cienkosz points to positive financials within Swiss multinational specialty chemical company Sika. "Its material margin for the last nine months is as much as 53.1%. In the first three quarters of 2022, it was 49.3%.
The company says in its report that the competitive landscape remains very fragmented despite ongoing M&A activity. The top 30 Sika's competitors (incl. Sika as no. 1 with 11%) account for only 55% of the market share.
"There is still 45% of the cake subject to intensive market penetration/consolidation. Imagine, Sika does not say anything about volumes, except for mentioning once that business volumes increased in Indonesia and Thailand this year to date. These countries are indeed emerging markets, but they would not pull the rest of the world economies," Cienkosz adds.
---
...Builders realise their materials inventories are too low and rush to stock up. Feedstocks for end products - PVC pipes, rainwater goods and sidings - are suddenly required...
Tecnon OrbiChem's founder and senior advisor Charles Fryer
---
Business cycles in focus
Tecnon OrbiChem's founder and senior advisor Charles Fryer's outline of the chlor-alkali business cycle drills down to the effect on chlorine markets. Chlorine is a key material in PVC production. Also a starter material for the isocyanates used in polyurethane production, and the epichlorohydrin used epoxy resin production.
Prices for chlorine in the depth of the economic downturn will have been at rock bottom, Fryer explains in the presentation below. "But then builders realise that their inventory of building materials is too low, and they rush to stock up. Materials used in construction such as PVC pipes, rainwater goods, sidings etc are suddenly required. PVC producers see a surge in orders, resulting in a boom in chlorine offtake," Fryer adds.
---
Business cycles explained
---
Tecnon OrbiChem's Hira Saeed, who covers chlor-alkali markets, said market participants are lamenting Germany's weakened construction sector. "One source told me it is particularly weak compared to other countries.
"Another said that while a lot of German construction projects have been cancelled, many are being pushed to 2024 instead of being scrapped entirely, giving some hope for recovery next spring/summer," Saeed added.
Tecnon OrbiChem consultant Rachel Uctas covers plasticer markets. "The construction sector is a key driver for the plasticiser business, and the weak European market has reflected the drop in building activity in 2023.
"This has negatively impacted major plasticiser/PVC applications such as flooring, roofing and wallpaper, with all European economies seeing a big dip in activity this year, but Germany being one of the hardest hit.
"Expectations for the construction business next year do not offer too much optimism, and with such a major sector underperforming, plasticiser producers will be forced to continue to run plants at reduced operating rates," Uctas adds.
Polyurethanes in focus
Regina Sousa, Tecnon OrbiChem's polyurethanes-focused consultant, saw evidence of 'some improvement' in North American MDI demand in July and August after months of weakness.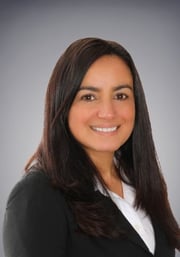 "But, it still remained low," Sousa says. "Although demand usually picks up during the summer, it did not grow as much as previous years.
"Seasonal demand from the construction sector remained at lower than previous year's levels and weighed heavily on MDI markets.
"Destocking was an issue in the lead up to July but activity in the construction sector improved due to low inventory and some buyers returned to the market.
One market participant said the increase in demand from this sector is expected to be short lived though and the overall mood is pessimistic," Sousa (right) adds.
China: a property market in crisis
And in China, abandoned construction projects are piling up. In fact, it isn't a stretch to say China's property market is in crisis. The prices of its houses – as in the US – are in decline and developers are defaulting on loan payments. The Chinese government's raft of stimulus measures since June have include reductions on mandated bank reserves and an ease on some borrowing rules for homebuyers. Mortgage rates have been lowered and the size of downpayments for home purchases have been reduced.
These measures, rather modest so as not to alarm the public, have had little effect, with potential buyers preferring to hoard their savings rather than risk them on purchasing property that is losing its value. But the market is showing little sign of recovery, according to a Reuters report published last week.
The problems of Evergrande and of the largest property company of them all - Country Garden - in defaulting on off-shore US$-denominated loans, are riling the property market. There is worry is that a total collapse of the housing will wreak further havoc within China's struggling economy.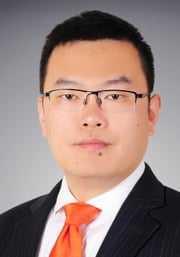 The Chinese government's raft of stimulus measures since June have included reductions on mandated bank reserves – 2023's second in the country – and an ease on some borrowing rules for homebuyers. But the market is showing little sign of recovery, according to a Reuters report published last week. There is worry is that a total collapse of the housing will wreak further havoc within China's struggling economy.
Tecnon OrbiChem's China-based consultant Terry Li (right) says the weak real estate situation means continuously low demand for construction-related petrochemicals products.
"Ethylene oxide prices had seen some upward trend in Asia as August began," explains Li.
---
...On the acrylic acid side of the market, Chinese businesses were eyeing start of the peak season in September with higher expectation...
Tecnon OrbiChem consultant Terry Li
---
"And that encouraged some opportunistic purchases in anticipation of higher prices. However, the activity in real estate and infrastructure industries remained weak and led to a low demand of DEA and TPEG. On the acrylic acid side of the market, Chinese businesses were eyeing start of the peak season in September with higher expectation.
"When considering the closing months of 2023, they were disregarding the drop in downstream orders compared to 2022. Their optimism, he says "is supported by the active and positive policies implemented by China's government during August".
"And there was some increased demand in water reducer and emulsion segments in the construction and decoration industry," Li adds.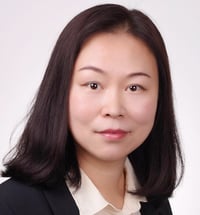 From fellow China-based consultant Carol Li - whose portfolio of monitored chemicals includes PVC - comes the observation that weak demand from the construction industry is having an "evident" impact on the country's PVC market. "The construction industry is the major end-user industry consuming many kinds of PVC products, including PVC pipes and fittings, profiles, doors, windows and floors," Li says.
"PVC prices in the domestic China market recovered slightly in early September, supported by the positive real estate policies by the Chinese government. However, PVC market prices moved down after that in the peak demand season. The downturn was due to the oversupply, as restocking demand has not increased substantially in domestic markets this September and October.
"Demand from the construction industry is expected to slow down in winter after the peak demand season, which will put downward pressure on the PVC market in China," she adds.
Another of Tecnon OrbiChem's China-based consultants Lulu Zhao says China's coatings sector is bearing the brunt of the country's construction woes. China's 2022 coatings industry output - although almost estimated at 36 million tons during the year - was 6% down on 2021.
"Among them, the production of construction coatings was 10.26 million tons, nearly 28% lower than 2021," Zhou adds.
In China, coatings are the largest downstream use of ethyl acetate. The paint industry accounts for more than a third of ethyl acetate's overall downstream demand. "With the continuous weakness of the real estate industry, the price of ethyl acetate in China is also continuously declining.
"The price of ethyl acetate in the East China market has continued to decline from Rmb9300-9400/ton in December 2021 to Rmb6500-6600/ton in July 2023. Concurrently, ethyl acetate profitability has seen a significant decline. Most ethyl acetate manufacturers have reported frequent losses in the past year, with profits becoming very thin even in several months," Zhou adds.
Orthoxylene and Phthalic Anhydride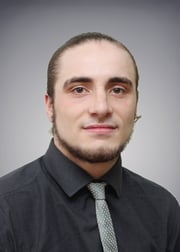 Tecnon OrbiChem consultant Ben Edmunds pointed to the construction sector's implications for downstream phthalic anhydride products. "One of my Germany-based contacts specifically highlighted the issue as a concern as the construction sector typically supports a number of phthalic anhydride's downstream products.
"The construction/infrastructure industry is one of - if not the most - important end-use industries for downstream orthoxylene-phthalic anhydride value chains.
"Economic pressure, high interest rates and wide-spread reports of project delays/ cancellations (particularly in Europe) paints a gloomy picture for long-term demand recovery in this sector, with many market participants worried that overall demand in 2024 could be flat or even worse compared to 2023," Edmunds adds.
Analysing Chinese market dynamics
Kaiyin Hu monitors markets for a range of chemicals including maleic anhydride (MA), oleochemical and biomaterials. "These products have seen their markets affected by the construction sector slowdown. A primary use of MA is for crosslinking with styrene to manufacture construction materials and end products such as bathtubs, sinks, shower stalls, cookware, marble goods and countertops.
The 95% refined glycerine Hu monitors is used to produce epichlorohydrin and epoxy resins – used in construction - and stearic acid, which is used in plastic pipes.

"Many invested in house renovation during the Covid years, which boosted unsaturated polyester resin demand. Once that demand is fulfilled, I guess we are bound to enter into a hangover state. And then adding to that, there is the global economic downturn and cost of living crisis."

The slowdown of the construction sector is global, Hu observes. "In Europe and the US, high interest rates are stopping – or postponing – house purchases. Most believe once interest rates come down, the housing market will pick up again based on there being more demand than supply."
China angle
However, Hu explains. "China's problem is different." Hu not only grew up in China, she spent a great deal of 2023 back in her birth country. "We may see a prolonged period of slowdown and re-adjustment in the economy there. This is also because there is a belief that housing supply exceeds demand in China.
"These days I keep reading articles about the societal problems in China, that people's mentalities have shifted and the birth rate is sliding. It could be that investing in properties might not be a good investment long term investment anymore.
"And now with China's economy in downturn mode and other uncertainties, people are very cautious. Now is definitely not the time to put money into a housing investment. I am not sure where will this lead us to..." Hu adds.