South Korean petrochemical firms are adapting their business portfolios to combat oversupplied markets amidst a bearish demand for products.
An endlessly cyclical sector, the petrochemicals industry alternates between upswings and downswings. For many however, the current downtrend is likely to persist due to fundamental trade shifts driven mainly by China.
Traditionally the largest importer of South Korean petrochemical products, China's active pursuit of petrochemicals self-sufficiency is a major factor in the industry's recent changes. Essentially, overcapacity is putting downward pressure on prices and making it difficult for South Korean petrochemical companies to compete.
In April 2023, South Korea's sole caprolactam producer Capro Corp shut its 205 ktpa plant with plans to restart at the end of June.
However, the company has extended the closure period of the Ulsan-based unit to the end of September.
While weak market fundamentals have already put severe pressure on northeast Asian caprolactam producers, rapid capacity expansions in China have also seriously impacted the business landscape.
The chart below shows how caprolactam capacity expansion in China is allowing the country to continue to dominate the global caprolactam industry. Tecnon OrbiChem's chemicals business intelligence platform OrbiChem360 shows that China's caprolactam capacity increased more than 400% in the 10 years to 2023. the country went from an output of 1.4 million tons per year in 2013 to what is likely to be 7.2 million tons per year in 2023.
Source:

Tecnon OrbiChem
In addition to this, extra capacity of a million tons per year is due onstream before the close of 2025. As of 2023, most major caprolactam producers are China-based.
Ammonia dilemma
Capro Corp's 2022 losses were over 122 billion South Koren Won (KRW), about US$95 million, due to a combination of structural oversupply, bearish demand and rising ammonia prices. Consequently, the company opted to shut down its Ulsan operation. There is currently no indication of when or if the company will be able to restart production.

The firm is now seeking a new owner to help it reposition its business with new growth drivers. Sources say Capro is looking to transition into a green energy company with a focus on blue and green hydrogen. It is a strategic move that will allow the company to leverage its existing hydrogen, ammonium sulfate and ammonia refining facilities.
Non-core asset cleanup
One of South Korea's largest petrochemical companies Lotte Chemical plans to enhance its competitiveness by cleaning up its non-core assets. To develop its future businesses, Lotte will invest in processes for producing battery materials, hydrogen energy and other strategic areas by 2030.

In a January 2023 public disclosure, Lotte Chemical announced plans to sell its entire 75.01% stake in Pakistani chemical company Lucky Core Industries.
The chart below chart shows China is the world's largest purified terephthalic acid (PTA) producer. Among the world's largest-volume commodity chemicals, PTA is a vital feedstock for polyesters including PET plastics. It is also used to produce engineered thermoplastics and fibres.
China's PTA capacity has expanded exponentially over the past 15 years and is expected to be nearly triple what it was in 2013 by the end of next year. China's PTA capacity was 32.4 million tons per year in 2013, but it is expected to reach 90.5 million tons per year in 2024. This expansion has put significant pressure on the South Korean PTA industry, with Lotte Chemical no exception.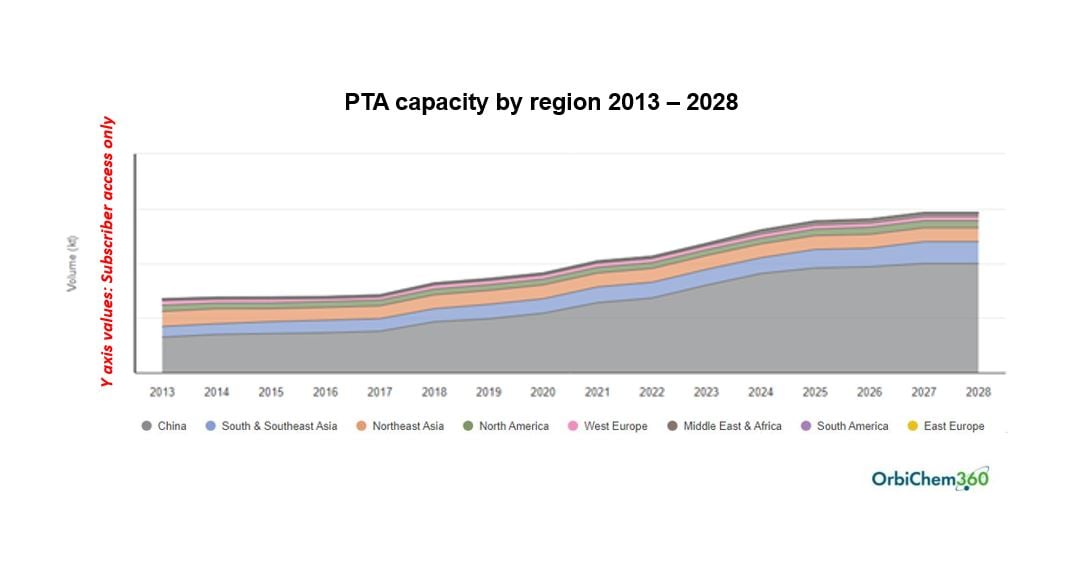 Source:

Tecnon OrbiChem
Once Lotte Chemical sells its Pakistani PTA plant, the firm will no longer be involved with PTA production globally. In 2020, it converted all its South Korean PTA production lines to isophthalic acid, becoming the world's largest producer of the latter intermediate. At the time, there was much less competition with China compared to PTA.
---
'...China's expansion of its isophthalic acid capacity is putting pressure on South Korean isophthalic acid business...'
---
However, as shown by the chart below, there was only limited isophthalic acid capacity in China before 2020. As this decade has progressed, China has expanded its isophthalic acid capacity. That move by China has added weight to the pressure on Lotte Chemical's isophthalic acid business.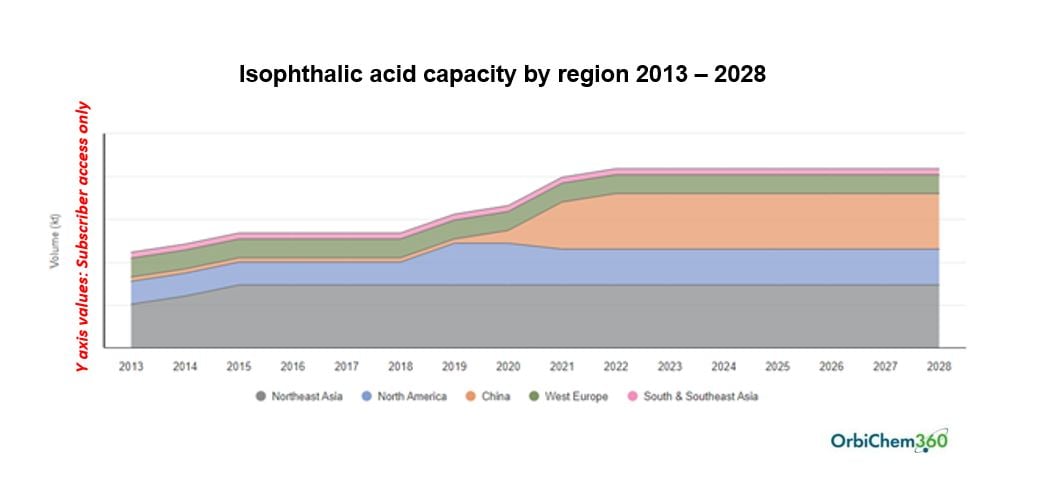 Source:

Tecnon OrbiChem
In addition, Lotte Chemical recently sold its non-core asset to its Chinese partner Sanjiang Chemical. The two companies established the 50:50 Joint Venture – Lotte Sanjiang Chemical – in 2010. The partnership established an ethylene oxide production base in Jiaxing city, Zhejiang Province, China.
Lotte Sanjiang Chemical reported an operating loss of 13.8 billion KRW ($10 million) in 2021 and 37.5 billion KRW loss in 2022. The losses were attributed to an oversupply of ethylene oxide in China.
In fact, OrbiChem360 shows that China's 2023 ethylene oxide capacity is expected to be in the region of four times as large as it was in 2013. In fact, OrbiChem360 shows that China's ethylene oxide capacity was 3.5million tons per year in 2013 but is likely to increase to 14.5 million tons per year in 2023.
Besides Capro Corp and Lotte Chemical, more South Korean petrochemical companies are attempting to transform their main business portfolios gradually. For example, LG Chem is considering selling off its naphtha cracking complex (NCC Complex 2) in Yeosu, South Korea. A key reason for this potential divestment is the current long supply.
Last word
It is becoming increasingly inevitable for South Korean petrochemical manufacturers to shift their business portfolios.
In this landscape, we may see them move away from commodity items and towards more high-value-added specialty and eco-friendly materials.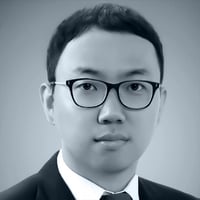 The author of this blog post Hyunmin Kim (or, his preference, Min) is based in South Korea. He is Tecnon OrbiChem's senior consultant for polyester fibre and resins.