This event has been postponed due to pandemic-related restrictions within China
Opportunities and challenges for polyamides and intermediates will be explored by Tecnon OrbiChem experts at the 19th China International Polyamide & Intermediates Forum next month (6-8 March, 2022).
Speakers from a range of associations, industry sectors and academia will join an impressive line-up for the event which will be held both in person (for domestic delegates) and online for the rest of the world.
An exploration of how the global market focus is shifting towards China will be the subject of a presentation by Tecnon OrbiChem's polyamide (PA) and intermediates experts. Lead Business Manager William Bann and Senior Consultant Michelle Yang will jointly present as part of the event.
---

'The forum is where you can find out about developments in China

and world markets for polyamides'

Charles Fryer, Founder and Senior Advisor, Tecnon OrbiChem

---
Javier Rivera, Tecnon OrbiChem's Business Manager for Fibres, PET & Intermediates, EO, Glycols & Derivatives, will examine the potential for China's PA 6 and caprolactam export markets.
Rivera will be partnered by Tecnon OrbiChem's China-based Senior Consultant for PA 6 & Intermediates, Methanol, Polyacetal Joyce Chen.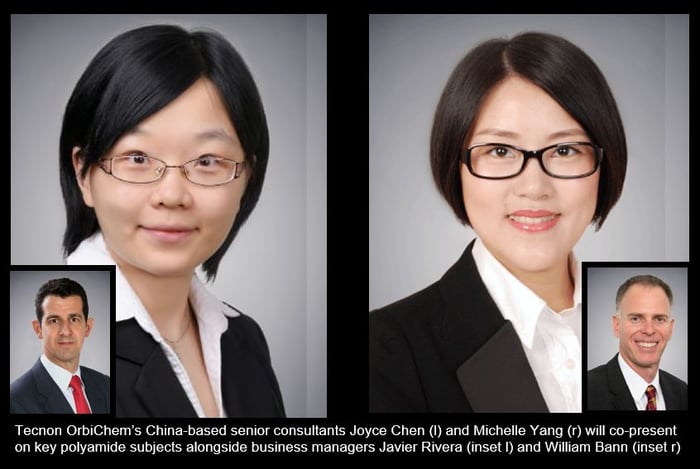 Transport and carbon neutrality
A Kingfa Sci & Tech Co representative will present on the potential for polyamide use in new energy vehicles. And, Hunan Normal University Professor Yi Chunwang will explore the role of new functional polyamide products in a carbon neutral world.
They will be joined by a representative of one of China's largest integrated energy and chemical companies SINOPEC and a yet to be confirmed representative of fibre, resin and intermediates company Invista.
---

---
On expectation that the US currency is tightening and that of China is relatively loose:



W

hat trend will the global economic recovery take?

Will China's PA 66 capacity see drastic increase in the future?

Where are the competitive advantages of PA 6, PA 66 and PA 56?

Where are commodities, including crude oil, heading?

Domestic adiponitrile technology achieved breakthrough. New Polyamide (PA) 66 plants will be commissioned. Foreign industry giants are investing in new PA 66 capacities in China, and domestic companies have also announced investment plans.
Presentations
Prospect of nylon industry during China's 14th Five-year Plan period
Deng Jun, Secretary General of Nylon Committee, China Chemical Fibers Association
Changes of benzene market fundamental and market prospect
Liu Weiming, Chemical Raw Material Purchasing Manager, Hualu Hengsheng Chemical Co Ltd
Prospect of China's caprolactam market in change
Gong Xiaojun, Sinopec Chemical Commercial Holding Company Limited Jiangsu Company
2022 Crude oil market outlook
Guo Chaohui, Executive General Manager Research Dept., China International Capital Corporation
Supply-demand situation of China's PA 6 market
He Zhuosheng, Executive Deputy General Manager, Changle Highsun Synthetic Fiber Technology Co Ltd
PA 6/Caprolactam – Has the moment arrived for China exports?
Javier Rivera, Business Manager – Fibres, PET & Intermediates, EO, Glycols & Derivatives at Tecnon OrbiChem

Joyce Chen, Senior Consultant – PA 6 & Intermediates, Methanol, Polyacetal at Tecnon OrbiChem
Development of new functional polyamide products to promote emission and carbon reduction
Yi Chunwang, Professor, Hunan Normal University
Discussion on the feasibility scheme of polyamide applied in new energy vehicles
Zhang Yong, Head of Automotive Engineering Plastics Dept., Kingfa Sci. & Tech. Co Ltd
PA 66: Ushered in a period of rapid expansion
Sun Hongfen, Analyst, CHTC Landview Network Co Ltd (CCFEI)
Discussion on adiponitrile technology and prospect of high temperature polyamide in China
Li Yansheng, Chief Engineer, Wison Engineering
PA 66 and Intermediates – Global market focus shifting to China
William Bann, Lead Business Manager – Acetyls, Polyamide & Intermediates, Chlor-Alkalis at Tecnon OrbiChem




Michelle Yang, Senior Consultant – Acetyls, Paraxylene, PTA at Tecnon OrbiChem
Polyamide – Opportunities and challenges in 2021-2022
Jiang Zhenhua, Analyst, CHTC Landview Network Co Ltd (CCFEI)
This event – which takes place from 6-8 March, 2022 – is supported by the Nylon Fiber Committee of China Chemical Fibers Association and National Chemical Fiber Corp.