Demand for polyurethane (PU) feedstocks is high as construction projects ramp up requirements. That, and the increased consumer focus on comfort at home due to Covid-19, has led to a spike in bedding and soft furnishing demand.
Those international trends are offsetting the dwindling demand for PU materials for automotive application. But while some markets may currently be buoyant, local issues are impacting supply chains. In Germany, that stems from the Rhine river's low tide issue. And in China, the cargo crisis continues to impact producers' capacity to deliver to their worldwide customer bases. But product volumes are down there too – thanks largely to an energy crunch the state is clawing its way out of.
Lastly, there's the seasonality aspect to consider. As demand for products that mitigate wintery weather conditions increases, manufacturers scramble for supply the PU industry relies on.
North America: Construction, bedding and comfort markets up, automotive down
North America's methylene diphenyl diisocyanate (MDI) market was reported to have improved in October. Supply was still snug but not as tight as in September. One buyer told Tecnon OrbiChem that volume could be found but 'any hiccup would lead to significant tightness again'.
On the buying side, demand was strong with good volumes reported by most of the polyurethane (PU) chain. Strong demand is expected for the rest of Q4, but there will be some seasonality and the construction market usually slows down for the winter. Imports continue to be delayed as freight squeeze and container shipping crisis plays itself out.
---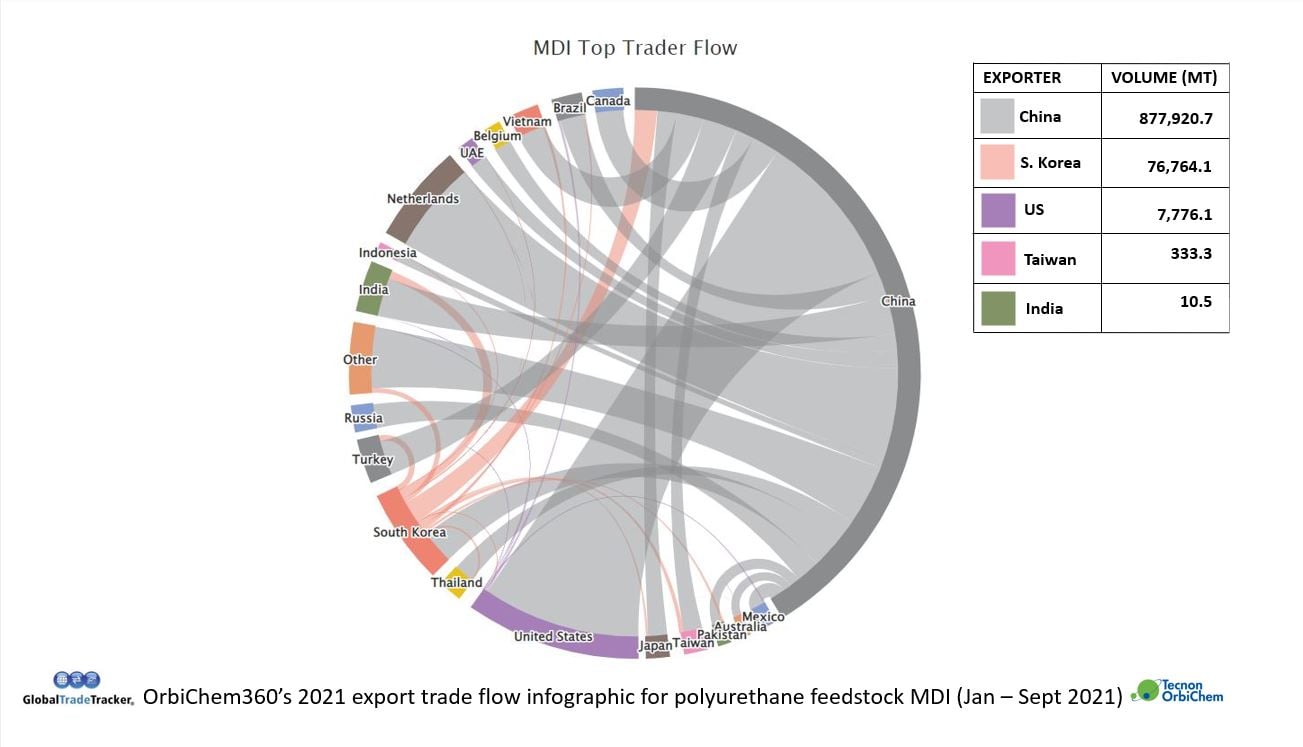 Source: Tecnon OrbiChem
As the infographic above shows, China is currently the world's biggest MDI exporter. October saw pure MDI production running at 75% of the state's total capacity, which could mean less is being exported. Subscribers see more granular data at Tecnon OrbiChem's new business intelligence platform OrbiChem360 – and import/export detail in metric tonnes for every country within the wheel.
According to data available on OrbiChem360, China's running total for MDI exports to September 2021 is 877,920.7 mt. The platform shows how China's total export volume is split between the nations in its customer base. Chinese exports to the US amount to 212,256 mt so far this year. The Netherlands received 125,314 mt. Its lowest volume customer was Indonesia with imports of Chinese MDI at just 11,001 mt this year. The import/export values of each country within the wheel are available at OrbiChem360.
Historical capacity by volume – and projected
The graph below puts that trade flow graphic into context by showing capacity by volume. North America's capacity to produce MDI has remained just below the 2,000 ktpa mark since 2018. Without solid indication that US capacity will grow before 2026, US markets could struggle to meet demand. China, however, will continue to increase capacity. It's a combination that could put US and global markets at risk if China's ability to meet demand suffers from unforeseen circumstances like the dual control energy crunch Tecnon OrbiChem analysed in October.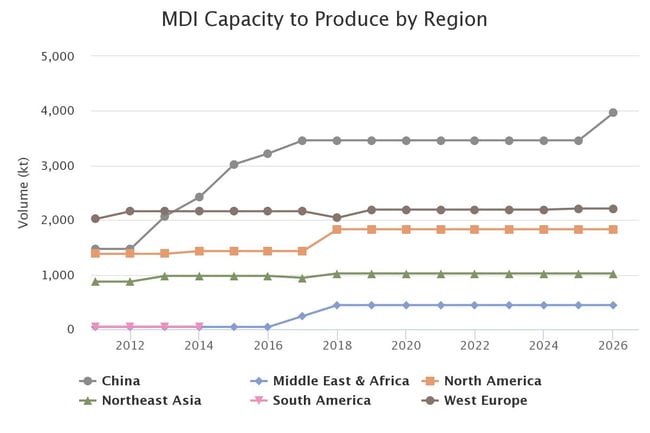 Source: Tecnon OrbiChem
That said, BASF and Huntsman's mooted plans for MDI plant expansion at Geismar, Louisiana in the US – reported in Tecnon OrbiChem's quarterly Plant and Project Review in October – will trigger a graph line uptick for North America's MDI capacity if live within 2025.
---
North America's toluene diisocyanate (TDI) supply situation is said to be stable. Demand is good from some sectors and likely to continue as we approach the year end. Demand for products for automotive are declining but comfort and bedding are pulling in good levels. One major foam producer said they are running flat out. The firm has sold out on foam, particularly into the bedding and comfort sectors. A TDI buyer said that polyols buyers are not making too many purchases because of automotive production cuts.
Polyether polyol supply in North America remains tight and prices continue to firm. Availability is reported to have improved as producers overcame issues caused by the hurricanes. There are however, still issues with raw materials, transport, and import delays amongst other problems. Demand for rigid polyether polyols from the construction and appliances sectors have been strong but could tail off as winter arrives. Demand into automotive applications was said to be lower due to the semiconductor shortage. Demand from bedding and comfort was reported to be slowing down but one major polyols producer said they were selling everything they made and were running flat out.
Europe: Markets stable despite Rhine's low tide and energy surcharge woes
Water levels on the river Rhine were a concern for market participants as they have been low since the end of October, meaning barges could not be fully loaded. Although no announcement was made about a PU disruption, BASF and Covestro may experience some issues at their isocyanates facilities. This is due to essential raw materials arriving via the Rhine. Demand has been generally healthy in November, but October and November have been slightly weaker compared to previous years. Low demand from automotive and polyols continues.
Europe's MDI market stabilised in October due to better supply availability. Borsodchem was reported to have ramped up production at its Kazincbarcika plant in Hungary following annual turnaround from August. However, the operator declared force majeure at the plant mid-November. European supply is now expected to tighten as a result. Imports are still low as other regions have had supply shortages over the last few months. The MDI market is also under pressure from high energy costs. That said, MDI demand saw strong levels from construction in October but this is likely to wane as we move into the winter months.
Huntsman announced an additional natural gas surcharge of €150/ton on its MDI, effective 1 October. The increase in prices is due to the significant increase in natural gas prices in Europe, as Tecnon OrbiChem previously reported.
TDI supply disruptions hinder European supplies
TDI supply in Europe has been disrupted and that continued into November. Borsodchem started a turnaround at its TDI plant, in mid-August. The plant was offline for two months but levels were ramped up in October. BASF is reported to have delayed the restart of its Ludwigshafen plant. Covestro was expected to have its Dormagen, Germany plant back online at the beginning October but this was delayed.
Compared to previous years, Europe's polyether polyol demand was still low in October. As the de-icing season approaches, polyols producers need to compete with monopropylene glycol (MPG) for the feedstock propylene oxide (PO). Demand for PO generally picks up as MPG sources are increasingly directed to products designed to mitigate cold weather snaps.
PO availability in Europe has been tight over the last few months. A few market contacts suggest the market had improved due to lower demand from polyols but supply is now described as very tight again. Propylene prices went up again in Europe, adding further upward pressure on PO. On supply, there could be problems at some polyols sites across Europe, as well as feedstocks MDI/TDI availability, due to low water levels in the river Rhine. Brand owners continue to monitor the situation and freight costs could increase due to these issues.
China: Optimism downstream as dual control policy eases
In China, overall supply in October was relatively tight. This was due to most of the major pure MDI plants operating at around 75%, a slight drop compared to September. Lianheng's MDI plant in Shanghai was running at a low level, while other major producers in China were operating as normal. The dual control policy is gradually being eased in the downstream sectors. This is allowing the major plants in east and south China to increase their operating rates.
In October, Chinese domestic crude MDI prices decreased mainly due to limited downstream demand. During the Chinese National holiday in early October, crude MDI prices were stable. Wanhua lowered its MDI supply, BASF and Huntsman reduced their operating rates at their plants in Shanghai due to lack of feedstocks. This led to supply tightness. However, as most downstream consumers had already replenished stocks before 1 October, demand was weak and purchases were made for immediate use during the holiday.
Tight TDI pushes flexible foam price up
In October, a supply shortage pushed Chinese domestic TDI market prices up. Chinese domestic TDI domestic supply was tight this month. A force majeure was declared at Cangzhou Dahua's 140 ktpa plant but it was back online, running at a low operating rate by mid-October. Overall domestic TDI supply has been tight, therefore producers have raised their quotations, and market contract prices reportedly went up. TDI demand was low in the first week because of the Chinese National holiday. After the holiday, downstream producers' inventories were low and replenished intensively. In addition, route freight fees were reduced by 30% and downstream export orders to Southeast Asia increased. Market sentiment and transactions improved and pushed TDI prices up.
Chinese flexible foam polyol prices increased at the beginning of October and declined toward the end of the month. During the first half of October, downstream manufacturers replenished intensively as feedstock inventory levels were low after the Chinese National holiday. Market sentiment improved, pushing flexible foam polyol prices up.
During the second half of October, flexible foam polyol prices declined following the downward trend of PO markets. Downstream end users started to consume inventories and demand for feedstocks was limited. Flexible foam polyol units mainly operated to fulfilling previous orders and reduced purchasing quantity of raw materials. PO market inventory pressure gradually increased to a high level, which pulled prices down. Therefore, flexible foam polyol prices decreased as well.
Tecnon OrbiChem provides wide-ranging expertise to assist clients optimise new chemical ventures.
Email: info@orbichem.com.