OrbiChem360: ChemExpert
The Keystone to Effective Budgeting During Periods of Uncertainty
As the global chemical market evolves and adapts to meet its greatest challenges, such as sustainability, volatility and availability, customers need insight into key trends, benchmark price assessments and on-demand data to enable smarter, faster strategic business decisions.
OrbiChem360: ChemExpert builds on Tecnon OrbiChem's legacy of providing the global petrochemical industry with flagship price benchmarks, reliable data and objective analysis of the key factors shaping the world chemical markets.
Our new platform provides an interactive full-spectrum view of the chemical industry on a single platform. Subscribers can compare prices, supply/demand data and trade flows facilitating informed decision-making and strategic planning, leading to improved performance and profitability.
The product's dashboard views provide interactive charts and tables that help users visualise geographies and the data that correspond to their product.
Subscribers use our services to answer important questions to help them optimise their businesses.
Prices
What are prices doing?
What is the benchmark price for a specific chemical product?
What are feedstock costs doing? What are margins doing?
How does our pricing compare in the market?
What are the key factors influencing prices?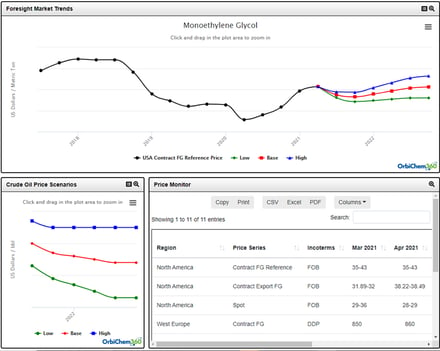 Forecast
How do we budget for raw material purchases?
What will prices do in the next six quarters?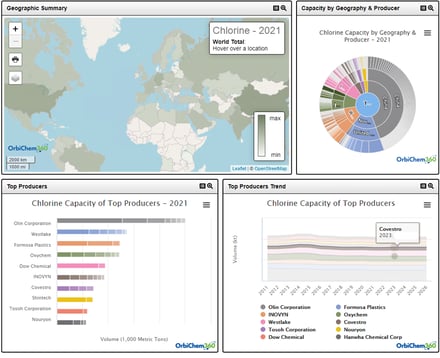 Supply/ Demand & Plants
What are the trends in demand?
Is the market growing or shrinking?
What are the future prospects for this chemical?
Are there sustainable alternatives?
How can we grow our market share?
How do we compare to competitors?
Who are the top players in market by capacity?
How have operating rates changed over time?
What plants are coming on and off stream?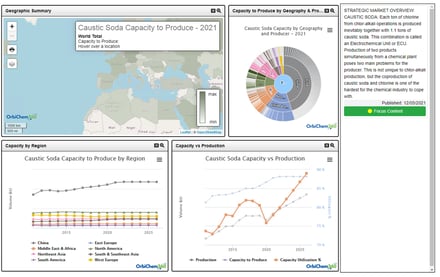 Capacity
Should we invest in new capacity?
Where are our opportunities for new business?
Where are the emerging markets and growing demand?
Are there opportunities for new business?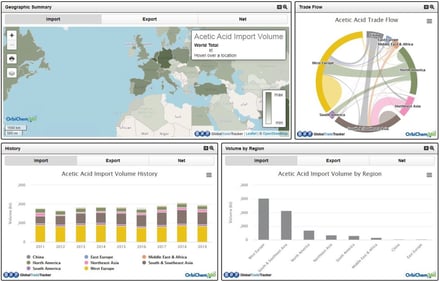 Trade
What trade flows are taking place in the market? How have they changed over time?
How will they change in the near term?
Which countries have cost advantages in trade?
What are the drivers of trade flows and are there arbitrage opportunities?
Flexible Functionality
Users can view the globe or select a region to drill down to analyse. The All charts are interactive so users can easily add/remove products from the display area and then sort and export the data based on their own individual needs. They can also include/exclude and change the filter criteria based on geography, price series, unit of measure, and currency.
All of this data can be analysed in methods that are most beneficial to each individual user and users can save search filters, download the datasets and customized images, or print charts right from their screens.

OrbiChem360 represents the continued evolution of Tecnon OrbiChem as the go-to industry benchmark for the global chemical value chain. OrbiChem360 adds new levels of functionality and performance, which translates into a data-rich business tool on a single medium.
To discuss how OrbiChem360 can support your decision-making and strategic planning, please request a demonstration.