Acetone prices have been in perpetual hell for the last 18 months - values plunged to historical lows mid to late 2019, falling significantly lower than their feedstock propylene costs. At the same time, phenol demand was strong so producers were able to hold on to margin by keeping phenol prices high. Then in January, acetone prices started to climb just as phenol demand was waning. Does this mean that the tables are turning for phenol/acetone?
The answer is yes but it will be a while. In the US, producers have been pushing for 3-4 c/lb price increases on acetone even though feedstock refinery grade propylene prices have fallen to historical lows. This is because imported material has been declining since anti-dumping duties were imposed mid 2019 on material from South Korea, South Africa, Spain and Belgium. Total January to November import volumes were 122,049 tons, this represents a drop of 43% compared to the same period in 2018. November's import volumes were 3,254 tons, representing a drop of 81.5% and 79.9% compared to November 2018 and 2017 respectively.
At the same time, demand has been improving. Methyl methacrylate production in the US has been running well since November, after a series of problems earlier. Lucite's Beaumont Texas site finally returned to normal operation in September after an extended period beginning in March in which the plant remained shutdown following technical difficulties. However, the plant was forced to shut down again for about a week due to the onset of tropical storm Imelda which hit the Beaumont area of Texas on 19 September. Lucite's Memphis plant went down for maintenance in October. Both plants have been running normally since November. However, MMA demand in the US is stable to soft, therefore plants will not be running at capacity.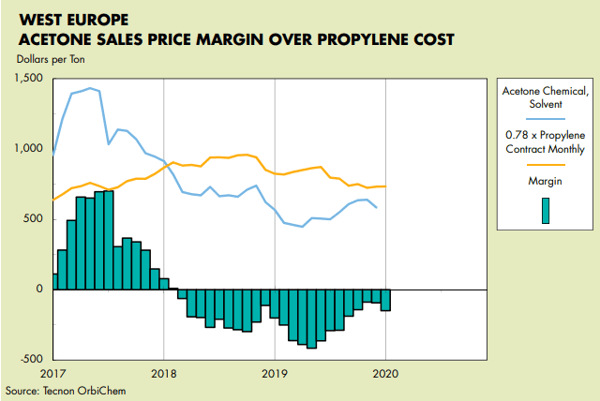 In Europe, producers had been losing money throughout 2019, particularly in May when the acetone price was €442/ ton below its feedstock propylene cost. This spread then started to narrow and in November and December, it had shrunk to €122-126/ton below propylene costs.
However, in early January acetone prices fell against a backdrop of strong and stable propylene values, and the spread between the two products widened again to €176/ton. Manufacturers complained that supply in the market was lengthening and buyers were once again pushing for discounts and able to play suppliers off for lowest prices. But then in mid-January, Ineos announced force majeure on phenol and acetone from its Antwerp plant following a workers' strike. As a result, supply was perceived as tight and buyers were reporting that while material was still available it felt less visible and accessible than a few weeks before. This is because phenol/acetone production in Asia had been turned down in the final quarter of 2019 on the back of softer phenol demand.
In China, acetone prices hit a 21-month low in November but these fell back further in December and they only recovered in mid-January after shipments of imported material were delayed and this saw inventory levels in the warehouses drop by 3,000 tons compared to December. Import Asian prices however fell by $20/ton compared to the previous month. Supply before the Chinese New Year holiday threatened to lengthen again after a number of plants returned from turnarounds but the balance was helped by improved demand from the largest downstream consumer, bisphenol A, which is seeing a boost in offtake volumes from new polycarbonate capacity and resurgence in the epoxy resins market. Two new MMA plants started in China in the second half of 2019 but any new acetone consumption was offset by turnarounds in the downstream industry.
From January to November, China imported 711,543 tons of acetone, which has already exceeded the volume of total year 2018. However, last year saw a number of downstream plants start and from the second half of 2019, consumption has been increasing, which has helped acetone prices recover from their lowest levels seen in 10 years.
Looking ahead – phenol/acetone turnarounds in the US, Europe and Asia during Q1/Q2 will keep supply well balanced in all regions. This will certainly help to keep prices strong during this period. Phenol demand is fairly lacklustre so operating rates will be kept well controlled during this time.
But just as acetone's fortunes seemed to be improving -- the coronavirus epidemic could keep the Chinese/Asian markets in limbo for a while longer. The Chinese New Year holiday has been extended by three days and businesses in Shanghai have been told not to return to their desks until 10 February.
Oil prices have dropped from a peak of $70/bbl (Brent) a few weeks ago to $58/bbl on Monday, but have since recovered to $59/bbl on 29 January. The cause has been the expectation by investors that the coronavirus in China will result in a drop in industrial activity and a fall in demand for petroleum products, especially jet fuel. With demand for air travel immediately hit and quarantines in China discouraging other forms of travel, the expected impact on oil demand could be significant. The crude oil rise came after sources from OPEC said the cartel and its partners were considering an extension of the oil production cuts until June and that they might further deepen the cuts to compensate for the weakening effect of the coronavirus outbreak. Meanwhile oil production in Libya has been halted by the civil war, and exports by Venezuela and Iran are highly constrained by US sanctions. If spread of the coronavirus is halted, crude oil markets could consequently bounce back.
The Chinese government already expects that GDP growth will drop from the expected 6% to 5% this quarter, while Q2 will see 6% restored -- many observers think this is optimistic. There will be repercussions throughout Asia, and the coronavirus outbreak has spread to more than a dozen other countries, causing stock markets around the world to weaken.
The acetone market faces another headwind too; new plants with a total of 500 ktpa phenol and 310 ktpa acetone capacity are due to start in China this year. These will be partly offset by new demand -- 240 ktpa BPA and 90 ktpa MMA capacity is also due to start around the same time but it will not be enough to consume the new material. However, with phenol demand remaining soft, it is possible production will be kept well controlled and therefore keeping acetone availability tightly balanced. In the meantime, the global acetone market will remain in an indeterminate state until China contains the coronavirus and trading is allowed to return to normal.