It could be considered one of the plastics world's most contradictory materials. Notoriously under-recycled due to technical difficulty, polyurethane facilitates energy efficiency at levels few other materials can muster.
Polyurethane (PU) foam insulated loftspace boosts energy efficiency by making buildings warmer, while rigid foam panelled walls do the same. When soft PU foams replaced heavy leather covered, coil sprung and horsehair padded seats in cars, fuel efficiency improved and transport's CO2 emissions dropped.
Similarly, the world's first sun-powered manned round-the-world flight owes it success to PU's lightweighting innovations. Solar Impulse II relied on a range of PU technologies. With such a useful material, the need for sustainable production routes becomes all the more pressing.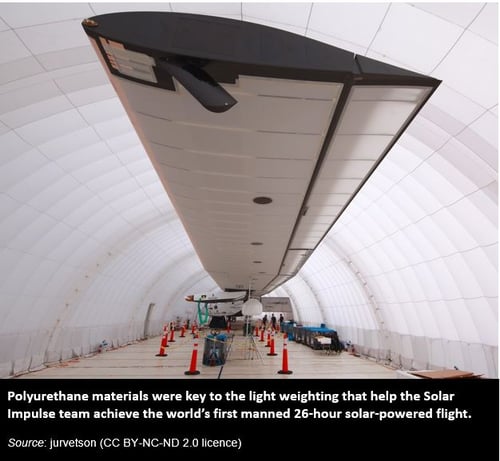 Recycling is another route for EOL PU, one that is well- if not widely

established.

Grafenberg, Germany-based Rampf Ecosystems manufactures polyols from the waste materials of PU producers. The company claims it established the world's first industrially usable plant for manufacturing polyols from PU.
Later this year, Repsol plans to open Spain's first PU recycling plant to produce recycled polyols from EOL mattresses using a Rampf technology. The plant, located around 220km south of Madrid, will process over 2,000 metric tons of post consumer waste annually

–

equivalent to the weight of 10 Boeing 747 passenger jets.
Renewability is key
Regina Sousa is Tecnon OrbiChem's consultant on

PU and intermediates,1,4 butanediol and derivatives. She says recycling is key to the polyurethanes industry and its future. 'I

t is important that we recycle polyurethanes whenever possible so that precious raw materials do not go to waste.
'For the same reason, it is essential to explore and implement renewable feedstock options now. Tecnon OrbiChem has access to a wealth of insight and expertise around sustainability and we can help companies deliver on environmental, social and governance initiatives like circularity and sustainability.'
Recycling methods
Hydrolysis is based on the interaction of chemicals with water, which leads to the decomposition of both the substance and water. Acids or alkalis can be used to set off the necessary reaction.
Acidolysis is the decomposition of a molecule under the influence of an acid.
Pyrolysis is a thermal degradation process that occurs in the absence of oxygen and yields a pyrolytic liquid (pyrolysis oil), biochar and gas. it is a recycling process that is attracting a great deal of investment as the world moves towards a decarbonisation of industry, as we explored in our blog Innovation in pyrolysis picks up pace in Q4, 2021.
From vegetable oil-based isocyanates...
BASF's launch of the first certified greenhouse gas neutral aromatic isocyanate earlier this year has put the sustainability of polyurethanes' key feedstock back into the spotlight.
---
'We must recycle polyurethanes whenever possible so that precious

raw materials do not go to waste'

Regina Sousa, Tecnon OrbiChem Consultant,

Polyurethanes & Intermediates and 1,4 Butanediol & Derivatives
---
A sustainable route to MDI uses biomass balanced biogas from residues and biobenzene from vegetable oils as the raw materials that make up Lupranat Zero M 70 R. Designed for polyisocyanurate panels – known as PIR or polyiso – and rigid polyurethane (PU) foam in the construction industry, the product will be available in the second quarter of 2022.
According to BASF, taking all product-related greenhouse gas emissions and the biobased carbon bound in the product together, it does not 'carry a CO2 backpack'. The product's feedstock materials are certified according to the European Union's Renewable Energy Directive II, says BASF.
Designated Lupranat ZERO – the renewable raw materials are used at the beginning of a mass balance process of chemical production. BASF's cradle-to-gate carbon footprint analysis demonstrates zero emission, renewable origin (ZERO) credentials for the product, the company says. 'Zero emissions up to the factory gate are achieved without offset certificates,' the company adds.
...To non-isocyanate synthesis
Academics are increasingly investigating non-isocyanate-based routes to produce PU. As pressure to reduce fossil-fuel derived chemicals grows, students are keen to explore sustainable options for delivery of this useful process. Further to that goal, scientists from Warsaw University of Technology's faculty of chemistry described a method for synthesis of poly(carbonate-urethane) materials in a European Polymer Journal paper last year.1
The team found that the green monomer dimethyl carbonate could be combined with diamines as a substitute of phosgene and diisocyanates in a three-step process. 'For the first time' the paper states, 'we have presented non-isocyanate synthesis of the aliphatic-aromatic poly(carbonate-urethane)s'. The paper, furthermore, reports its 'outstanding mechanical properties'.
A team of researchers at Germany's Fraunhofer Institute devised a way to make PU with carbon dioxide and recycled material – eliminating isocyanates altogether. The isocyanate component is replaced with dicarbamate. The process, which is already being used, requires high pressures and temperatures.
The institute's research team is working to optimise the technique and find more sustainable agents for foaming the polyurethanes.
Making toluene green
Meanwhile, New York, US-based company Anellotech is set to commercialise its single-step thermal catalytic process for converting biomass to aromatics – benzene, toluene and xylene. Toluene is added to gasoline to improve octane ratings but is also used as a solvent in paints, coatings, synthetic fragrances, adhesives and inks, and of course toluene diisocyanate, among its other applications.
Anellotech claims its Bio-TCat technology toluene and other aromatics are chemically identical to petroleum-based counterparts. The company's patent describes the conversion of biomass to benzene, toluene, and the three xylene isomers via a catalytic fast pyrolysis process.
Mass balance approach grows
Covestro announced in March that it is manufacturing renewable toluene diisocyanate (TDI) both in Dormagen, Germany – the country in which the company is headquartered – and in Caojing, China using the mass balance method. Its raw materials are derived from biomass or waste and mathematically attributed to the finished products. Covestro says its TDI is a drop-in technology meaning manufacturers can continue to use their formulations, equipment and processes.
Identifying sustainable alternatives
There is no doubting PU's excellence in a range of applications but, as decarbonisation goals gain greater traction downstream and consumers increasingly push for fossil-fuel free products, industry will be forced to modify.
It isn't that there is a lack of desire to adopt more sustainable approaches to manufacturing but navigating the change will require a deep dive into what supply chains are capable of delivering and how these meet each individual company's needs.
Tecnon OrbiChem provides wide-ranging expertise to assist clients optimise new chemical ventures. Our chemical industry data platform OrbiChem360 is built on insight gained since 1975 and is used by our customers to inform business-critical decision making.
Watch this one-minute video to find out more about the platform and what it offers.
References
D Wołosz et al,

Eur. Polym.

J

, 2021 DOI:

10.1016/110574