Both European and US unsaturated polyester resin (UPR) prices saw back-to-back monthly increases throughout the first half of 2021. The market continued to see unexpectedly high demand following the Covid-19 related slowdown of 2020, with demand far outweighing supply.

Increasing feedstock prices and skyrocketing logistical costs were the driving forces for price increases. Intermittent availability issues impacting key feedstocks had a knock-on effect on prices too.

Maleic anhydride (MA) availability has been one of the major headaches for both US and European UPR producers in 2021.
US weathers the storm
In September, Hurricane Ida caused several plant outages along the Gulf Coast, which put extra strain on an already weak supply chain. As hurricanes are a common occurrence in this area, plants are well prepared for such eventualities, hence not much long-term damage was sustained, and plants recovered quickly. Methyl methacrylate production was especially affected by the storm however, leading to availability issues for some US UPR producers in September and into October. Overall, UPR production wasn't affected too much, and volumes remained high throughout September.
Outside the automotive industry, end use sectors have been very healthy. Automotive production is plagued by a lack of semiconductors and many car manufacturers have cut production levels up to 40%. US construction and marine sectors show little signs of slowing anytime soon. Many producers are expecting H1 2022 to follow the similarly high demand trends set in 2021.
US UPR prices climbed by 10% between August and November 2021. It is unlikely they will stop rising as we go in to 2022. A severe lack of packaging in the US has led to some producers adding an extra price increase to all product shipped in drums and totes, up to 8 c/lb. This has been exacerbated by a shortage of truck drivers in the US, affecting the whole supply chain, as producers struggle to get raw materials in and ship UP resins to customers. There has been little to no indication that the situation will improve soon.
---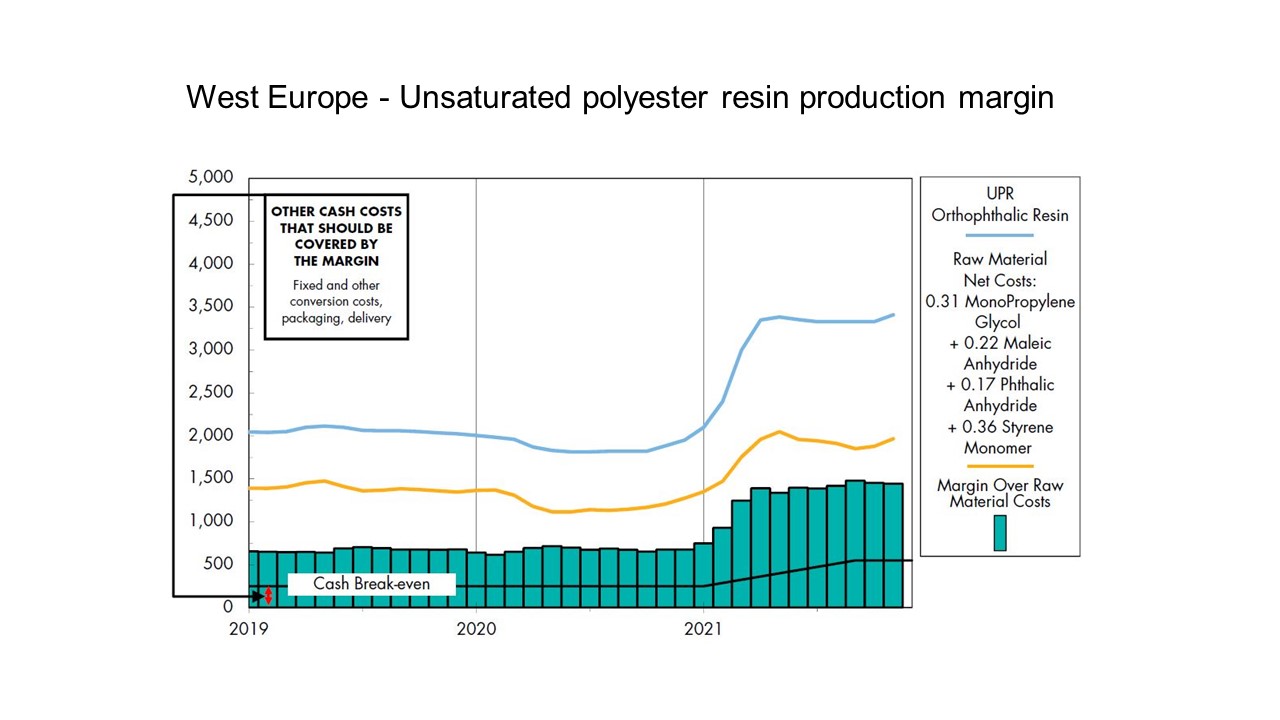 Source: Tecnon OrbiChem
The graph above represents the typical West Europe UPR production margin. The blue line shows European UPR prices over the past year, whilst the yellow line shows feedstock cost based on the formula of 31% monpropylene glycol, 22% MA, 17% phthalic anhydride and 36% styrene monomer. The black line represents costs in addition to the four key raw materials. Issues throughout 2021 such as: packaging and truck driver shortages, as well as surging energy prices, have pushed these extra costs up. As the graph demonstrates, UPR margins over raw material costs have risen by a large proportion in 2021 after remaining relatively constant throughout 2019 and 2020.
---
Petrochemicals markets: The bigger picture
"For all the petrochemicals, the market in the US has been the most volatile. This is extremely unusual. The Big Freeze earlier in 2021 knocked out production along the Gulf Coast then Hurricane Ida led to plant stoppages. Meanwhile, the US's Gulf coast companies endured internal logistics issues including truck driver shortages and railroad delivery disruptions due to extreme weather conditions there.
"Europe was unusually volatile as well. Germany's flooding in July caused disruptions. The Autumn saw water levels in the Rhine drop so significantly that barges transporting cargoes along them could only be half loaded. Asia by comparison, which is usually the centre of volatility, has been much more stable. Because China emerged from Covid-19 earlier, there were 12 months of very good business there.

"Any big change is destabilising. Even change for the better causes worries."
Charles Fryer, Senior Advisor, Tecnon OrbiChem
"The second half of this year has seen that progress steadily declining – a normal situation once inventory levels get back to normal. Buyers are being more cautious. Coming out of a recession, there's a boost as companies restore inventory levels that were run down in the recession. There was an inflation effect as China restored its inventory levels but the economy is slowing, and growth is slowing too.
"Growth in China is currently less than 5% per year, which is low for the country. There is some kind of pessimism that will probably be increased by the fall in the price of crude oil. Crude oil energy will be cheaper but industry likes stable markets because then they know where they are going.
"A 10% drop in the price of oil will see buyers asking themselves 'what's going on here?'. They think their customers might start cutting back and that there is no point in them stocking up if their customers stop buying. Any big change is destabilising. Even change for the better causes worries."
---
Demand up but Europe's producers feel the pinch
In Q3 2021, several major maleic anhydride plants in Europe announced force majeure, causing the already tight market to tighten further. This led to back-to-back monthly price increases. There has been some relief in Q4 however, as most plants are reported as fully operational. With imports from Asia extremely expensive and delivery timeframes up to several months, it has become very difficult for many UPR producers in Europe to run at full capacity even though their order books are full to the brim.
Demand in Europe was very strong in 2021. Many producers were simply unable to keep up with demand and had to turn away new customers. The European UPR market is very competitive, as cheaper UP resins from Turkey prevent other European producers from increasing prices as much as they would like to. However, with Turkey experiencing a very uncertain economic period, Turkish producers may struggle to keep prices down, especially if they import a lot of raw materials. On the other hand, devaluation of the Turkish Lira could allow Turkish UPR prices to remain very competitive. For more insight into potential competition in MA markets, click Tecnon OrbiChem's November post Maleic anhydride - New entrants to market set to cause disruption.
Setbacks hit China's Covid-19 recovery push
The Chinese UPR industry chain, including its upstream to downstream sectors, has been on the road to recovery after a heavy hit by the Covid-19 pandemic last year. With contained Covid-19 conditions, China's overall industrial sector was able to recover earlier than some other regions. It got back to normal in the second half of 2020, which was mirrored in UPR and its derivative industries.
The recovery process, however, has not been without setbacks. Covid-19 outbreaks still cropped up from time to time, and containment measures have adversely affected economic activities. More noticeably, since mid-September, industrial activities were widely constrained by China's energy consumption controls and power rationing measures.
September and October – traditionally a high-demand period – were disappointing in terms of performance. Energy and power consumption control measures put constraints on both supply and demand volume.
---
A snapshot of UPR exports in 2021
The graph below is taken from Tecnon OrbiChem's new business intelligence platform OrbiChem360.
---
Seasonality hampers UPR sector
By early November, China's UPR industry had already slid into a typical winter-demand mode. Though power shortage issues have been largely eased and most industrial activities have not been confined by power supply since early November, cold weather conditions in north China regions have constrained outdoor working activities in the construction and industrial sectors, leading to softer demand for UPR resin products.
UPR prices have tended to move in line with feedstock movements. October saw multi-year high prices for UP resin feedstocks due to skyrocketing energy prices and supply constraints. In November, there were price reductions across the Chinese chemical markets, including UPR raw materials. These were triggered by 50% lower coal prices in China and retreating global crude oil benchmark prices. Restored supplies after power rationing measures were lifted in China also led to price reductions. With UPR prices on the decline, buyers are in a wait-and-see stance and are holding off purchases in hope of lower prices.
Looking ahead on the demand side, market participants do not expect a quick recovery in the coming weeks. There could be a slight increase towards the end of December, with producers preparing for their temporary closures around the Chinese New Year holiday (31 January – 6 February).
As a tradition, UPR and its derivatives industries start their holidays at least two weeks ahead of the week-long public holiday. And plants restart two or three weeks after the public holiday.
It is a tradition that is partly related to labour availability. Domestic migrant workers return to their hometowns well ahead of the official holiday and return to work in more developed coastal areas well after the holiday. However, with new Covid-19 cases occurring from time to time in China, holiday travel is under great uncertainty. Local authorities are empowered to issue containment measures to stop any further spread of the virus. The consequence of that could be an inconvenience to travellers, with the knock-on effect of workplace absences.
---
A snapshot of maleic anhydride imports in 2021
As a key chemical intermediate used to produce UPR, sustained MA supplies are vital.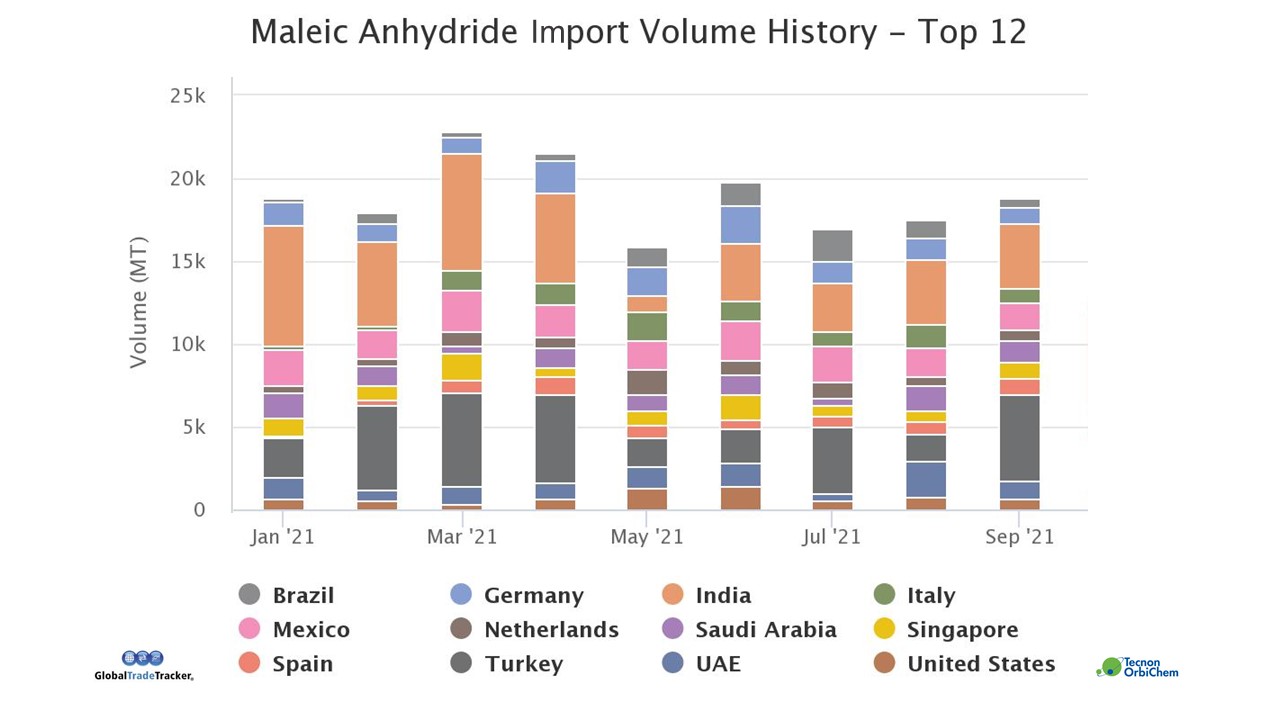 ---