Trade statistics are a vital source of information on international flows of chemicals. Wading through number after number can be mind-numbing, but a facility for instant representation of trade flows in graphics is now available.
The visualisations and infographics for chemicals trade flows globally have been optimised within Tecnon OrbiChem's data intelligence platform OrbiChem360.
As well as streaming additional datasets from our partner – Global Trade Tracker – and publishing them in realtime – the platform now delivers more of its instant insight in graphical form.
The enhancement converts over 30,000 datapoints reflecting chemical product flows worldwide weekly into user-friendly interactive visuals 24/7.
To optimise global insight, visuals (including pie charts) divide up the chemicals outputs and inputs of countries or regions selected on a monthly and/or annual basis. The time periods available for focus span the 10-year period prior to the present year.
With some countries' trade tracked and reported as rapidly as within five weeks, the upgrade offers insight that is up-to-date.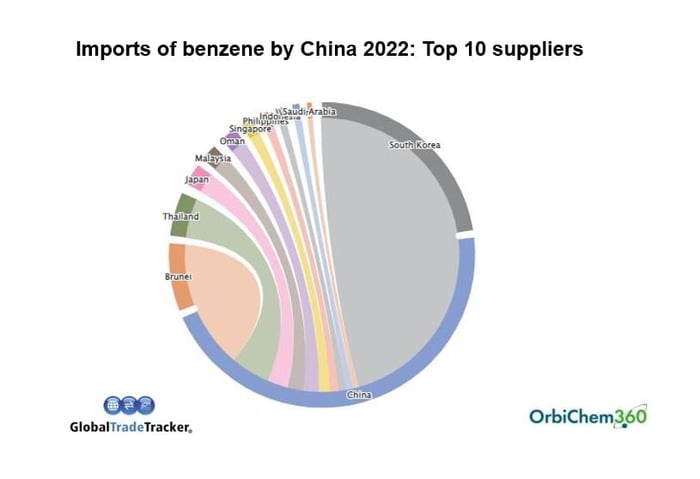 Source: Tecnon OrbiChem
Visual & conceptual insight
Throughout the upgrade process, our market analysts and software engineers were 'mindful that it is the way that information is designed that dictates how an audience relates to it,' comments Tecnon OrbiChem business manager William Bann.
While technology transmits information using recurrent lines of numbers, binary and coding, human communication requires a more illustrative technique, Bann adds.
---

'...The latest enhancements are designed to improve supply chain visibility,

expose hidden trade movements and enhance user experience...'

William Bann, Lead Business Manager, Tecnon OrbiChem

---
'The latest enhancements are designed to improve supply chain visibility, expose hidden trade movements and enhance user experience. For example,' Bann continues, 'subscribers can now drill down into the trade within any of the world's eight major regions, country by country.
'Where the focus is on a single country, it is possible to change the trade flow scope at the click of a mouse. This switches the perspective from an import to an export view for the product or chemical.'
'The level of detail available at country level, switching between chemical flows into one country – or out of other countries within a region – makes traditionally hidden chemical product flows visible,' Bann adds.
Trade 'mirroring' tool clarifies commercially-sensitive & shipping issues
When commercial sensitivity surrounds a country's export and/or import volumes for a particular chemical, import or export trade datasets may be fully – or partially – supressed. If a country's producers are limited to just one or two separate entities, for example, publicising export data potentially permits both too much insight into the other's business. For this reason, the government will be inclined to respond favourably to a request for data suppression by either, or both parties.
A typical example is export statistics of cyclohexanone from Italy. There is only one producer in Italy, and only a handful in Europe as a whole, so Italy's exports are not published. However, there is a "Mirror Trade Flow" tab on the OrbiChem360 platform, which instantly brings up all the imports of cyclohexanone by the receiving countries. The suppressed trade flows are laid bare (though care is needed in analysing them).
'Similarly, when it comes to import volumes, records may be suppressed if a country's buyers are limited to one or two,' Bann adds.
'So, in addition to more granular geographical detail, the enhancements make visible vital trade movements that may otherwise remain unknown due to suppression by the importer – or exporter – country's government.'
An unusually wide suppression of both import and export data has taken place of trade by Russia (and Belarus) since the invasion of Ukraine in February 2022. Russia is a large exporter of phenol, for example. Russian export statistics stop after January 2022, but by using the 'Mirror Trade Flow' button the trade can be followed from the imports recorded by receiving countries. This trade steadily fell away in the following months. As seen in the (below) graph of mirrored flows out of Russia, from August 2022 onwards Turkey is the only country that has been receiving phenol from Russia.
Source:

Tecnon OrbiChem
Shipping time lapses
Another distorting quirk within international trade analytics arises from the time lapse between a datapoint reference for an export by the supplying country and the reference for its import into the buying entity's country. Because this element of the trade arrangement can take several months internationally and up to 14 days between China and Malaysia for example, datasets reflecting business between countries does not always precisely align.
Put simply, the imports of country A from country B – and exports of country B to country A in turn – would be expected to be the same. Often however, they are not and consequently, datasets for a short period can reflect an apparent imbalance that is merely the result of timing.
'The ability to compare both countries' import/export data in reverse of one another helps our customers unravel flows to capture a more accurate picture of business practice.'
End market visibility
The latest enhancements also allow subscribers to determine a product's final country of distribution – an enhancement that over-rides skewed raw data feeds.
'It is not uncommon for the end destination for chemicals supplies – following large volume re-allocation into smaller cargoes at trans-shipment hubs like the ports of Rotterdam, Pusan and Singapore – to remain largely obscured,' Bann explains.
From datapoints to pixels
Other enhancements include world map interactivity in which a mouse hover mode shows trade flow and/or volumes for customisable time frames. Subscribers can also compare product volumes purchased and/or sold at regional and country level in stacked column bar charts (see graph above).
For global insight, visuals (including pie charts) divide up the outputs and inputs on monthly and annual basis. Focusing on specific time periods up to 10 years of history from the present. Some countries report as rapidly as within five weeks.