The International Energy Agency has set broad goals for achieving net-zero carbon emissions by the 2050 benchmark.
Cutting greenhouse gas pollution in half – based on 2005 emissions – is the goal outlined by US President Biden's 2030 Greenhouse Gas Pollution Reduction Target.
Meanwhile, the UN Intergovernmental Panel on Climate Change issued what is being called a final warning about the effects of climate change. The organisation warns, humanity needs to cut around two thirds of carbon output by 2035 – a significantly more accelerated target than others.
Corporate decarbonisation critical
The latest draft of the European Union's Corporate Sustainability Reporting Directive (CSRD) was issued for consultation on 9 June 2023.
It outlined the range of parameters that companies must report once the directive is transposed into law. With the launch set for January 2024, the June version could well have been the final draft.


The directive outlines new sustainability reporting responsibilities for major companies within Europe and international companies with a footprint in Europe. These include breakdowns for fossil fuel – and renewable fuels – consumption.
The draft also contains a stipulation around reporting the use of biogenic inputs – substances produced or derived using living organisms.
According to Matt Stone (pictured left), director at Prima Markets – Tecnon OrbiChem's sister company – there is 'already a major shift in corporate behaviour'.

'There is movement towards some of the low carbon fuels and inputs that the biofuels sector in Europe and the US have traditionally enjoyed free rein over.


---
"...[low carbon-intensity] markets are broadening horizontally...the increase in discretionary demand has many ramifications, in terms of threats to existing supply but also opportunity..."
Tecnon OrbiChem/Prima Markets
---
'We are seeing the market broadening out horizontally. We are seeing ambition expand and again, there are all sorts of ramifications of the increase in discretionary demand – both in terms of threat to existing supply and opportunity in terms of new markets opening up wedded to the low carbon intensity principles and ESG principles.'

This IBM article puts the number of impacted companies at 50,000-plus – other sources say that number is just within Europe. Suffice to say, this is far-reaching.
Most importantly, they will have to detail what their strategy is for decarbonisation and what resources they have allocated for delivering that strategy through to 2030. Suppliers to coatings manufacturing company Hempel will find themselves a good few steps ahead of the game.
---
At the heart of Hempel's business: The Sustainable Procurement Programme
The Hempel Group is serious about its commitment to reducing greenhouse gas emissions. In 2021, Hempel set science-based targets to reduce Scope 1, 2 & 3 emissions and embarked on an ambitious journey that also includes suppliers. Companies in its supply chains need to be committed to reducing theirs too.
That's the message from the Danish firm's procurement sustainability manager Dagny Nome (pictured right).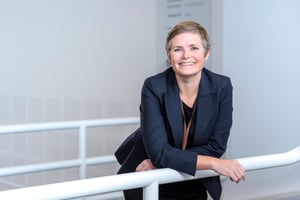 Hempel's perspective has widened beyond validating the sustainability of its internal production processes to those of the value chains on which it relies. Just over two years ago, it set in place a plan to engage suppliers, category by category. 'We started with the most carbon intensive categories in our supply chain, and include both direct and indirect spend. For example, 2023's focus includes both binders and logistics,' says Nome.
'We aim for high spend coverage, and invite strategic suppliers – through their Hempel category manager – to join the screening process. Category managers are crucial to the screening. By taking the time to understand where each of our suppliers stand on sustainability, but also provide feedback to these suppliers, we aim to develop good visibility on, as well as reward, sustainability performance across our full supply chain,' Nome adds.
A comprehensive questionnaire issued to suppliers probes their environmental sustainability ambitions, activities and targets, including waste, energy and sustainable procurement, Nome says 'The questionnaire is a basis for dialogue, and the purpose of the dialogue is to understand and engage. We are the voice of the customer, and must use that leverage to push for sustainability.'
Benchmarking sustainability
'Dialogue sessions and feedback are part of the screening process. Once the screening process is complete, Hempel issues its supplier with a scorecard and category benchmark. The process compels the supplier to share its data but, says Nome, 'the sustainability screening is confidential, that is something that has proven to be really important to everyone.'
Hempel is now engaged in ongoing dialogues with the sellers in its supply chains. With its low-performing suppliers, Hempel follow-up to monitor progress.

'They appreciate the time we have together in these feedback sessions,' Nome says. 'It is a process that combines best practice sharing and engagement.

'We use it to build more tight partnerships and understand how to achieve Scope 3 reductions through our supply chains, both on short and long term. Internally, we use the insights for example in procurement, R&D or product sustainability and for benchmarks to ensure our customers have the most sustainable options the industry can deliver,' says Nome.

Push-back at first
It became clear to Hempel early in the process that sending the questions alone would be unlikely to elicit the level of engagement the firm was seeking. It was therefore decided that a clarification meeting would be required with every single one of them.
'Some feedback we got was 'Do you want us to spend time on these questions or provide good prices for you?,' Nome adds.
Other suppliers needed to convince its director level as to the importance of releasing the proprietary information Hempel sought. 'The letter to suppliers from our CEO Michael Hansen makes a difference, but in the last two years, a lot has happened in terms of being able to engage more. More and more suppliers welcome our invitation and are eager to share their work and discuss with us.
'There was more pushback in the beginning than we have now. It is clear that sustainability is a critical issue across the value chain. This was made even more obvious at this year's European Coatings Show, where sustainability took centre stage with both exhibitors and keynote presenters.'
---
Hempel's forward-thinking approach may be a leading example of a company monitoring the sustainability of its supply chain, but many companies in Europe are striving for similar excellence in engaging with suppliers to ensure that they share this vision.