The automotive industry is striving to implement sustainable process, practice and products as the world endeavours to reach net zero by 2050.
Light weighting parts, using renewable materials and replacing combustion engines with electric power are among the areas of focus by automotive Original Equipment Manufacturers (OEMs). But transportation's other key factor – tyre manufacturing – is lagging.
Taking account of all forms of vehicles, US-headquartered research organisation Smithers estimates 2021 worldwide tyre output at 2.35 billion.
Ever wondered what materials go into a making a passenger car tyre? The reinforcement can be the same as what we find in women's stockings for one.
Nearly half of the weight of a tyre is made from rubber. Passenger car tyres comprise nearly 40 distinct rubbers – most synthetic and some natural. And in total, eight types of carbon black - a particularly unsustainable material - are used in the end product. Nylon, polyester, steel and 40-plus chemicals including waxes, oils and pigments make up the remainder of a tyre.
Engineering polyesters
One material vital to the majority of tyres - for which Tecnon OrbiChem has monitored for many years the global capacity, price, supply and demand - is tyre cord of polyamide. Providing much of the bias-ply tyre's reinforcement framework, polyamide tyre cord fabric is also a good bonding substrate for the rubber and carbon black filler.
Around 5% of each tyre with bias ply construction is manufactured using durable high tenacity filament including polyester, polyamide or rayon and while traditionally manufactured using virgin petrochemicals in the past, recycled options are starting to become available. The reinforcement of radial tyres, however, is mostly steel.
Teijin launched what it claimed was the world's first tyre cord fabric incorporating chemically recycled polyester fibre in 2008. The Japan-based firm this year relaunched the same product but free from resorcinol formaldehyde - commonly known as Russian Red cement. The innovation - which relies on an adhesive polymer compound instead - delivers a more eco-friendly product, Teijin says.
French tyre maker Michelin and France-based biochemistry company Carbios has validated a process to produce a high tenacity PET fibre for tyre cord use in 2021using an innovative recycling technology. Carbios' enzymatic recycling process depolymerises PET contained in a range of plastics and textiles including beverage bottles and polyester clothing.
---
'The global market for carbon black is projected to reach $26bn

by 2025, expanding at a 6% CAGR'
Mitsubishi Chemical Holdings Group
---
Carbon black
Roughly 1.5 tons of fossil feedstock and vast quantities of water are used to make a ton of carbon black, and the process can generate up to three tons of CO2. Despite its questionable eco-friendliness, the global market for carbon black is projected to reach $26bn by 2025, expanding at a 6% CAGR, according to Mitsubishi Chemical Holdings Group (MCHG).
Earlier this year, Origin Materials partnered MCHG to convert its hydrothermal carbon (HTC) into high-performance analogues of specialty carbon black materials for tyre applications. Origin's chemocatalytic process yields HTC – and 5-chloromethyfurfural (5-CMF) – from woody biomass feedstock. A commercial scale plant is under construction in Canada - which we explored in a prior blog post A new Rock, Paper, Scissors game for the packaging sector.
Origin's specialty material will be tested and further developed with an unnamed major tyre manufacturer.
Butadiene price volatility
A key ingredient in synthetic rubber used in new tyres, butadiene had traditionally come via petrochemical refineries as a by-product of ethylene manufacturing. Producers of ethylene, however, shifted to lighter feedstocks due to shale gas abundance these past several years, triggering a naphtha cracking decline and dwindling supply of C4s. The subsequent volatility in butadiene prices globally is the backdrop for continued interest in biomass-based butadiene solutions. Aside from the use of the mass balance approach, there is currently no commercial production of it.
The transition from fossil-based to 100% biobased synthetic rubber is the goal of Polish chemical company Synthos. Earlier this year, the company disclosed its plan for a 40ktpa bio-butadiene plant in Oswiecim, south Poland. Due to start-up by 2026, it will employ butadiene extraction technology licensed from BASF via Lummus Technology – the group's engineering partner. Synthos and Lummus' Green Circle business has been developing a bio-butadiene production process using bio-ethanol feedstock.
Bio-butadiene
Synthos began developing its bio-butadiene process in 2012, partnering with France's Global Bioenergies to produce butadiene through enzymatic dehydration. The research resulted in a pilot plant production in December 2015 to test the catalyst on a larger scale. The promising result reportedly led the company to start this next level of technology development with Lummus.
The mass balance approach is also expected to feature prominently in the use of renewable butadiene in styrene block copolymers.
---
'Replacing 11 liquid ounces of fossil oil with soybean oil per tyre reduces
a 1600-bus fleet's oil use by 20 barrels'
---
Netherlands-based chemicals manufacturer ETB Global BV and Trinseo partnered to commercialise a biobased butadiene process that uses ethanol feedstock. They hope to demonstrate the viability of ethanol-based synthetic rubber and explore the potential for a dedicated biobased butadiene pilot plant in Europe.
Prior bio-butadiene R&D projects include Michelin's collaboration with IFP Energies Nouvelles (IFPEN) and Axens under the BioButterfly project. The trio's pilot facility was at Michelin's site near Bordeaux. The project went through several years of laboratory tests followed by pilot production of hundreds of grams of bio-butadiene.
Genomatica, Braskem and Versalis have been developing a bio-butadiene process using 1,3 butylene glycol (BG) derived from a sugar feedstock. Genomatica is currently producing and selling 1,3 BG, mostly for cosmetics applications.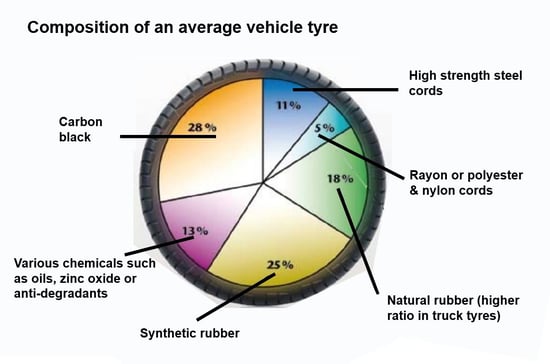 Desert shrub-derived rubber
Bridgestone Americas seeks to use, a drought-resistant desert shrub named guayule as a new domestic source of natural rubber for tyre production. The US Department of Energy Joint Genome Institute awarded Bridgestone a research grant to advance the innovation.
Bridgestone invested more than $100 million, producing the first guayule-derived rubber tyre in 2015. Central Arizonian farmers agreed to plant 200 acres of guayule this year through collaboration with the company. Last month, Bridgestone debuted race tyres made with guayule rubber grown and processed at its Arizona R&D facility.
Meanwhile, Goodyear Tire & Rubber Company replaced a portion of petroleum-based materials with a biobased soybean oil compound in some of its city bus tyres. Replacing 11 liquid ounces of fossil oil with soybean oil per tyre reduces a 1600-bus fleet's oil use by 20 barrels. The soybean oil used is said to be leftover from food applications in the marketplace.
Dandelion tyres
Funded by the US Department of Defense, the Air Force Research Lab and BioMADE, tyre maker Goodyear is developing natural rubber from a specific species of dandelion. Working with Ohio-based Farmed Materials to develop a material using a dandelion species known as TK - Taraxacum kok-saghyz.
Farmed Materials' pilot programs yielded strong harvests and TK's value as an alternative to natural rubber trees is established.
More than 90% of today's global natural rubber is made from the latex derived from rubber trees primarily sourced from tropical countries. They can take seven years to produce the latex needed for rubber production, while dandelions can be harvested every six months and grow in milder temperatures.
German automotive parts maker Continental – alongside the Fraunhofer Institute for Molecular Biology and Applied Ecology – is also exploring the perennial weed's potential.
The pair have been developing a dandelion-based rubber. Continental believes the dandelion to be the only plant that produces high-quality natural rubber besides the rubber tree and the guayule shrub.
UPM Biochemicals signed an exclusive distribution deal with Krahn Chemie, which is headquartered in the Netherlands. The distributor will market its BioMotion Renewable Functional Fillers (RFF) in Germany, Austria and Switzerland.
RFF are a new category of functional fillers replacing fossil-based carbon black and precipitated silica. Around 70% of the world's carbon black output is used as a reinforcing filler in tyres.
The agreement covers UPM BioMotion X10, X20 and X40 product grades to be used in plastics, adhesives and sealants, as well as paints and coatings. UPM is gearing up its biorefinery in Leuna, Germany, which will produce monoethylene glycol, monopropylene glycol and RFF from sustainably-sourced and certified hardwood.
The automotive supply chain
As the auto industry undergoes perhaps its greatest transformation since Henry Ford first conceptualised the Model T over a hundred years ago, OEMs and supply chain participants will need access to accurate, reliable and insightful data.
Tecnon OrbiChem's experience in the petrochemical industry - a leading feedstock supplier to auto industry participants - spans six decades. Our biobased industry insight dates back to the early 1990s. Only by understanding how automotive makers have been served by traditional supply chains can OEMs hope to diversify into the emerging renewable materials availability.
To receive the series of Tecnon OrbiChem's blog posts dedicated to the automotive industry, sign up below. Be sure to tick the interest groups Engineering Thermoplastics, Polyurethanes and/or Polyamide which are key to the insights we will provide as our automotive coverage progresses in the coming weeks.