Ammonia is one of the most widely produced commodity chemicals globally – along with sulphuric acid and ethylene. Statista estimates annual worldwide output at around 150 million tons, others approximate over 180 million tons.
The majority (known as grey ammonia) is produced via natural gas reformation, and at a ratio of 35 GJ (10 MWh) of natural gas per each ton of ammonia.
It is partly why ammonia prices rose so rapidly following Russia's invasion of Ukraine in 2022.
With most of ammonia's output used in fertiliser production, disruption to key food crop and fertiliser markets followed the invasion. And despite ammonia's price effectively halving in a year, high food prices persist.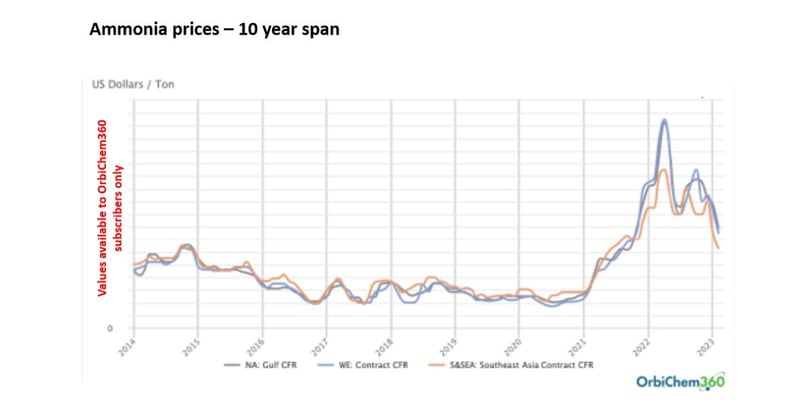 Source: Tecnon OrbiChem
A 2020 study pitched sustainable ammonia production at around 75% more costly than the traditional process. When ammonia prices skyrocketed a year ago however, that costs gap shrank considerably. Today, natural gas remains the cost-effective route to ammonia, though coal is used extensively in China.
---
'...In terms of green ammonia, Saudi Arabia's vision city will produce as much in a week

as the world's biggest grey ammonia producer will in a year...'

---
Full of green promise & projections
Saudi Arabia's vision city Neom features a 1.2 million tpa green ammonia plant in its blueprint. Due onstream in 2026, its projected output dwarfs that planned by the world's largest ammonia producer CF Industries. Although CF Industries does boast the world's largest grey ammonia capacity at over 10,000 ktpa currently.
But in terms of green ammonia, operating at full capacity for just one week, Neom will produce as much as CF Industries will in a year.
Compared to CF Industries, and others with green ammonia projects pipelined, Neom's projections are ambitious. Nameplate capacity for CF Industries' collaboration with German industrial engineering firm ThyssenKrupp and Haldor Topsoe is just 20 ktpa. That's a green ammonia bird (almost) in the hand though, CF Industries' US-based facility is set for completion this year.
---
'...For green ammonia producers the carrot is huge.

The target is a global transportation market ripe for fuel source alternative to diesel...'

---
For the Neom green ammonia project partners – US-based industrial gas supplier Air Products and its Saudi cohort, ACWA Power and the Neom Green Hydrogen Company – the carrot is huge. Their target is a global transportation market ripe for fuel source alternative to diesel.
Massachusetts Institute of Technology spin-out Amogy demonstrated a green ammonia-fuelled articulated – semi in the US – lorry earlier this year. And green ammonia's potential as a shipping bunker fuel is a well-established theory. As of today however, both engine technology and regulation remain at development stage.
Once commercialised and regulated however, the carbon saving potential of green ammonia cargoes is huge. Air Products estimates an annual CO2 emission reduction of five million tons by replacing the diesel in trucks and buses with its green ammonia. In shipping, the carbon saving will be astronomical.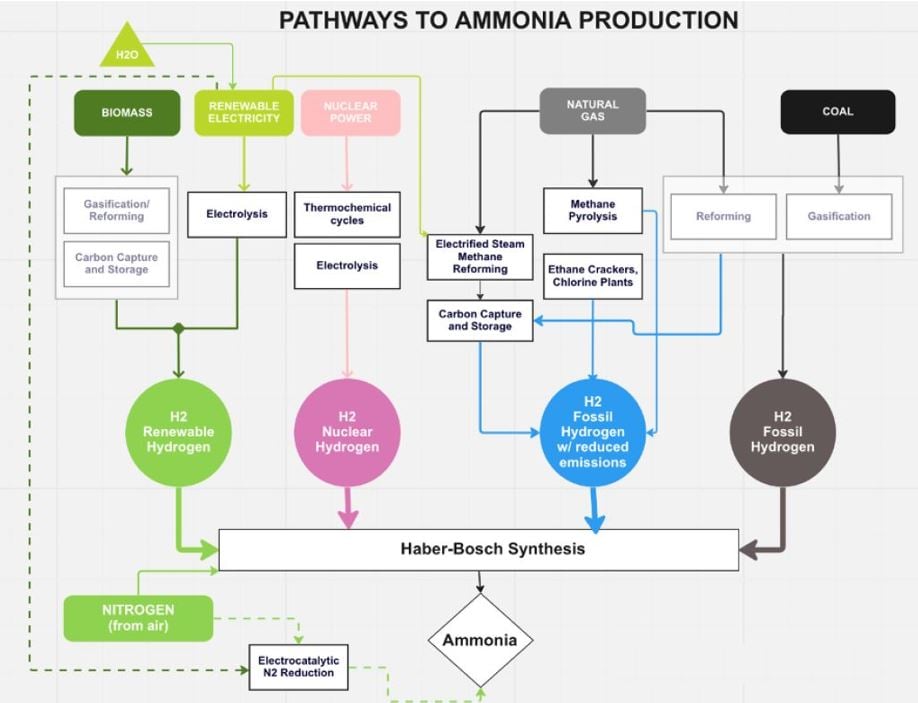 Source: Tecnon OrbiChem
One/fifth chemicals feedstock
Roughly a fifth of ammonia produced globally – at least 30 million tons per year – is used to manufacture intermediate and end products. These include plastics, polymers, rubber and fibre-based materials.
So, how will green ammonia alter the value chains underpinning these products? Ammonia's downstream subsectors include the growing engineered plastics sector. Adiponitrile for example, is an important precursor for producing the polymer polyamide 66 (PA 66). And PA 66 is a feedstock for the engineered plastics used in automotive applications.
Also at the start of the production process for PA 66, nitric acid is obtained via ammonia oxidation to deliver adipic acid. PA 66 – also known as nylon 66 – is used to make clothing, carpets, tyre cords and conveyor belts. Ammonia is also used in the production of caprolactam, a precursor of the similar material polyamide 6 (PA 6).
In 2023, global production capacity for these two resins alone is in excess of 15,000 kilotons. Eliminating fossil-based ammonia production from their value chain would significantly reduce the carbon footprint.
---
The infographic (below) is a schematic representation of a petrochemicals value chain subsection wherein, for indicated products, sustainable ammonia supply will have an impact on CO2 emissions. The chemicals captured within transparent green boxes have all traditionally used grey ammonia in their production processes.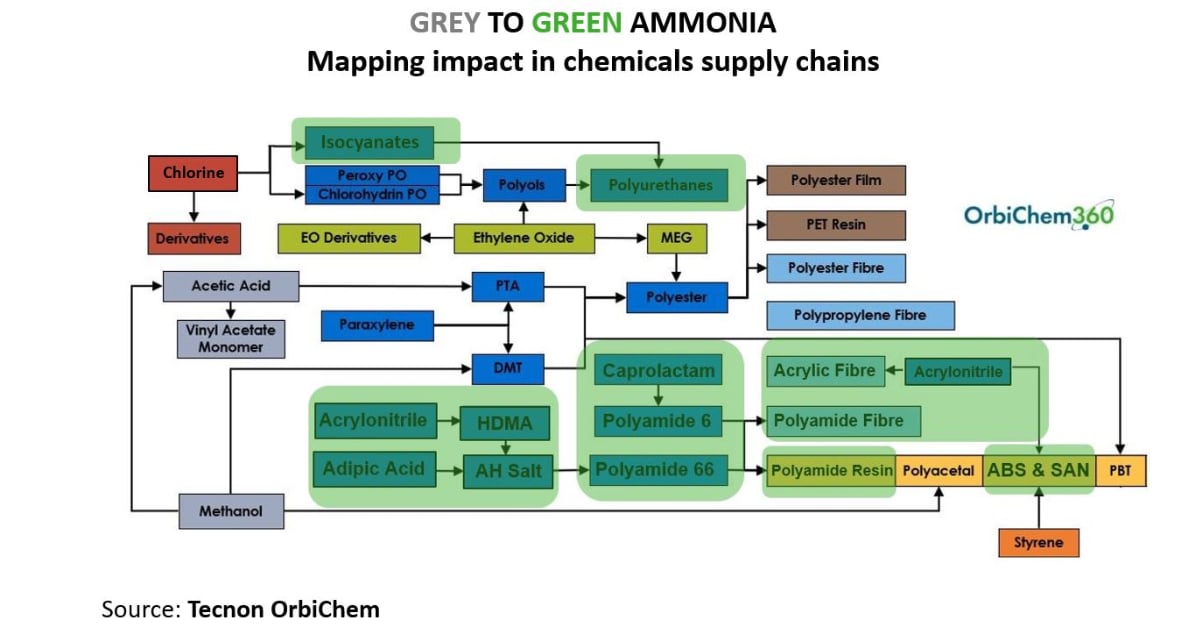 ---
Spanning the fibres spectrum...
Made from an ammonia feedstock, the chemical intermediate acrylonitrile is key to the production of ABS (acrylonitrile butadiene styrene) and styrene acrylonitrile resin (SAN).
Both are light, rigid, durable thermoplastic products in the engineering plastics class of products. Acrylonitrile is as a precursor for ABS, while SAN is a copolymer plastic consisting of styrene and acrylonitrile. ABS and SAN are commonly used as raw materials for injection moulding precision instruments in automotive and other high-performance applications.
From tough to cushioned
In polyurethane (PU) production, the reagent nitric acid with which the flexible foam feedstock toluene diisocyanate (TDI) is produced via ammonia oxidation. And in rubber production, ammonia underpins nitrile butadiene production.
The vinyl polymer polyacrylonitrile (PAN) meanwhile, is also from the combination of ammonia and propylene with oxygen. A versatile feedstock, PAN can be made into synthetic resins for textile and fabric manufacturing (wool substitutes in particular). And it is used in acrylic fibres or as a precursor yarn for carbon fibres in aircraft bodywork. Acrylic fibres' wool-like properties also support their use in blankets, carpets apparel and upholstery applications, where a level of softness in materials is key.
Ammonia & carbon footprint
The conventional methane reforming of natural gas route to ammonia underpins the majority of its output. It is estimated that each ton of ammonia produced emits 2.7 tons of CO2.
Based on its plethora of uses in the chemicals value chain – and the heavy CO2 footprint its processing produces – decarbonising ammonia production has the potential to significantly accelerate the journey to net zero.
There are some instances in which this is already happening...
Sustainable thermoplastic alternatives
Netherlands-based specialist chemical supplier Anqore developed a green acrylonitrile – designated Econtrile. Anqore was a fully Royal DSM-owned enterprise until 2015 but the Dutch chemicals giant is now a 35% stakeholder beside global advisory firm CVC Capital Partners.
Delivered in 2019, the product's carbon footprint is 60% lower in kg CO2 per kg of green ammonia compared to regular acrylonitrile, says the company. It is produced using sustainable ammonia from fellow Dutch enterprise OCI Global. Downstream ABS developer and supplier ELIX Polymers – based in Spain – attained International Sustainability and Carbon Certification for its ABS-based materials based on Anqore's Econtrile technology and OCI's sustainable feedstock.
Capping caprolactam carbon
A Dutch firm formerly fully owned by Royal DSM Fibrant developed a product called EcoLactam. Now part of China's Highsun Holding Group and DSM jointly, Fibrant claims the product's carbon footprint is 70% lower than regular caprolactam.
A fully biobased feedstock combining Fibrant and Neste innovation is used in DSM Engineering Materials' Akulon product. The Dutch chemical giant division's 100% biobased B-MB PA 6 comprises the majority of a Bugaboo strollers' plastic parts.
Using a mass balance approach to measure renewable waste and residue raw material, this alternative PA 6 enables a carbon footprint reduction of around 75% compared to conventional PA 6.
A packaging value chain minus ammonia
EcoLactam is one of Fibrant's trio of sustainable caprolactam alternatives, which also includes a recycled, or circular variety. It features in DSM's Akulon PA 6 product range and is suitable for blown film.
Marketed by Spain's multinational meat packaging manufacturer Viscofan as a food contact barrier material, the film's feedstocks begin with a circularly produced starting material benzene – specifically from Saudi Arabia's global diversified chemicals company Sabic. Spanish oil & gas company Cepsa transforms Sabic's benzene to phenol, which is then used by Fibrant to produce a caprolactam alternative for DSM.
Green ammonia & CO2
German polymer materials manufacturer Covestro plans to source up to 100 ktpa of green hydrogen (GH2) and its derivatives, including green ammonia from Australia. Fortescue Future Industries plans to deliver feedstocks to Asia, North America and Europe as early as 2024.
Replacing grey hydrogen and its derivatives with GH2, Covestro will cut nearly an equal quantity of CO2 off its annual greenhouse gas emissions output, according to the firm's press release.
Fertilisers, chemicals production and soon sustainable fuels are among the multiple uses of ammonia. They include the industrial chemical applications outlined above, and use as a fertiliser compound for the agricultural sector. Over and above that, liquid ammonia offers a compact and safe way to carry hydrogen for transport purposes. And since some scientific papers refer to hydrogen as the 'holy grail' of decarbonisation, ammonia has potential there too... But that is a whole other blog post!
Tecnon OrbiChem's Biomaterials expert Doris de Guzman's eight-page white paper Green ammonia for transport, agriculture & more: A promising future considers the technology, infrastructure and markets for ammonia in much greater depth.
The white paper first appeared in the Biomaterials' Chemical Profile Service of Tecnon OrbiChem's chemical data platform OrbiChem360. The full list of products profiled within our Biomaterials portfolio is here.