The global chemical industry is grappling with increased energy and feedstock costs, but nowhere is this being felt more keenly than in Europe.
One of the main contributors to this is the widespread use of natural gas as the energy source, and the alarming escalation in its pricing during 2022. That is in part a reflection of the shortage of fossil fuels post Covid but has been exacerbated by the reliance for 40% of EU needs on supplies from Russia.
Delivery via the Nordstream 1 pipeline has now ceased completely, though supply via the pipeline through Ukraine to Italy and other countries continues for the moment, though at a reduced rate. Industry fears that severe shortages of its supplies of natural gas will arise during the coming winter, since needs of households will be prioritised.
Even before this week's 30% gas prices surge when President Putin flicked the off switch on Europe's main gas stream, Italy-based chemical company the Polynt Group announced shutdowns. The firm is targeting facilities where products 'are no longer saleable because ... the cost (is) higher than the market prices of the product itself,' chairman and chief executive officer Rosario Valido said in a statement.
That move followed Polish chemical producer Grupa Azoty's announcement of a temporary halt in production at caprolactam and nylon 6 plants due to the unprecedented natural gas price rise – more on the polyester chain below.
And – as consultant Hira Saeed reported in the August edition of our subscriber publication Caustic Soda ChemFocus – a force majeure was declared at Germany's Covestro last month, impacting chlorine, caustic soda, and hydrochloric and other products.
Now, says Saeed, Dutch aluminium smelter Aldel has halted production due to the rising energy costs and Slovalco announced it will close primary aluminium production in Slovakia by the end of September.
---
'We have seen in recent months how aggressive the Asian/Chinese MA producers

have been with their export prices'
Tecnon OrbiChem consultant Kaiyin Hu
---
There are several other examples of aluminium smelters reducing output, which will inevitably have a negative effect on alumina output, affecting caustic soda demand but the main concern in the caustic soda market is not on the demand side. Supply is uncertain as producers say that in order to continue production, they must increase prices substantially and if this is not possible, production will have to be cut. This would be in addition to the already reduced output of European chlor-alkali producers due to the lower demand for chlorine.
There has been some cutback in demand for caustic soda, but this has not been due to high caustic soda costs. Much of the cutback is due to high energy costs affecting buyers of caustic soda, or supply chain issues. One example is the alumina sector, where there has been some reduction in output of some European sites. Romanian alumina producer Alro cut output by over half due to the high cost pressure of electricity.
Uncertain future
Polynt's statement is unclear on whether maleic anhydride (MA) is one of the products that will be affected, says Tecnon OrbiChem consultant Kaiyin Hu. Combined, Polynt's MA output makes up almost a third of Europe's total capacity.
The company can produce 36,000 tpa of MA at Bergamo, Italy, and was expected to have a nameplate capacity of 125 ktpa of MA capacity at Ravenna, Italy this year as part of a joint venture with the Reichhold Group.
'With an estimated 70% of its MA production for captive use however, European UPR producers have been under pressure due to cheap imports arriving from Turkey and their margins are being squeezed amid high raw material and energy costs. It is possible that Polynt may decide to reduce some of its UPR output which will also mean less MA is required – but this is just a guess,' says Hu.
No shortfall in sight
'Judging from the market situation globally, MA supply in Europe is unlikely to fall short as any reduction in domestic output will likely to be compensated by imports from Asia. We have seen in recent months how aggressive the Asian/Chinese MA producers have been with their export prices. China added significant MA capacity this past 12 months, while demand globally is soft.
---
'Mixed xylenes peaked in June, driving orthoxylene and phthalic anhydride prices up -

but their recent fall by over $650/ton was not mirrored'
Tecnon OrbiChem consultant Ben Edmunds
---
'Market participants are hopeful that China's unsaturated polyester resin (UPR) demand picks up this September/October but with the current global economic concerns, there is little optimism on the degree of recovery. And with whispers of weakening MA consumption by some large UPR producers in Turkey,' Hu adds, 'Perhaps MA demand will drop in Europe too'.
Propped pricing in Europe
The graph below – from Tecnon OrbiChem's chemicals business intelligence platform OrbiChem360 – shows that MA prices in Europe have been artificially high this year and in 2021. 'What these numbers show is MA margins out of n-butane remain healthy despite the high energy and raw material costs. It is not outside the realms of possibility that European MA producers may be forced to adjust down their margins to compete with imports. However, with the current high prices of benzene, it is possible that Polynt may decide to shut down its benzene-based MA plant at Bergamo if it becomes more difficult to keep it profitable.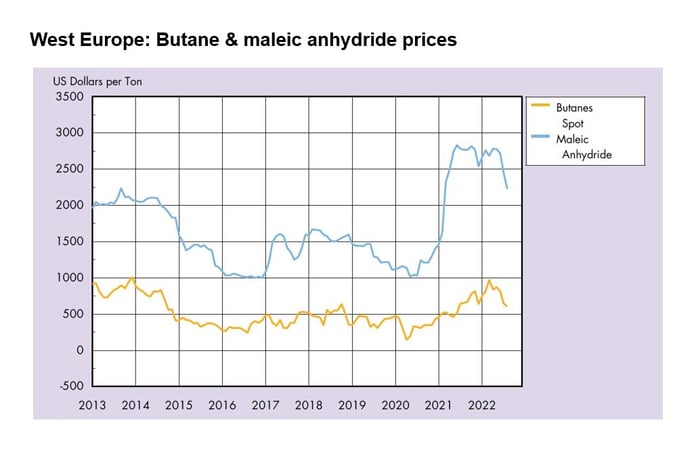 Source: Tecnon OrbiChem
Intriguing cross-feedstock anomaly
Meanwhile, Tecnon OrbiChem consultant Ben Edmunds – who monitors global orthoxylene (OX) and phthalic anhydride (PA) pricing – highlights an intriguing anomaly in how the overall European OX/PA market interacted with rising energy prices combined with the recent spike and fall in mixed xylenes prices brought about by disruptions in gasoline markets.
'Mixed xylenes peaked in June,' says Edmunds. 'And that spike drove OX and PA prices up significantly. However, the recent fall in mixed xylenes – down over $650/ton from June to August – was not matched by OX. The latter reached €1750/ton in June, rose again to €1825/ton in July and only fell back to €1750/ton in August.
'Market participants may have expected much more significant declines – as recently observed in the US following the decline in global mixed xylenes prices – due to competitively priced Asian imports, weakened downstream demand and the continued fall in feedstock prices.
'It appears however, the high energy costs were just too much to overcome keeping prices high, leaving producers to instead reduce rates and even consider temporary shutdowns in August when factoring in the overall poor market conditions,' Edmunds adds.

The graphs above – which are drawn from the OrbiChem360 business intelligence platform – demonstrate the marked difference in how the two chemical groups have interacted with market forces in Q3 2022.
Insight from our monthly subscriber publication Unsaturated Polyester Resins ChemFocus further illuminates the current marketplace. 'The declines in mixed xylenes and meta-xylene suggested a large decline in PIA prices in Europe, which will be necessary to align or reduced the disparity with Asian values that have fallen $250/ton since late June.
'However, rising energy values in July and August have offset the decline in raw materials, leaving European producers with limited room for decreases. Europe's only PIA producer claims that the import parity will likely lead to negative profitability for PIA, with buyers requiring lower values to prevent further imports.'
---
OrbiChem360 is the business intelligence platform of choice for chemicals professionals navigating the industry's greatest challenges – volatility, availability and sustainability. Request a demo by clicking here, or email info@orbichem.com
---
ANALYSIS BY JAVIER RIVERA, TECNON ORBICHEM'S BUSINESS MANAGER

FIBRES, PET & INTERMEDIATES, ETHYLENE OXIDE, GLYCOLS & DERIVATIVES
Polyester chain parity key
Parity on raw materials – paraxylene and monoethylene glycol (MEG) – will be needed to allow PET producers to compete against rising competitive imports in the coming months. The concerns – and the global economic slowdown, which even includes China – is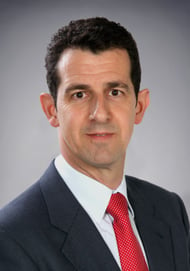 finally reducing freight costs. It was those rocketing cargo costs that benefitted European polyester chain participants in 2021 and 2022.
On the other hand, geopolitical instability and higher energy values are not only raising PET production costs, but also the cost structure to produce PTA, MEG and PIA in Europe. 2022's uncertain and volatile energy values have changed the usual pricing mechanism in Europe (quarterly/monthly PTA deltas) already, reducing stability and visibility for medium-term PET proposals.
Negotiations for PET deliveries in 2023 will start soon and the high cost of energy will continue to be the main burden for raw material producers. This will lead to a higher cost for all products in Europe compared to other regions, mainly Asia, which remains the main producer and exporter of products in the polyester chain
Ethylene oxide chain
The cost structure of ethylene oxide (EO) production has been significantly impacted by rising energy costs in July and August. The entire EO, glycol and derivative industries have been running in July and August. However most, if not all, producers operated at reduced and very low rates due to the low profitability and weak-declining demand. EO deltas on ethylene remain under pressure due to rising energy values. EO producers claim the unsustainable situation and have requested higher EO deltas on ethylene for spot business or new requirements, as well as for contractual deliveries in Q3 and Q4. Buyer resistance has been high, and some contracts will have to wait until 2023 to consider energy surcharges. Geopolitical instability and uncertainty are expected to remain and an increase in deltas for 2023 – along with the implementation of energy clauses – seems inevitable.
Polyamide 6 chain
One of the chemical products with a high need for heat energy is caprolactam, which has high energy intensity in the stage of production of cyclohexane and cyclohexanone, and in the production of crystals of ammonium sulphate by-product, to ready it for sale. The caprolactam market remains extraordinarily complex, with increasing uncertainty and limited visibility in terms of cost, demand and production. The €663/ton decline in the benzene contract for August was expected to ease the upward trend on prices, and provided some optimism for products in the chain to improve the poor profitability.
However, rising natural gas values in recent weeks changed the initial expectation on cost/prices for August. The cost of energy has totally or partially offset (depending on how energy increases are applied) the falls in benzene. The September scenario does not appear to be any different, with the €318/ton decline in the benzene expected to be fully offset by increases in energy values. Caprolactam producers have anticipated significant price increases for caprolactam.
Caprolactam producers continue to mention the unsustainable situation in terms of cost/profitability, which together with the uncertainty related to demand/forecasts will continue to drive industrial planning for the coming months. On 23 August, Grupa Azoty said it was temporarily halting production at its plants making caprolactam and nylon 6 due to an unprecedented rise in natural gas prices. The remainder of producers have adjusted operating rates and will only produce based on confirmed orders that cover rising energy values.
The high cost of energy puts is disadvantageous to Europe. Other regions are benefitting from much lower energy values and cost to produce caprolactam and polymer by comparison. Caprolactam exports from Europe to Asia – regular in the past – have completely disappeared. Based on current data and average industry numbers, the cost of energy to produce one ton of caprolactam in Europe is above the cfr Asia values at which Chinese producers are willing to sell caprolactam and polymer.
Cheap imports of polymer and downstream products will continue to increase in the coming months, which is a major concern for operating rates and profitability of the nylon 6 chain in Europe in the medium term.
---
Water & coal underpin continent countries' Plan B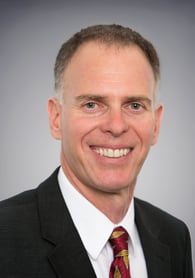 Water levels of the Rhine River hit 48cm at the key transit point at Kaub, Germany, on 10 August, later falling below 30cm as drought and extremely hot weather gripped the continent. Some relief was seen during the week of 15-19 August as water levels increased to more than 100 cm and levels remained mostly stable through the end of the month.
Although barge loadings were restricted by the low water levels, market participants said the overall impact of the shipping restrictions was countered by slow demand in August.
Many companies apparently have learned lessons after the Rhine River fell to similar levels in 2018 and have alternative logistics in place. 'We have more options now [compared to 2018],' one adipic acid market participant said when asked if the low water levels had disrupted operations in August. The source added that this time had not been as difficult as the situation in 2018.
However, it is understood vinyl acetate monomer storage tanks in the ports of Rotterdam and Antwerp are full, a situation which market participants partially attribute to the difficulties of moving barges along the Rhine River. Acetic acid shipments also have been disrupted during Q3.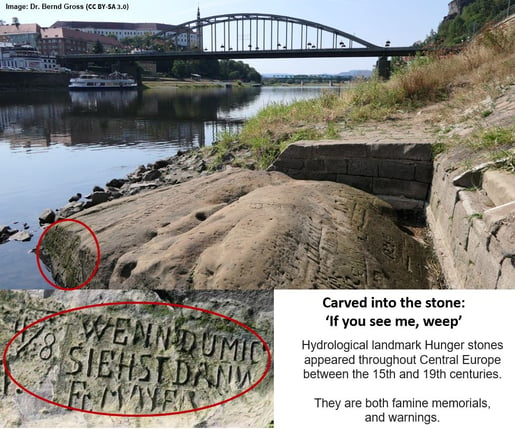 The Rhine River level was back down to 75 cm at Kaub as of 6 September and 68cm as of 7 September. Barges are restricted to half of the normal volumes – or around 500 tons – so consumers continue to use alternative transportation to move material back and forth from the main ports. Other logistics problems also have plagued petrochemical producers and consumers in the form of congested rail lines and long queues for trucks at port facilities.
The major acetic acid producer in Europe is Ineos Acetyls in Hull, which does not comment on operations. Most market participants believe it is operating at reduced rates due to the cost of natural gas and/or electricity. There is anecdotal evidence to suggest some downstream consumers in the acetyls sector have reduced output due to lower demand, not natural gas costs.
There are still order backlogs in the markets due to the fact some acetyls products (acetic acid, VAM, acetic anhydride) have been very tight on the supply-side in 2022.
The worst of the tight market supply situation has passed however, in some of the markets. Consumers are concerned about natural gas prices, but they seem more focused on negotiations for Q4 and trying to shift the market away from the high price levels that have been in place for the past several quarters.
Also, some market participants have alternative sources of fuel to produce steam or other utilities for example, and some larger industrial sites have facilities that use municipal waste or post-industrial waste to produce steam.
Insight from William Bann, Acetyls, Polyamide & Intermediates, Chlor-alkalis
Coal to the rescue?
European governments – including Germany, Austria, France and the Netherlands – have announced plans to increase both hard and brown coal power generation. This will help epoxy resins producers based in these locations. Leuna Harze says it expects that steam supply from the Leuna Industrial Park will continue uninterrupted. However, other market participants believe a power-hungry industrial site like Leuna could be forced to reduce its energy consumption if natural gas needs to be rationed.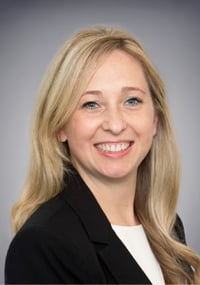 Dow at the Stade site in Germany may face requests to cut high-energy production of caustic soda/chlorine and it is possible that this could have an impact on Olin's epichlorohydrin production. However, it is possible that this company will be able to draw both raw materials and epoxy resins from either its US Freeport site or external sources. Westlake Epoxy could also face a similar scenario, but again its US plant in Deer Park may be able to provide some support. All of this will also depend on demand – a growing cost of living crisis is impacting European household spending.
But, we are heading towards a global coal shortage – low water levels on the Rhine are impacting deliveries. Poland, Europe's largest coal-mining sector, is facing a severe shortage, with people said to be lining up outside mines for several days.
Droughts in China have affected hydroelectric generation, which could force China to consume more coal during the winter. Coal prices, as a result, have soared to record highs in Europe.
Insight from Jennifer Hawkins, Phenol, Acetone, Bisphenol A, Epoxy Resins & Epichlorohydrin
There were unconfirmed reports that BASF's site in Ludwigshafen was running at reduced rates during the low water levels during August. BASF is heavily reliant on the Rhine River to bring material in and move material out of this site. The firm struggled with low water levels in the past and so invested in specialty barges to deal with this issue last year.
Furthermore, nuclear and coal plants in France/Germany rely on the Rhine for cooling water for their plants, Reuters reports that low water levels impact on the output of two of Germany's plants. These reduced run rates for coal/nuclear plants compound the difficult energy situation in Europe.
---
Polyurethanes
Tecnon OrbiChem consultant Regina Sousa monitors polyurethanes and1,4 butanediol (BDO) markets. Sousa reports a BDO trader describing producers as 'on survival mode due to high energy costs'. It is becoming increasingly difficult to produce BDO at the current energy rates without increasing prices, she adds.
'This led to cheap BDO arriving from China and there has been a noticeable increase in spot deals in the European market. Monthly deals are also heard to have been negotiated during August, a contrast from the usual quarterly deals. One BDO buyer said that market participants are in a difficult position moving into Q4 because there is cheap BDO coming from Asia, but European buyers are not to rely on this supply because as soon as Chinese demand improves, the influx of cheap BDO could stop.
'This means European buyers will need to find BDO in Europe and production could well be curtailed due to high production costs. This scenario is very likely for BDO in Europe for the remainder of 2022,' Sousa concludes.
Plasticisers
Polynt also produces several plasticisers including DINP, DPHP, linear phthalates, polymerics, trimellitates and linear plasticisers, and medical grade DOP. Its total plasticisers capacity is approximately110 ktpa.
As with its maleic anhydride output, Polynt is a relatively small player compared to BASF, Evonik and ExxonMobil. That said, if production ceases, domestic Italian and local markets will likely look to the northern European producers (BASF, Exxon, Evonik, Perstorp) or imports for volumes. However, according to Tecnon OrbiChem consultant Yazmine Khan, 'logistics could make this quite challenging.
'Low water levels have been impacting the movement of material out of sites located along the Rhine River and rail and trucking logistics within Europe as a whole remain challenging due to congestion and an acute labour shortage. Water levels of the Rhine River have improved from the lows of 31cm seen during August (water levels at the key Kaub hub were at approximately 68cm yesterday, 7 September) but they remain lower than normal and are expected to fall further in the coming weeks. Furthermore, BASF reportedly has an outage coming up/ongoing at its plasticiser plant in Germany which will likely limit the availability of additional volumes from the company.
Khan however points out that Polynt's trioctyl trimellitate and trimellitates production is highly energy intensive. 'The firm has reportedly sought big increases over the past month with some participants indicating that would price the company out of the market.' If there is any truth in that, Polynt will not need to run its production lines right now. As a consequence of this, Polynt's 2-EH demand would decline, but, regional 2-EH producers are already trimming run rates due to the high cost of natural gas, she adds.
Methyl methacrylate
Methyl methacrylate (MMA) producers in Europe have been struggling against high natural gas costs for much of the year, says Tecnon OrbiChem consultant Rachel Uctas.
'Major producer Mitsubishi Chemical Methacrylates has opted not to restart its Cassel, UK plant following a prolonged turnaround due to the high cost of natural gas. The plant has now been offline for eight months. The producer has instead been importing MMA from its lower cost plants in other regions of the world, a strategy which has proved more cost effective, especially now that freight costs have been reducing. It is unlikely that the plant will restart until after the winter period, but no timeline has been confirmed.
Germany based producer Roehm has also been running its two Germany-based plants at low rates, as has Trinseo in Italy, in response to low demand and high associated costs. The latter producer has extended its August shutdown until mid-September.
The European MMA market faces a difficult challenge, with downstream demand from both main segments, poly(methyl methacrylate) and the coatings sector, remaining weak for many months, and looking weaker still since July, at a time when gas costs have soared. Despite the rise in natural gas prices, freely negotiated MMA contract prices have followed a downward trend for several months, with competitive imports from Asia, Brazil and the Middle East readily available as an alternative for buyers.
Butyl acrylate
The butyl acrylate (BA) market is also facing challenges related to energy costs. Non-back integrated producers Arkema and Synthomer are exposed to the rise in natural gas costs as they have to buy in n-butanol.
Arkema has been implementing a monthly surcharge on butyl acrylate based on the previous month's European TTF natural gas price. For September, customers are facing a €100-120/ton surcharge from the producer.
However, demand for BA hit the rocks in June/July and has been softening since then with no sign of a real pick up and some sources are pessimistic about the outlook for the remainder of the year, especially in the DIY and construction sectors. If prices continue to soften whilst gas costs remain high, it could prove increasingly difficult for some producers to continue to run BA lines.
Last word
Polynt's statement alludes to the implementation of an 'extraordinary action plan' for limiting further economic loss in the present environment. That sentiment will likely be being expressed in boards across the European chemicals supply chain, and to a lesser degree, globally as we navigate a path through an intense geopolitical and energy scarce era.