As we look to the PET sector's high season - Q2 2023 - market participants will be keen to lower the paraxylene cost disparity compared to Asia.
It is critical that producers here are able to reduce the differential cost with Asian producers sourcing raw materials. Costs of the building block paraxylene (PX) and related feedstocks - purified terephthalic acid (PTA), monoethylene glycol (MEG) and isophthalic acid (PIA) - are inextricably linked to PET pricing structures.
Insight from Tecnon OrbiChem consultant Javier Rivera is previewed here, with more detailed analysis in his free-to-download eBook.
Switching drivers
The graph above shows that Asian PX values have lost their relevance as the benchmark for the PX settlement in Europe and North America. In recent months, the dynamics in the gasoline market have been the main driver for the PX settlement.
The marks in the chart show the parity/disparity in European (red squares) and US (blue circles) versus Asian PX values. Download the eBook to see the y axis values and find out more on what these disparities mean for producers of PET globally.
Import metrics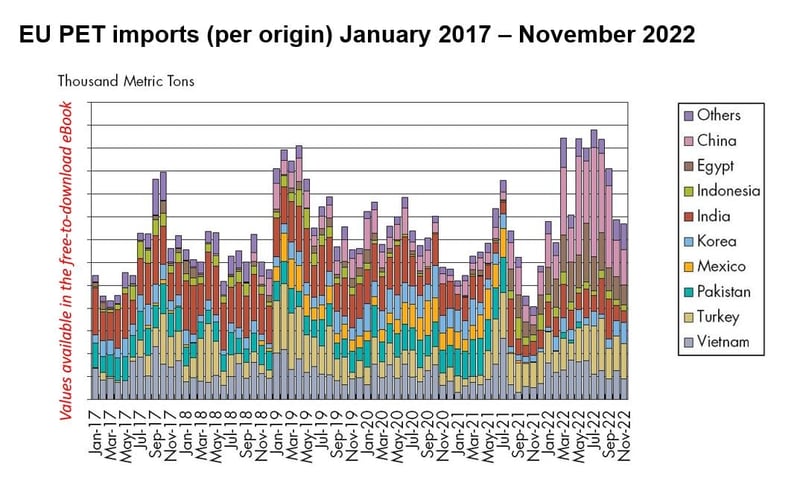 Source

:

Tecno

n OrbiChem
Imports of PET to the European Union are around double what they were during months in 2017. A large share of imports is coming from China, but the graph also shows that Egypt is a key importer to the region. Full disclosure of amounts is available in our free-to-download eBook.
PET deltas
The eBook shows how much lower than expected PX settlements in December-January have impacted PET spot prices and reveals the precise per ton cost as of February 2023. Will spot PET prices increase as cheap inventories disappear?
Monitoring m

arkets

Tecnon OrbiChem follows PET market trends and prices globally. Our portfolio of information services includes a mix of current, historical and forecast price data for feedstocks including PX, PIA, PTA and MEG.

Market commentary for each product is collated by consultants based in both Europe and Asia.

We help clients understand the factors influencing the dynamics across the value chain. By drawing on our objective analysis and reliable data, chemicals buyers and sellers throughout the chain can respond to industry's biggest challenges better prepared.

OrbiChem360 provides comprehensive chemical business intelligence to assist business managers and purchase teams in their strategic planning and operations optimisation.