There is exceptional profitability for products in the polyester chain in Europe and the US today. Heightened local prices and good profits are knock-on effects of high logistics costs for imports from Asia.
And, as Asian countries continue to battle freight issues and container scarcity, interest in localised feedstocks and PET supply grows. This is after all, a market in which the degrees of tightness for each product pivots on imports dependency, and the level of demand in each region.
---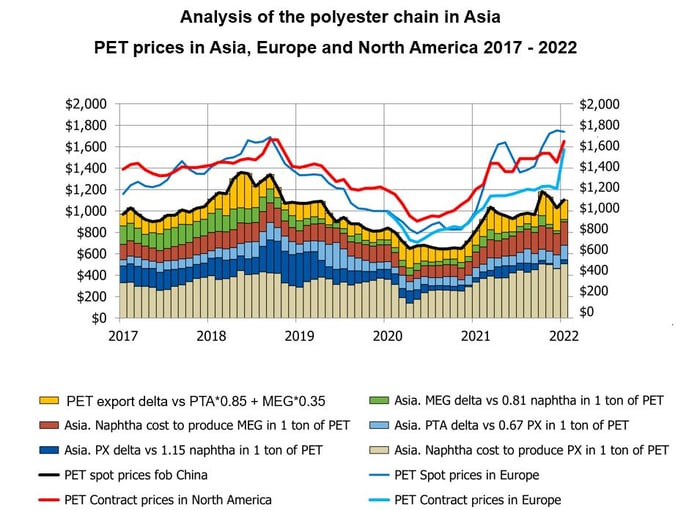 Source: Tecnon OrbiChem
PET's improved margins picked apart
PET spot prices fob China so far this year – indicated by the black line in the infographic – were above $1150/ton fob on 9 February 2022. Compared to values at the end of 2020, that is an increase of $500/ton. End of 2020 PET fob prices – as well as the profitability of all the products in the chain – were at their lowest levels in recent years.
The coloured areas beneath are China's spreads/deltas for paraxylene (PX), purified terephthalic acid (PTA) and monoethylene glycol (MEG) over their main feedstocks in one ton of PET.
The spread/delta of China's PET price fob versus PTA and MEG values in China is also reflected in the graph. The dark blue and red lines reflect the lower end of PET contract prices based on feedstocks in Europe and the US respectively.
North America's PET producers widely implemented increases and/or surcharges throughout 2021 on all pricing structures, including raw material-based formulae. Those increases explain the improved spreads in 2021. The country's price surcharges disappeared in 2022 but new deltas reflected the increasing costs that had justified 2021 surcharges. The improved margins for PET are also reflected.
PET variables and their impact
In Europe, deltas for contracts based on feedstocks remained unchanged in 2021, resulting in prices well below those of spot or freely negotiated volumes. However, PET contract price increases have already were apparent in January 2022, when deltas versus PX and MEG have been updated and improved. Price rises are based on raw materials costs increases. Europe's PET spot pricing rose well above contract prices amid tight PET markets in 2021, a trend mirrored in North America.
Despite overcapacities of PTA and PET in exporting countries, continued logistical constraints prevent disparities in raw materials – PX, MEG and purified isophthalic acid (PIA) – from having an immediate effect on import volumes of PTA and PET. It is this situation that is allowing premiums for the products of the chain in Europe and America.
Though new supply streams – specifically PTA and PET within the US and PTA in Turkey – promise relief, that will not be until 2023/2024. And it is likely that additional capacity will change trade flows and impact profitability in the chain.
---
Currently, Omicron infections, supply chain and logistics are the main concern for participants in the PET chain, as we have fully explored in a new white paper. There's overcapacity, but it offers no relief to the West's tight markets. The white paper includes an infographic from the Supply/Demand/Capacity section of our chemical industry data and insight platform OrbiChem360. The infographic shows PET packaging resin capacity versus production by tonnage and utilisation percentage.
The white paper also unravels the variables impacting PX disparity in the European polyester chain; MEG price evolution and delta increases across the value chain. Our analysts also consider the impact of planned polyester and PET supply streams in North America and the Middle East & Africa region.
It also includes not to be missed information on the results of 2022 negotiations for PX, PTA, MEG, PIA and PET in Europe and North America. An infographic detailing the breakdown of Oman's hundreds of thousands of tons of PET export over recent years, which provides context for Alpek's acquisition of Octal.
We've taken a deep dive into Latin American markets to provide insight into market conditions in Mexico and Brazil using insight from Global Trade Tracker and Tecnon OrbiChem.
No global capacity and production picture would be complete without considering China's input – so our white paper identifies some of the companies to keep an eye on as 2022 progresses.
Read more by filling in the form below (business email only)...