China transitioned from its status as a net importer to a net exporter for PVC during the Covid years. It's one significant turnaround that end-user markets – including construction, automotive, electrical and electronics, packaging, footwear, healthcare – might note.
And around 1500 ktpa new PVC capacity is due for realisation in China this year. How this increase will impact the country's domestic markets, as well as Asia's and globally, will be a major influence on world PVC markets this year.
Significant price drops were seen in 2022 – a story that played out in many chemical markets globally in China and Asia included. Asian PVC prices were falling for much of last year but began to firm up from the bottom in November.
As a major import country in Asia, India has seen strong demand in peak demand season, as Indian buyers restocked actively to satisfy production needs due to low inventory levels, expecting prices to firm. Download the eBook to find out where quick trade completions were seen in January within Asia and how negotiations for March are shaping up in the region.
---
'China's energy consumption policy - dual control -

still impacts how business is conducted in the country'

Tecnon OrbiChem consultant Carol Li
---
As the Chinese people emerged from the New Year holidays (and back to life without zero-covid restrictions keeping so many on extended lockdown until the end of 2022) it soon became clear that the domestic PVC market was experiencing inventory pressure. Will that pressure ease in the coming months? Will its economy, slowed by both the restrictions and a depressed housing market, see green shoots of recovery?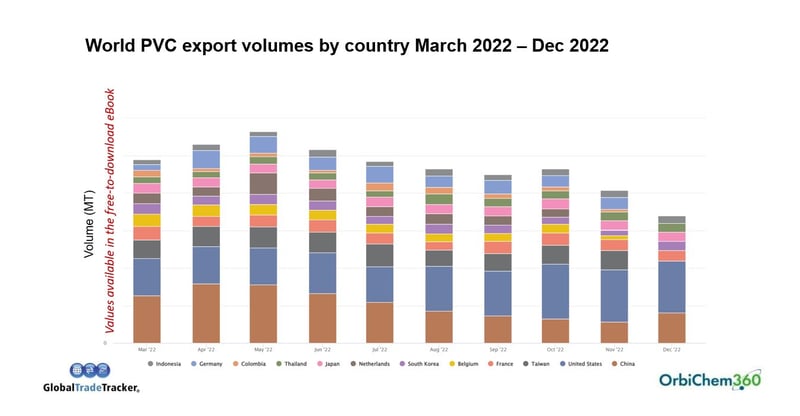 New PVC plants that are coming onstream in the next few months include those built by carbide-based PVC producer Shandong Xinfa and ethylene-based PVC producers such as Qingdao Haiwan, Wanhua Chemical and Huayi Guangxi. The latter – Huayi Guangxi – started up a new ethylene-based plant in late 2022 and plans to raise its operating rates in March 2023.
For a more detailed analysis of new capacities in China, download the eBook.
Not only is the price of some PVC output dependent on the cost of carbide, energy costs have a vital part to play too. China's energy consumption policy 'dual control' – explored in our blog post Energy policy in China and its impact on some chemicals production – is still having an impact on the way business is conducted in the country...
Earlier this year, Hira Saeed shared her insight into the outlook for chlor-alkali markets in 2023. Read the blog post Chlor-alkali 2023 outlook & review of 2022.
You may also be interested in finding out about the upcoming 26th World Chlor-Alkali Conference which Tecnon OrbiChem organises with its partner ICIS. Click here to read about the event in Singapore in June and register at the early bird rate.