The bio-based chemicals industry marks the end of a decade with a roller coaster ride. Only very few start-up companies were able to trudge through the 'Valley of Death' and after the fall of global crude oil price and continued availability of cheap natural gas in North America, several traditional chemical companies have abandoned their collaboration on several bio-based chemicals projects especially those focusing on drop-in bio-based chemicals. The bankruptcy filing of BioAmber in 2018 was considered one of the biggest setbacks in the renewable chemicals industry and this had been followed by the exit of companies such as Rennovia and Verdezyne, while joint venture companies such as Synvina and Reverdia have been dissolved.
Despite the exit of so many start-up companies, the bio-based chemicals market continues to be resilient in the midst of lower financial support from both private and public investors, government agencies and local governments. Global recognition of climate change crisis and the growing importance of a circular economy will continue to push developments in the production of biomaterials and chemical building blocks using biomass and other feedstock renewable/ recycled carbon sources. Europe continues to lead the way in looking to implement policies and strategies that can incorporate the use of renewable carbon in chemicals and biomaterials as part of an overall circular economy agenda.
While the bio-based chemicals market continues to face lower fossil-derived feedstock prices leading to higher competition from cheaper crude oil/natural gas-derived petrochemicals, startup renewable chemical companies have refocused on high growth, low-volume, high-margin niche market applications and in the development of novel building blocks as opposed to drop-in commodity chemicals. Development of drop-in bio-based chemicals were once thought to be a quicker way to establish a robust bio-based chemical industry but now, companies have settled on finding a slightly longer route either by developing the use of non-food, waste-based economical feedstock or developing bio-based novel chemical intermediates that offer better properties and performance or even both. Interests in these novel building blocks are driven mostly by their potential applications in specialised, higher-value and smaller volume markets such as engineering plastics, solvents, lubricants, as additives and ingredients in consumer-related products such as nutrition, food ingredients, cosmetics, personal care, household care, and in industrial-related markets such as in animal feed, agriculture, oilfield, construction, etc.
Fossil feedstock such as crude oil and natural gas remain cheap with November 2019 prices at $56/bbl and $2.81/mmBTU, respectively. Historical US naphtha prices have fallen significantly from a high $1050/ton recorded in early 2012 to $480/ton quoted in October 2019. Methanol prices also fell from its highs at around $630/ton in early 2014 to the recent $333/ton reported in October 2019. Traded world raw sugar prices, meanwhile, remain depressed for the past three years ranging from as high as $450/ton to as low as $230/ton seen in late 2018. Fuel ethanol price is quoted in late 2019 at around $500/ton.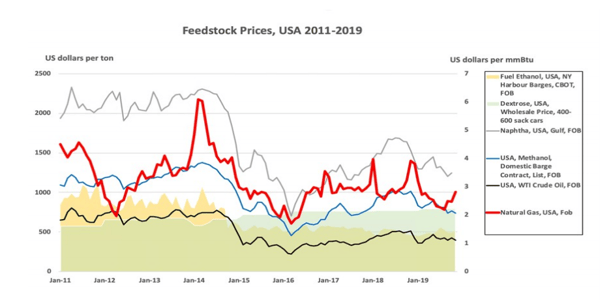 In 2019, the mass balance approach is also gaining traction especially coming from traditional chemical companies as biogas and bio-based naphtha for chemical and polymer feedstock become more readily available. Meanwhile, chemical recycling of polymers, which typically includes pyrolysis and depolymerisation, is becoming the focus of more attention for investments and partnerships within the chemical industry. Not only is this process more in line with the principles of a circular economy, it could be a new source of sustainable chemical building blocks supply that could displace some production of fossil-based intermediates. Chemical recycling could address some limitations present in mechanical recycling such as the mixing, contamination and degradation of polymers. Even biotechnology and renewable chemical start-up firms are now looking at their IPs in order to capitalise on this fast-growth area. Case in point is the announcement from Anellotech in late 2019 on the launch of its Plas-TCat™, a new process aiming to convert a wide range of plastic waste directly into chemicals leveraging its existing Bio-TCat™ process which converts biomass into bio-based chemicals and biofuels.
Meanwhile, PLA companies such as Total Corbion PLA and NatureWorks are also looking at PLA depolymerisation technologies to recycle PLA back into lactic acid. Total Corbion noted last year that the hardware to convert PLA to lactide or lactic acid is already in place at its 75,000 tpa PLA plant in Thailand. Industrial PLA is already being chemically recycled in this facility. Companies such as BASF, Neste, Braskem, SABIC, etc. are also exploring the potential of incorporating chemical recycling into their mass balance-based polymers portfolio.
This is an abridged version of the special report in the January edition of the Bio-Materials Chemical Business Focus. For access to the complete version and other similar analyses you may wish to consider subscribing to the month Bio-Materials Chemicals Business Focus.