The Tecnon OrbiChem price forecasting service ChemForesight is effectively a chemicals sector 'crystal ball', which has brought visibility to 40-plus petrochemical markets since 2017.
A vital tool to chemicals and raw materials buyers, sellers and market strategists, it is underpinned by the knowledge and insight accrued by our founder Charles Fryer during a career spanning six decades – and counting.
In fact, it was as Fryer tallied up nearly half a century of chemicals analysis experience that he devised the forecasting methodology for delivering price predictions based on three distinct crude oil scenarios, alongside other market forces. Our latest free-to-download white paper focuses on eight chemicals key to a wide range of industries and manufacturing sectors.
---
Free white paper download:
A chemicals industry crystal ball: Forecasting key products
(Click here to go direct to the form at the end of this blog post)
---
Acetyls
Business manager William Bann covers acetyls and other markets at Tecnon OrbiChem. It is less than two years since INEOS purchased BP's Aromatics and Acetyls business. Since the deal, key markets that opened up to INEOS – namely acetic acid and acetic anhydride – have been extremely volatile.
That volatility is captured perfectly in our ChemForesight updates, which predict acetic acid and acetic anhydride prices to 2024. A graph showing acetic acid volatility was included in the prior white paper Chemicals industry crystal ball: A dozen key chemicals.
A second graph showing acetic anhydride volatility is included in the latest free-to-download white paper (form at the bottom of the blog post).
The INEOS/BP deal positioned the former as West Europe's largest supplier of both acetic anhydride, with a nameplate capacity of 165 ktpa, and acetic acid (500 ktpa).
But what is the future of those products in Europe and the rest of the world? Find out by downloading our white paper series.
Polyurethanes feedstock gains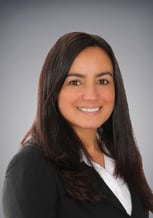 Our polyurethanes and intermediates expert Regina Sousa gathers data on 1,4-Butanediol (BDO) through regular discussion with producers, industry contacts and market participants.
Sousa's commentary is provided alongside a graph charting the dramatic disparity in today's US BDO price compared to 2018.
With that insight, the white paper provides guidance on questions that are key to polyurethanes formulators.
Toluene
In the latest ChemForesight update, it is noted that toluene – a feedstock for TDI which goes into some polyurethane materials – is increasingly being used as an octane booster in gasoline mixtures. This is disrupting toluene market prices in some regions.
But just how acute have toluene price fluctuations been in Asia since 2018? And what might happen between today and 2024? Our white paper provides guidance on questions that are key to purchasers and procurement teams.
Styrene
Meanwhile in Asia, Tecnon OrbiChem has welcomed a new Shanghai-based consultant Jane Zhu to the team.
Zhu's responsibilities include supply/demand reporting and price monitoring for a suite of chemicals – styrene and toluene included – across Asia.
The latest ChemForesight commentary on the region's styrene market, and a graph from Zhu showing China's import price movements since 2018 and predictions to 2024, is included in the white paper.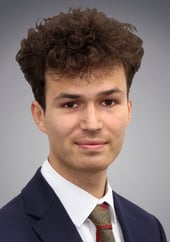 Euro dynamic
Our Europe-based consultant Sam Uctas continues to keep a close eye on styrene prices, capacities and supply/demand dynamics in Europe and the US through regular interaction with market participants.
European contract and spot price analysis is also included in the white paper – plus a graph showing West Europe's styrene price flux since 2018 and forecasts to 2024 – provided by Uctas.
Uctas also covers butadiene, polyethylene and polypropylene markets.
...A looming global shortage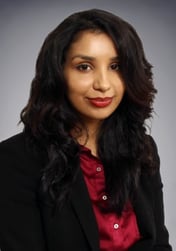 Insight from Europe-based consultant Hira Saeed provides the perfect accompaniment to the caustic soda focus included in this series' first white paper A chemicals industry crystal ball: Forecasting a dozen key products.
In this latest edition, Saeed sheds light on this vital chemical's global market outlook. The white paper also includes a graph of the steady – though staggered – incline in Asian chlorine prices.
As the analyst that first highlighted the looming global caustic soda shortage earlier this year, Saeed's contribution to Tecnon OrbiChem's comprehensive understanding of chlor-alkali markets remains invaluable.
Swingeing changes
Our free-to-download white paper touches on benzene's ripple effect in styrene production and includes a graph demonstrating West Europe's swingeing benzene price changes since Spring 2020. Lastly, this latest paper in the series looks at methanol and ethylene markets globally.
It includes graphs showing the ebb and flow of each chemical's price since 2018 – and predicted to 2024 using the ChemForesight logarithm formulated by Tecnon OrbiChem's founder.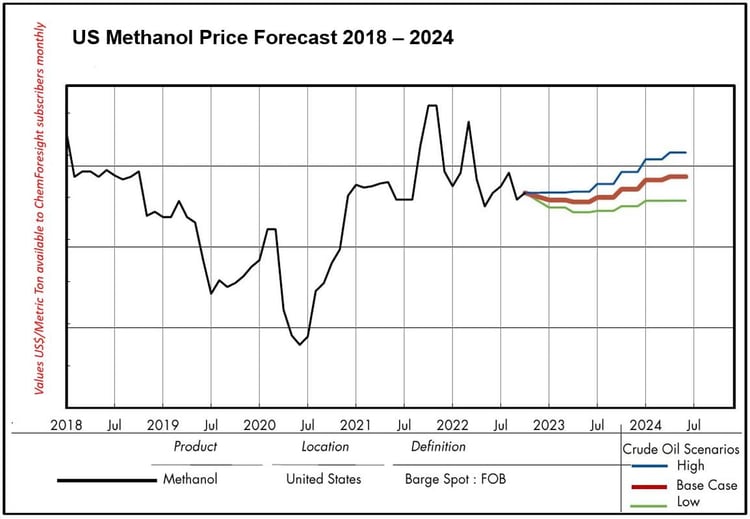 Source: Tecnon OrbiChem
Vast datasets underpin the graphs and price predictions and the datapoints are accrued through regular discussions between our consultants and a roster of producers, industry contacts and market participants.
An earlier blog post Supply chain visibility: Price forecasts aid procurement & planning explains how Tecnon OrbiChem founder Charles Fryer devised his proprietary ChemForesight tool. The white paper accessible below contains an explanation of the three Crude Oil Scenarios ChemForesight leverages and how they are applied to make a price prediction.
For a demo of ChemForesight and/or more information on how our chemicals intelligence data platform OrbiChem360 can bring visibility to supply chains relevant to your business – and aid planning and procurement – email us at info@orbichem.com