The correlative relationship between acrylates prices and propylene feedstock in the US would have barely raised a buyer's eyebrow early in 2020. In 2023 however, that's a potentially loaded caveat – such are these volatile times.
A key acrylates feedstock in US outputs, propylene's high to low swings and differentials peaked at well over $1000/ton within months once during the 2020s. That volatility was repeated consistently, albeit not as intensely, ever since.
What lies in store for acrylates – acrylic acid, acrylate esters – and methyl methacrylate (MMA) buyers and sellers in 2023 has been thoroughly investigated by Tecnon OrbiChem's Poland-based consultant Jaroslaw Cienkosz. Insight from our Europe-based team's latest recruit – a former raw materials purchasing director – is available in a free-to-download white paper.
The graph (below) is from Tecnon OrbiChem's propylene-focused ChemForesight published as 2022 drew to a close. It indicates just how volatile US prices for propylene have been in recent years. Conversely, according to the Methyl Methacrylate (MMA) ChemForesight published in late 2022,
US acetone supply was
'well balanced'

–

a factor that will typically calm price volatility too.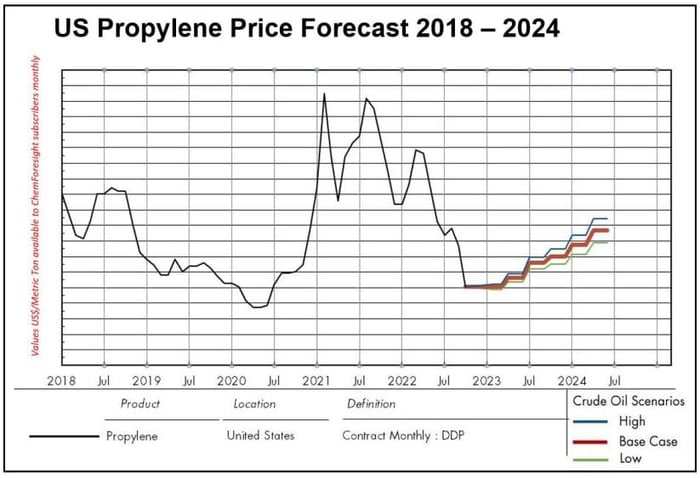 The price forecasts in the graph above are based on three crude oil scenarios, with the base case reflecting our median prognosis but accompanied by scenarios of higher and lower price trends.
---
Free white paper download:
Global acrylates market outlook 2023, & 2022 review
---
Might automotive drive value chains?
'Covid-driven demand for engineered thermoplastic PMMA sheets faded,' says Cienkosz. The material was used as transparent barriers in a bid to curb Covid infection spread and facilitate social distancing. 'This has left the MMA value chain far too accelerated and caused a collapse,' Cienkosz adds.
It is true that the Covid door appears to be closing, in the western world at least, as of 2023. However, Elon Musk triggered an electric vehicle (EV) price war this January and MMA manufacturers may well find themselves in the demand of automotive supply chain participants sometime soon.
---

'Covid-driven demand for PMMA sheets faded leaving the MMA value chain far too accelerated,

causing a collapse...'
Tecnon OrbiChem consultant Jaroslaw Cienkosz
Acrylic acid & acrylates, ammonia, fibres & intermediates
---
With the anticipated uptick in EV interest from consumers – alongside a predicted re-emergence of the auto sector in general – OEMs and Tier 1 automotive suppliers may need to source raw materials for EVs (or 'new energy vehicles' to the Chinese). The white paper provides touches on sales volumes in Asia's automotive OEM coatings business. The potential for 2023 to kickstart new car sales, and how this will impact chemical markets, is explored in our blog post Will 2023 bring an electric vehicle goldrush?
There may be continued uncertainty in construction in general, but Cienkosz's research indicates H1 promise – especially as a Hurricane-battered US seeks to rebuild itself and replace roofing torn away in September 2022.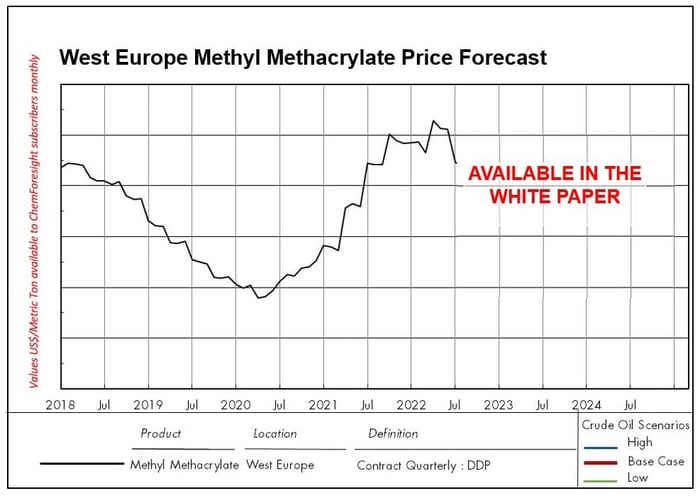 Source: Tecnon OrbiChem
Spot alternatives
Cienkosz's white paper explores how spot alternatives will impact pricing in Europe, and to what extent that effect has been drafted into 2023 purchasing strategies already. But it is prudent to add that projections are being made while unknowns perpetuate. Buyers are defensive, says Cienkosz, and many delayed even Q1 2023 forecasts.
How will government's support business in the current energy? What might price caps look like? And is it even worth Europe producing when low-cost chemicals are winging their way from Asia in ever cheaper shipping containers? They are the questions that trouble purchasing teams and plant managers planning outputs and inventories.
One thing is for certain, China will continue to control the lion's share of the world's acrylic acid output as the graphs (open in new window) below show. China's output has doubled in the last decade. Acrylates' peak season tends to be the final quarter of the year in general. However, if Chinese markets – depressed due to Covid-related restrictions late in 2022 see improvements after the Chinese Lunar New Year holidays (22-27 January 2023) the trend could be superseded this year.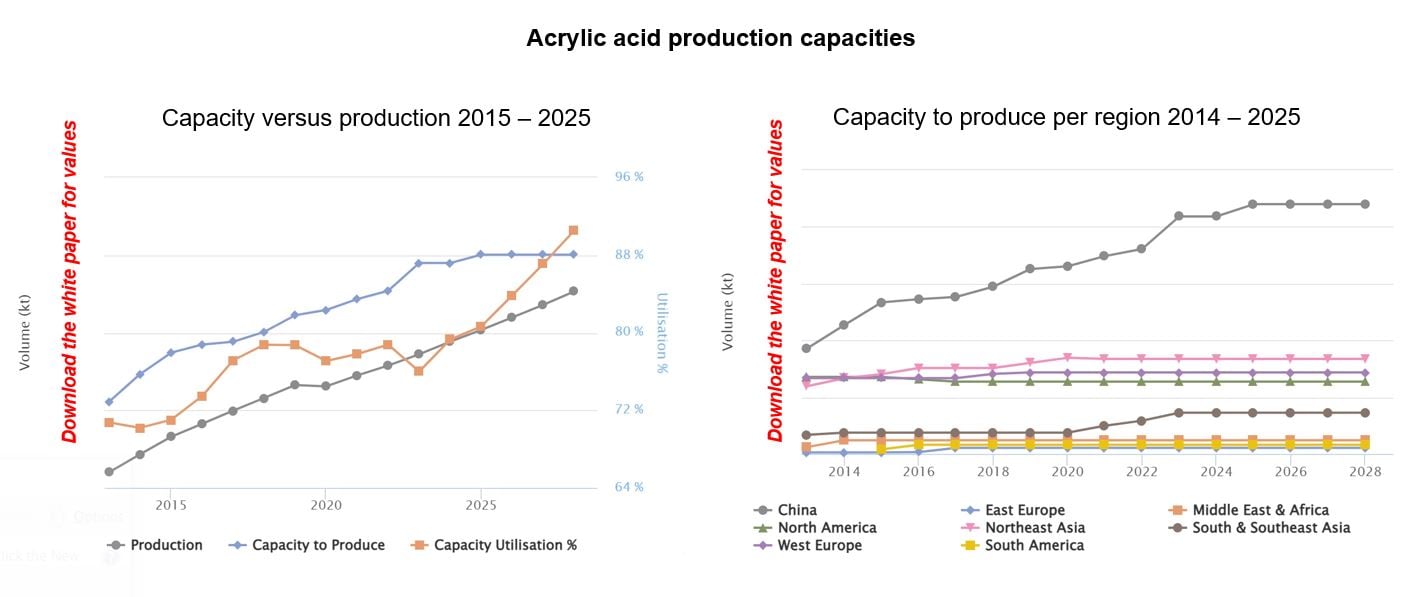 Source: Tecnon OrbiChem
The Russian question...
In 2021, Saudi Arabia and Russia were major importers of acrylates. With regard to the sanctions against Russia, importing acrylates is not directly banned. Still, European buyers are shunning Russian origin materials and Russian producers have lost some market share.
Russia imported several kilotons of acrylate esters per year in recent years. Russia has suppressed its trade data since March, but on looking at what other countries have exported to Russia, the trade level is not much changed in 2022, still around the 2018-2022 average.
Imports of acrylic acid were already lower than acrylate esters and nearly halved in 2022.
Esters of methacrylic acid, mainly MMA, are up a lot in 2022. Download the white paper for precise volumes indicated in our chemicals data intelligence platform OrbiChem360.
Market monitoring
Tecnon OrbiChem follows acrylic and acrylate – including MMA and PMMA –market trends globally. We help clients understand the factors influencing the dynamics across the value chain and respond to the industry's biggest challenges with objective analysis and reliable data. OrbiChem360 provides comprehensive chemical business intelligence to assist business managers in their strategic planning and business performance optimisation.
The full white paper provides a review and outlook for regions including Asia – with special focus on the region's acrylic acid capacity. The paper also includes insight into North American, Asian and European markets with special focus on acrylate esters in relation to superabsorbent polymer (SAP) trends for 2023.
Fill in the form below (including a business email), tick at least one interest box and we will send the paper direct to your inbox.