Just as the automotive industry lamented yet another year of muted sales, Elon Musk threw a curveball into the mix. Tesla cut the price of its electric vehicles (EVs) by up to a fifth worldwide.
The move is a trigger for an EV price war but what impact will this have on markets serving auto Original Equipment Manufacturers (OEM), Tier 1–3 suppliers and independent parts makers?
If demand from downstream consumers within the automotive industry grows, so too might global chemicals markets...
Back in December, Reuters reported 2022 as a 'sobering year' for Tesla investors and rival EV startups. Could 2023 be electromobility's turning point?
China and EV component capacity
Musk's move comes on the heels of the Chinese government's decision to end its long-running subsidy of the country's emerging EV market in favour of alternative EV sector incentives. It is not that the support has not helped the auto market, in fact China's electromobility – or new energy vehicle – sector is positively-charged and ambitious. The Chinese government, therefore, may be confident it can thrive with less state propping. Automobile makers in the western world will be hoping Beijing's leaders are on the right track. But anyway, in the USA EV buyers can receive a government subsidy of up to $5000 per car provided certain 'made in the USA' rules have been followed.
Evidence of China's flourishing EV market includes specialty chemicals company Evonik officially opening its first lithium-ion plant and global lithium-ion battery centre in Shanghai Innovation Park in November 2022. Covestro, meanwhile, maintains a significant engineering plastics presence in China.
Both Ineos and BASF are augmenting output of chemicals key to EV and automotive markets in China. The collection of key producers in proximity to Evonik's new facilities may prove perfect for an EV powerhouse in China. In fact, we explored this proposition in a blog post A chemicals super producer again: China reasserts with western support published in November 2022.
EV polyamide potential
Polyamide (PA) – commonly called Nylon, the original brand name for PA 66 introduced by DuPont – comes in different forms of resin and fibres.
It is a favoured compound in traditional combustion engine vehicle production lines and has been used to cast intake manifolds and produce fuel lines. Both applications demand high pressure and high temperature resistance. PA provides the necessary durability and resistance to heat. In EVs, it will be battery cooling pipes that demand such properties.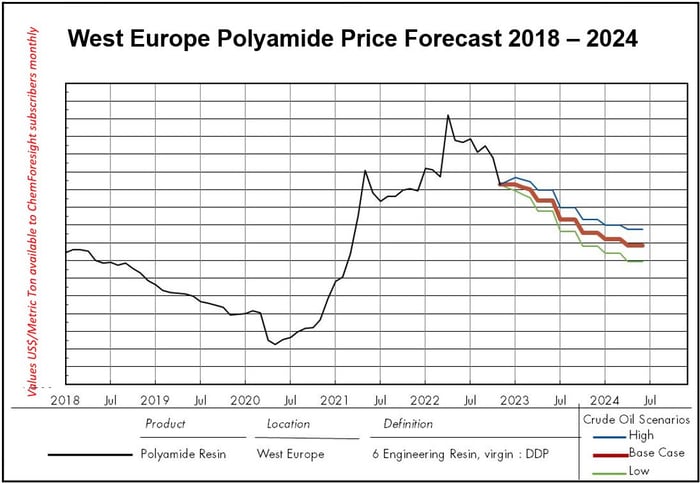 Source: Tecnon OrbiChem
Auto parts made from PA resin significantly reduce an EV's weight, which means the vehicle's fuel efficiency is boosted compared to components made from metals, even aluminium. PA-based textiles provide the raw material for air bags due to its combined strength and adaptability in such a key safety automotive safety application.
Thermoplastic polymers
High voltages remain critical to EV transmission and propulsion. It is vital that the materials used to encase their electrically charged mechanisms are insulated. PBT – produced by combining purified terephthalic acid (PTA) and 1,4 butanediol (BDO) - meets the property demands of a high voltage insulator due to its high temperature resistance and good insulation.
A number of key chemicals producers are poised to supply a strong EV market in China. German specialty chemicals company Lanxess is already targeting electromobility markets with a PBT material for high voltage connectors. Japan's Polyplastics Group produces a 30% glass-filled PBT aimed at EV markets and BASF's PBT Ultradur can be used for plug-in connectors and sensor housings.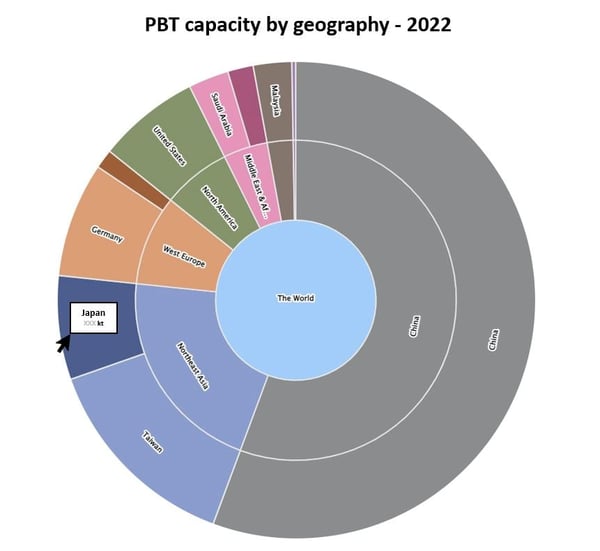 Source: Tecnon OrbiChem
Dutch chemicals company DSM offers Akulon PA 6 and PA 66 material solutions for EV charging plugs. The company also offers high-performance PA 46 for applications in automotive. And US-based chemicals company Ascend says its new PA 66 material Starflam X-Protect demonstrates damping properties that enhance EV sound profiles. The material is suitable for parts including mounting brackets says the firm.
Harnessing green shoots...
As 2022 drew to a close there were promising signs in the automotive markets overall. British new car registrations rose for the fifth consecutive month in December 2022, according to the Society of Motor Manufacturers and Traders. In the EU auto sales also rose in November 2022 with a 16% uplift reported, the fourth in a row.
In the US in December it was reported that the average daily selling rate was 46,788 – calculated over 27 days – compared to December 2021's selling rate of 44,592. While these figures do not differentiate between EV or combustion engine vehicles sold, a price war in the EV may be just the stimulus needed...
---
Automotive supply chains
Tecnon OrbiChem recently began a series of blog posts covering automotive supply chains through the lens of the chemicals and feedstocks it employs.
Two blogs published in December 2022 explored the role engineering plastics will play in emerging EV markets.
Engineering plastics for high voltage EV application and Polyamide for automotive engineering plastics.
A pair of blog posts published in October 2022 explored the materials that make up tyres.
Recycling tyres: The auto sector's sustainability boon and Automotive supply chains of the future and tyre sector circularity.
Tecnon OrbiChem's experience in the petrochemical industry – a leading feedstock supplier to auto industry participants – spans six decades. Our biobased industry insight dates back to the early 1990s.
For insight on feedstocks serving the auto sector – whether upstream or downstream – sign up below and we will keep you up-to-date on your chosen chemicals.