Collection and reuse rates for end-of-life tyres in Europe and the US represent a relatively positive circular economic system. Process exists to recover the energy they store or reuse the material in the same – or new – applications.
The European Tyre & Rubber Manufacturers' Association says over nine out of ten end-of-life (EOL) tyres were collected and reused within its regions in 2017. The US has recycled roughly three-quarters of its scrap tyres since 2017, according to the US Tire Manufacturers Association – a drop on its 2013 peak of 96%.
Recovered compounds find use in automotive applications, mulch for landscaping, rubber modified asphalt and tyre-derived fuel. Major tyre manufacturers Michelin, Bridgestone and Continental already use recycled carbon black in new tyres.
Standard tyres still contain around 3kg of carbon black – a material largely produced by the incomplete combustion of coal and coal tar or petroleum products.
Capturing the value
Earlier this year, Bridgestone and LanzaTech partnered on an EOL tyre recycling strategy using the latter's carbon capture and transformation technology. A gas fermentation process, it converts captured CO2 into chemicals such as ethanol. The pair are also exploring microbe technology for more efficient pathways route to butadiene.
Michelin meanwhile is focusing R&D on the use of pyrolysis oil derived from EOL tyres and other rubber-based industrial products. The company broke ground on its first tyre recycling plant in Chile in 2021. Leveraging patented technology held by its Swedish partner Enviro Systems, it will recover carbon black, pyrolysis oil, steel and gas from EOL tyres.
The plan is to recycle 30 ktpa of earthmover tyres a year – nearly 60% of Chile's total scrap earthmover capacity. The pair earmarked 90% of recovered materials for use in conveyor belts, anti-vibration products, and more tyres. The remaining 10% will generate heat and power within the plant.
---
'Carbios' PET chemical recycling demo plant can process two tons of PET – equivalent to

100,000 bottles – per cycle'
Carbios ceo Jean-Claude Lumaret
---
Also in 2021, Michelin successfully validated Carbios' enzymatic recycling technology for waste PET plastic. The process yields a high-tenacity tyre fibre meeting Michelin's technical requirements. Carbios' PET chemical recycling demonstration plant – said the firm's ceo Jean-Claude Lumaret in a press release 'features a 20m3 depolymerisation reactor capable of processing two tons of PET – equivalent to 100,000 bottles – per cycle'.
Located in central France, it was set up late last year as a blueprint for scale up to a new 40 ktpa unit. Carbios expects future facilities to be run under licensing agreements. According to Michelin, the PET fibres used in manufactured tyre cars represent 800 ktpa of PET.
PET plastic bottle waste is the raw feedstock for Continental's recycled polyester yarn. It is obtained using the company's in-house Contyre.Tex technology and requires no chemical intermediate steps.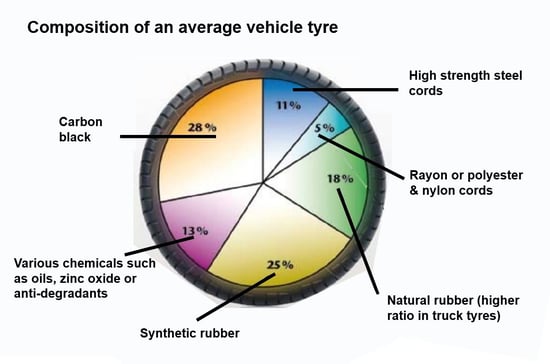 The PET bottles are sorted and mechanically cleaned post-cap removal then mechanically shredded. It is granulated before spinning into yarn. Continental claims it completely replaces conventional polyester in selected tyre carcasses. Around 40 recycled PET bottles provide the feedstock for a passenger vehicle's car tyres. Polyester yarn made from PET is not new to passenger and light truck tyre assembly. The textile cords absorb the forces of the tyre's internal pressure, maintaining dimensional stability under high loads and temperatures.
Italian regeneration technologies company AGR owns technology for the devulcanisation of post-consumer elastomers. In partnership with Versalis, it will develop and commercialise new elastomer-based products made from granulated rubber. The raw material feedstock will be post-consumer products from the EcoTyre Consortium.
The automotive supply chain
As the auto industry undergoes perhaps its greatest transformation since Henry Ford first conceptualised the Model T over a hundred years ago, OEMs and supply chain participants will need access to accurate, reliable and insightful data.
Tecnon OrbiChem's experience in the petrochemical industry - a leading feedstock supplier to auto industry participants - spans six decades. Our biobased industry insight dates back to the early 1990s. Only by understanding how automotive makers have been served by traditional supply chains can OEMs hope to diversify into the emerging renewable materials availability.
To receive the series of Tecnon OrbiChem's blog posts dedicated to the automotive industry, sign up below. Be sure to tick the interest groups Engineering Thermoplastics, Polyurethanes and/or Polyamide which are key to the insights we will provide as our automotive coverage progresses in the coming weeks. In last week's blog post, we cprobed the specific materials that make up a tyre including Nylon and carbon black.