The automotive industry – both the traditional internal combustion engine powered and the emerging electric vehicle sector – is increasingly relying on polyamide for its parts manufacturing. As an engineering resin, it's the raw material for vital mechanical components including intake manifolds and fuel lines. Polyamide's textile yield is the raw material for air bags, an application in which its combined strength and adaptability fortifies a vehicle's overall safety profile.
Designated high performance materials, polyamides (PA) underpin the auto industry's recent advances in light weighting, increasing sustainability in transportation. As a feedstock, PA – commonly called Nylon, the original brand name for PA 66 introduced by DuPont – also offers faster and more cost-effective production rates than steel and aluminium processes historically.
However, that statement requires a disclaimer: Lower costs and faster supply are achievable with a smooth-running PA supply chain. But that isn't a scenario manufacturers and PA purchasers have witnessed in a very long time.
Turbulent times
Even before Covid, the PA 66 intermediates market was turbulent, with balances shifting back and forth between oversupply and acute shortage since 2017 at least. Avid automotive sector buyers themselves were responsible for some of that tightness, but plant stoppages also played their part. Shortages of compounding materials such as glass fibres for reinforced PA – used to make radiator shrouds, air ducts, structural components and reservoirs – and tight supply of fire retardants also led to longer lead times and product allocation in auto markets.
---
The price of ammonia – a key precursor for both PA 6 and PA 66 intermediates – rose from $200/ton to around $1,500/ton in the year to March 2022
---
PA 6 markets – historically accustomed to benzene price volatility – fared little better despite their experience of irregularity. Supply/demand limitations characterised much of 2021 too, with additional challenges from rising logistics backlogs and escalating raw material costs.
Soon after the Russia-Ukraine war began in February, a number of major automobile manufacturers in western and central Europe announced temporary closures due to the disruption in supplies from parts makers in Ukraine. Already acutely aware of supply chain vulnerability due to the ongoing semiconductor shortage, automakers suddenly found that wiring harnesses – a market largely cornered by Ukrainian producers – had become its biggest supply chain headache.
As the ongoing war inflated natural gas prices, the price of ammonia – a key precursor for both PA 6 and PA 66 intermediates – rose from $200/ton to around $1,500/ton in the year to March 2022. With October's disruption to the Nord Stream pipeline compounding the natural gas crisis, PA market uncertainty remains high and supply chain visibility low.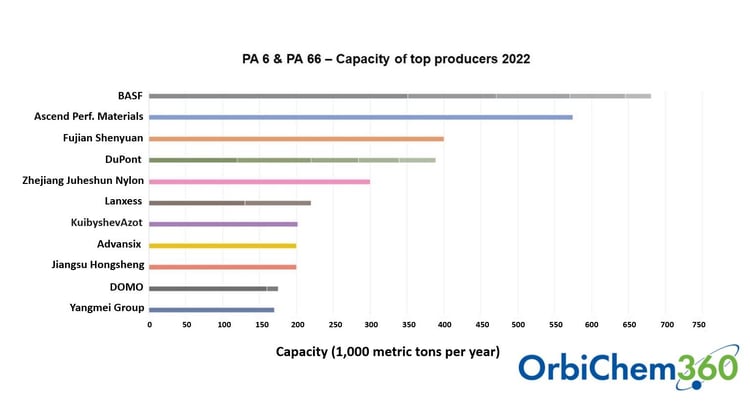 Harnessing potential growth in 2023
Despite the disruptions, October 2022 marked the UK's third consecutive month of registration increases (up a quarter month-on-month), according to a Society of Motor Manufacturers and Traders report. EU auto sales in September represented a two-month growth spurt, reported the European Automotive Manufacturers Association. And, at around 15 million light vehicle unit sales in October, year-on-year growth topped 11% in the US.
While this growth trajectory is good news for the auto industry, it could not have come at a more volatile time in petrochemicals and materials supply chains.
---
The overall weight of an intake manifold went from 50lbs for a cast iron model to just a few kilograms thanks to engineering polyamides
---
Polyamide applications in automotive
Like a lung in a living being, intake manifolds – or inlet manifolds – ensure air circulates sufficiently for functionality.
Traditionally made of cast iron or aluminium, many today are made from PA 66 or PA 46 glass-reinforced (GRF) composite material. A cast iron variety could weigh 50lbs and although a cast aluminium intake manifold cuts this weight by over half, a plastic composite model can weigh at little as a few kilograms.
Porsche first commercialised a PA-based manifold with a GRF PA 66 grade version in its 911 using DuPont's Zytel in 1972. Not only did Porsche recognise that GRF-polyamide models maintained the requisite heat- and abrasion-resistance, producing plastic versions worked out cheaper and faster.
Today, PA-based manifolds feature in a range of Ford, Chrysler and General Motors vehicles.
Front-end carriers
BASF was the first to create an entirely polyamide-based front-end (FE) carrier when its Ultramid engineering plastic-based model featured in a Volkswagen Golf automobile back in 2015. The Passat's FE carrier is the largest polyamide part in the vehicle but weighs in at just 2.6 kg. A few years ago, FE carriers were made only with steel.
China-based auto manufacturer Geely Auto Group announced plans use Lanxess' thermoplastic FE carrier in its vehicles, according to this 2022 press release.
Meanwhile, chemical company Roechling Group offers an FE carrier that allows for the fixing of active aerodynamics, a feature popular in performance cars. The Porsche 918 Spyder for example, features a pair of underbody flaps, which once opened, guide air into the diffuser channels of the underbody structure, which keeps the car suctioned to the ground.
Brands pivot to electric vehicle potential
With interest in electric vehicles (EV) growing, PA is likely to become a key material in electrical cable application due to its excellent insulation properties. Dutch chemicals company DSM – which is currently negotiating divestment of its engineering plastics business to Lanxess – has already moved into this market with its Akulon PA 6 and PA 66 material solutions for EV charging plugs.
US-based chemicals company Ascend meanwhile is leveraging the R&D behind its new PA 66 material Starflam X-Protect. Not only does the flame-retardant material improve the safety, says the company, its damping properties enhance EV sound profiles.
Germany-headquartered chemicals giant BASF is expanding its PA offering for EV markets by offering tailor-made engineering plastics for use in electric cars using its Ultramid engineered plastic.
There is no doubt that PA grades have a great deal to offer all automotive applications, automakers and/or suppliers, whether EV-focused or otherwise. Zytel for example – a versatile PA with high mechanical strength, stiffness and toughness developed by DuPont's Mobility & Materials division prior to its divestment to Celanese – features in engine cover and fuel line applications. Polyamide is also used in auto grids, hub caps & interior linings.
---
Feedstocks & properties of polyamide

–

an engineered material
PA is a major high performance engineering thermoplastic demonstrating high temperature and electrical resistance. A plastic that resists wear, impact plus many chemicals. It can be processed at different densities for increased flexibility, or rigidity, based on the specific requirement of an application.
Although, they exhibit similar properties, there are subtle differences. The temperature resistance of PA 6 for example, is slightly lower than PA 66, and it is marginally less expansive.
PA 46 exhibits high-temperature performance, good wear & friction and superior flow when moulding.
---
Automotive supply chains
This blog post is the third in a series exploring the chemicals and feedstocks that underpin the automotive sector. We unravelled the materials that make up tyres in our earlier blog posts Recycling tyres: The auto sector's sustainability boon and Automotive supply chains of the future and tyre sector circularity.
Tecnon OrbiChem's experience in the petrochemical industry – a leading feedstock supplier to auto industry participants – spans six decades. Our biobased industry insight dates back to the early 1990s.
For insight on feedstocks serving the auto sector – whether upstream or downstream – sign up below and we will keep you up-to-date on your chosen chemicals.