This time last year, a Covid-driven surge in flexible foam demand for soft furnishings as consumers were forced – or chose – to stay at home meant toluene diisocyanate market participants were in healthy positions.
Key polyurethanes (PU) intermediates producers – Europe's BASF and US-based Huntsman – had US isocyanates plant expansions planned. And the usual springtime uptick in construction markets was on the horizon. Positivity was rising as the world began to put Covid lockdowns behind it.
Conversely, China's dual control measures were impacting output, and the ongoing semiconductor shortage was disrupting automotive supply chains. Despite the dwindling automotive supply chains however, the PU sector was somewhat bolstered by alternative business streams.
Then Russia invaded Ukraine. And China locked down hard...
2023 & beyond
Today, the semiconductor supply chain is improving and BASF announced it had broken ground on the Geismar, Louisiana-located methylene diphenyl diisocyanate (MDI) plant this January. An electric vehicle (EV) price war is underway, bringing with it potential for a dynamic automotive market – and related supply chains. And China's energy-related economics are favourable now, compared to Europe especially. Turnarounds in many ways...
Perhaps the most significant – in general consumer terms – is the depletion of disposable income reserves. While a significant proportion of the world's population emerged from lockdowns with unspent savings, 2022 inflation rates have quickly swallowed them up. By and large, consumers currently do not have spare cash for luxuries like new furniture, expensive trainers and running shoes or new cars. All sectors at the retail end of the polyurethanes value chain.
---
Free white paper download:
Global isocyanates market outlook 2023, & 2022 review
---
The chemicals industry – a key indicator of wider global economics – is not currently able to buck the trend in mixed messaging. Tecnon OrbiChem senior consultant Regina Sousa has been monitoring isocyanates and PU markets since 2018. The free-to-download white paper contains her expert opinion on isocyanates MDI and TDI markets in 2023.
While it cannot be denied that the first part of 2023 may bring tough markets, there is still H2 to consider. Find out Sousa's view – based on regular interactions with industry PU industry participants – on the latter end of the new year in the white paper.
---

'...For 2023 most isocyanates markets participants are less than optimistic,

particularly for the first half of the year...'
Tecnon OrbiChem senior consultant Regina Sousa
Polyurethanes & intermediates, olefins
---
Historical feedstock volatility
The graph (below) is from Tecnon OrbiChem's propylene oxide-focused ChemForesight published as 2022 drew to a close. Propylene oxide (PO), which is used to make polyether polyols for polyurethanes, is also used in the manufacture of propylene glycol, which is used in antifreeze. Demand for antifreeze goes up when the weather gets cold, resulting in tight markets for PO seasonally. However, what is interesting about PO as a PU feedstock is how volatile its price has been – especially in China – since H2 2020.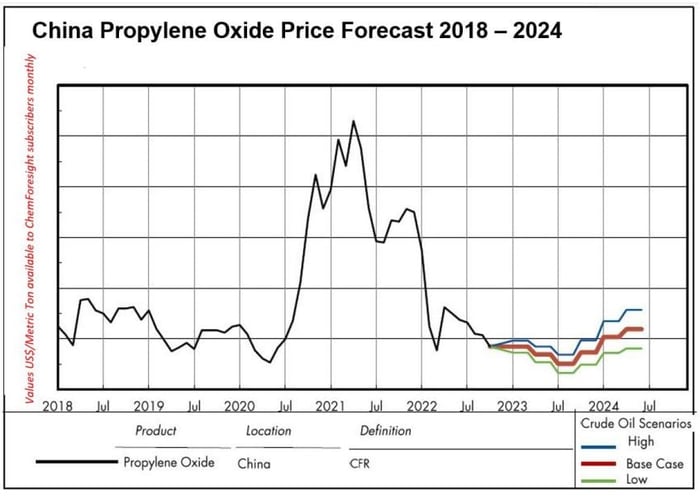 Note: The price forecasts in the graph above are based on three crude oil scenarios, with the base case reflecting our median prognosis but accompanied by scenarios of higher and lower price trends.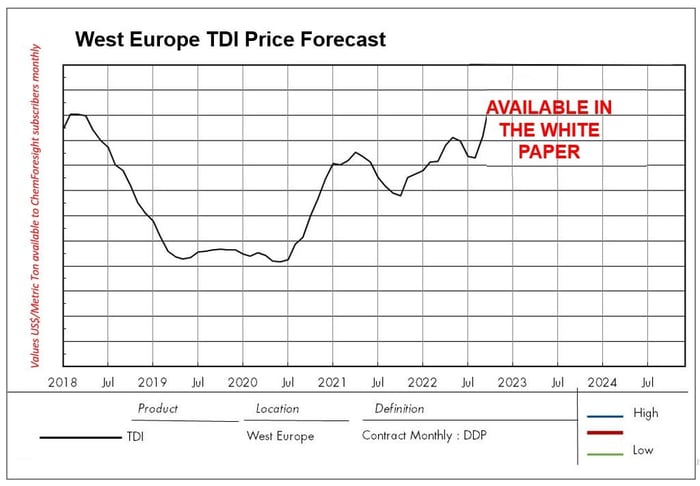 Source: Tecnon OrbiChem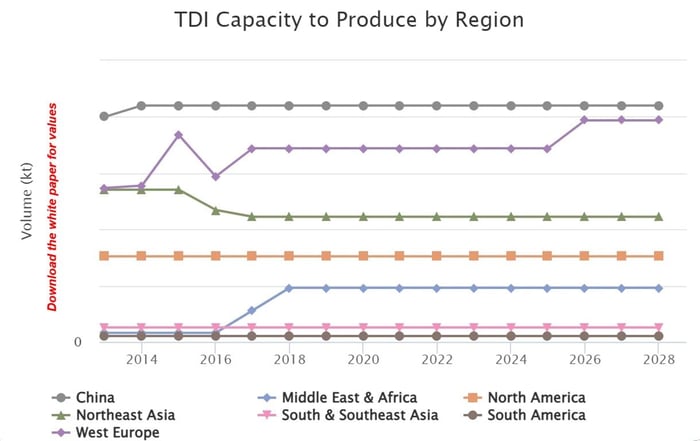 Source: Tecnon OrbiChem
You can still read last years' review 2021/2022 outlook blog post: Polyurethanes & Intermediates: Healthy demand keeps isocyanates markets strong.
Market monitoring
Tecnon OrbiChem follows isocyanates market trends and prices globally. We help clients understand influencing factors and dynamics across the value chain. Our insight into the global chemicals sector - which spans six decades - allows us to respond to the industry's biggest challenges with objective analysis and reliable data.
Our chemicals data platform OrbiChem360 provides comprehensive chemical business intelligence to assist business managers in their strategic planning and business performance optimisation.
The full white paper provides a review and outlook with focus on Chinese, North American and European markets.
Fill in the form below (using a business email), tick at least one interest box and we will send the paper direct to your inbox.