Chlor-alkali has always been a high energy consumption industry. With the outbreak of the Russian-Ukraine war however, energy price hikes rippled globally and hit European chlor-alkali producers hardest.
At that time, no one expected that an energy crisis in Europe might impact China's caustic soda market...
In 2022, European buyers imported large quantities of caustic soda from China for the first time. Prior to that, it was Russian and Ukrainian caustic soda that helped meet Europe's need. With the war contributing to a sudden caustic soda shortage, European buyers increasingly turned to Chinese and Northeast Asian suppliers from April 2022.
As the war continued and Europe's energy prices soared in the latter half of 2022, the region's chlor-alkali producers cut operating rates on low chlorine derivative demand. Tight supply of caustic soda was the knock-on effect. This led to European buyers importing large quantities of caustic soda from China between September and November.
Export price for caustic soda was in flux

China's caustic soda export prices jumped significantly higher than Chinese domestic prices in the months that saw increased demand from European buyers. And the large export quantities of caustic soda eased pressure on domestic sales of caustic soda within China's markets.

China's caustic soda prices maintained a relatively high level in 2022, with European buyers a key factor in that outcome.


---
'Chinese caustic soda spot prices dropped in first few months of 2023

due to relatively weak domestic and overseas demand'

Tecnon OrbiChem consultant Lulu Zhao
---
In 2023 however, European buyers have not sought Chinese sellers as readily as they did in 2022. This is because Europe's prices have fallen due to an oversupply in of caustic soda in its market.
Conversely, Europe's export market picked up as a result of the oversupply in the domestic market and buyers no longer seeking imported material. Chinese caustic soda spot prices dropped in the first few months of 2023 due to the relatively weak domestic and overseas demand.
Domestic downstream demand from alumina, paper and other industries recovered slowly in China following the 2023 Spring Festival, and the spot export market has been relatively inactive the past two months.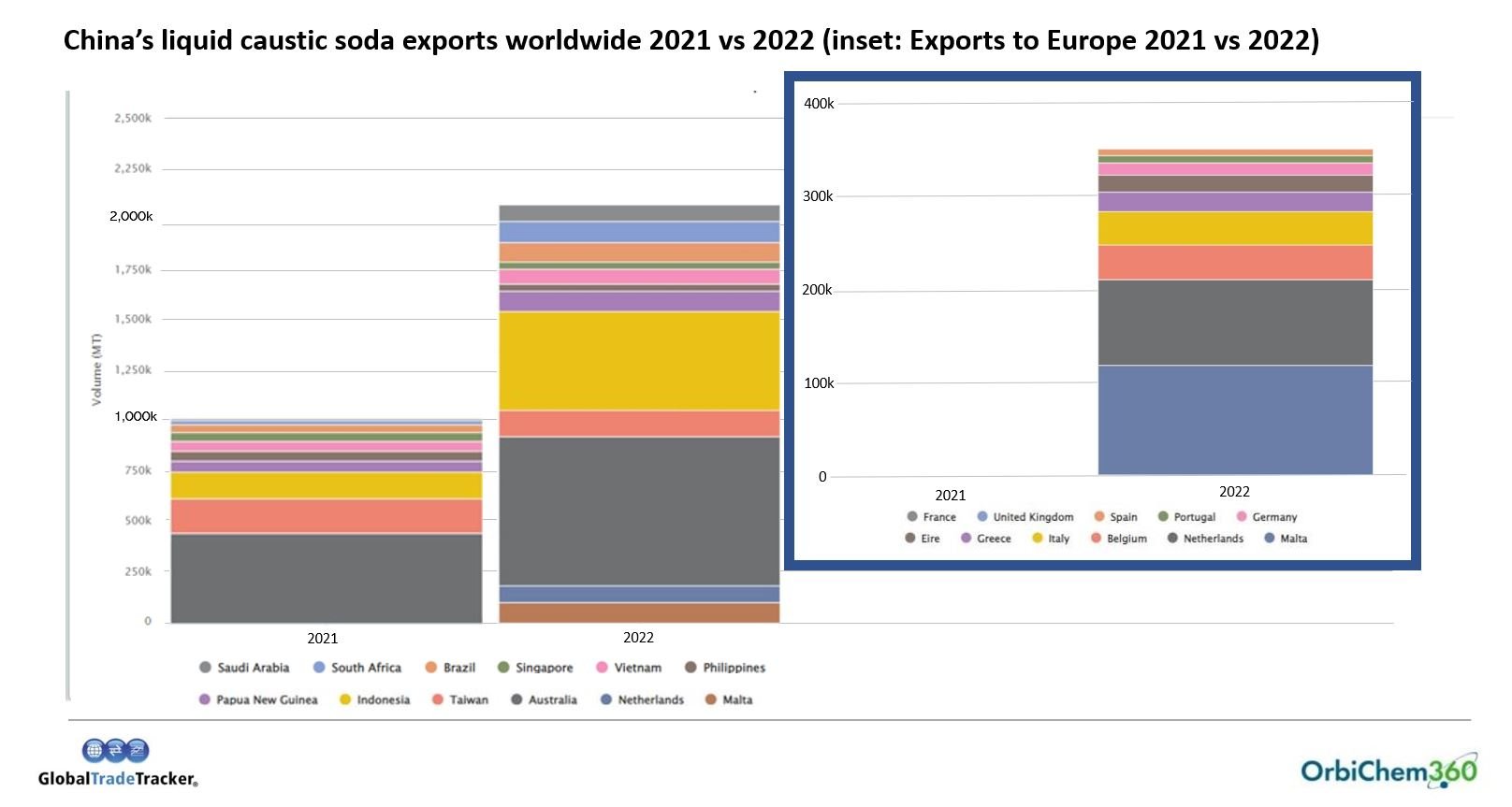 Source:

Tecnon OrbiChem
Market view
Speaking exclusively to Tecnon OrbiChem, one major east China-based exporter described the current spot cargo demand for caustic soda in the Asia Pacific region as 'not strong'.
'The operating rate of European chlor-alkali is recovering and there is still enough inventory of caustic soda in Europe. And in terms of spot cargo negotiations,' they add, 'there has not been much these past two months.'

In the international market, the energy crisis in Europe has eased and the global economy is exhibiting a significant downward trend. In China's domestic market, the operating rates of domestic chlor-alkali producers stayed high but downstream demand remains relatively weak.
The view of another industry participant – specifically a Chinese chlor-alkali producer – suggests that the country's caustic soda market will remain oversupplied throughout the remainder of H1 2023.
---
PVC ChemForesight launched
The latest addition to our ChemForesight range focuses on PVC. It's a market that has shifted in recent years. China's foreign trade in PVC was roughly balanced between exports and imports up till 2016, as regards both unplasticized and plasticised PVC. However, the balance swung into net exports from 2017 onwards. Net exports for unplasticized PVC expanded to 100 kt in 2022.
As regards plasticised PVC, net exports were low until 2019, but expanded from 2020 and reached 160 kt in 2022.
It is a change that is likely to significantly impact pricing structures, as well as spot and arbitrage opportunity in the coming years – especially given that the country is set to realise 1500 ktpa new capacity this year.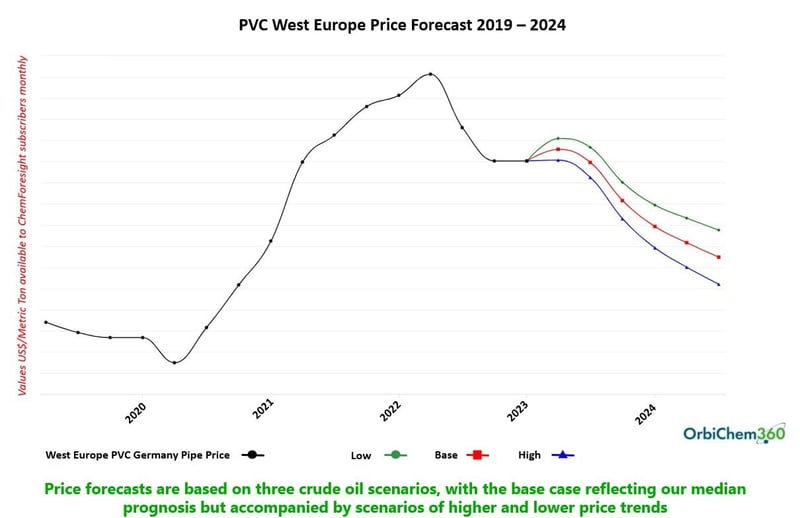 Source: Tecnon OrbiChem
In ChemForesight, pricing is forecast for the next 18 months and assessed using three crude oil scenarios to allow the user to judge the effect of deviations from the base predictions. Feedstock and energy costs are indexed to the Brent crude oil price, with adjustments for non-petroleum sources (mainly natural gas and coal).
---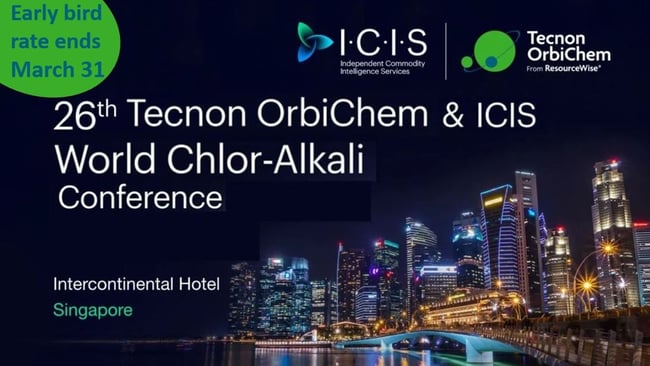 ---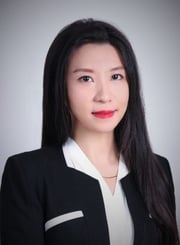 In the mix
We explored China's energy consumption policy 'dual control' in our blog post Energy policy in China and its impact on some chemicals production. The measure – designed to limit the country's total energy consumption – continues to impact how business is conducted in the there today...
This blog post comes from Lulu Zhao (pictured right), who is based in Shanghai, China. Zhao monitors domestic and south east Asian markets for acetic acid/acetyls as well as caustic soda.
Earlier this year, our Europe-based consultant Hira Saeed shared her insight into the outlook for chlor-alkali markets in 2023. Read the blog post Chlor-alkali 2023 outlook & review of 2022.