The European Petrochemical Association (EPCA) 56th Annual Meeting in Berlin (4-6 October) was meant to be a happy reunion for the petrochemical industry after two long and tumultuous years of being apart. For many, it was the first chance to ditch online meetings and come together face-to-face with colleagues and peers.
Sentiment at the start of the week was cautious but hopeful that together the industry could find measures to overcome potent economic headwinds. However, the general mood became increasingly despondent as the week progressed. Conversations centred on the impact of the war in Ukraine, high natural gas pricing, the sustained downtrend in China, surviving in a market being flooded by Asian and Chinese imports, the threat of plant closures, a looming global recession, the Opec+ oil production cuts, and an overwhelming lack of clarity of future trends.
In the epoxy resins value chain, suppliers and producers had come to Berlin fully aware that the tables had turned from last year and that 2023 was rapidly becoming a buyers' market, with consumers already stating they were not ready to commit volumes for next year.
In Q4 last year, security of supply had been the overriding theme in contract negotiations as stressed, expensive and erratic supply chains pushed consumers to remain within their domestic markets, even if it meant paying significantly higher prices. Today, even though ocean freight and inland transport remain unreliable, and now port congestion at Antwerp and Hamburg adding to buyers' woes, they have sufficiently improved to give buyers confidence to look further afield for their requirements.
In most downstream sectors, as competition intensifies against a backdrop of diminishing demand and active destocking, end users are swapping domestically-produced material for Chinese and Northeast Asian imports at an alarming rate.
Real demand may only be down by 10-20% compared to the first half of 2022 and all of 2021, but domestic manufacturers are facing steeper drops as they lose market share to China and Northeast Asia sources. The epoxy resins industry cannot react in any meaningful way because it continues to be hobbled by high energy and production costs.
There is no end in sight for a resolution of the war in Ukraine, which means natural gas prices are unlikely to decline during winter. Governments may step in and help manufacturers to keep their plants running, but it is doubtful whether already stretched funding from the Covid years can support both domestic and industrial usage.
---
'Producers will beg to differ... but buyers are reporting that some price drops of 5-10% for October business had been conceded'
Jennifer Hawkins, Tecnon OrbiChem business manager
---
There is also the question of China. President Xi Jinping's expectation of winning an unprecedented third term as general secretary of the Communist party and head of the military may see him trying to win support by pumping financial stimulus into a stuttering economy and overcome the drag of the debt-ridden construction industry, while at the same time, trying to encourage consumers to spend their savings accumulated during the zero-Covid restrictions.
Several market participants believe this will happen after the Lunar New Year holiday starting on 22 January, but sceptical seasoned players are certain that demand will wax and wane during this period exactly the same way as it has done for years before. It is not a matter of if demand will pick up again in China, but when. For now, the world can only sit back and wait for this to happen.
Optimism is out there
But there are optimistic voices too (aside from those of US participants). Asian values have bottomed out, with manufacturers, unwilling to operate at a loss anymore, starting to reduce operating rates, thereby restricting some of the import flow to Europe. It is believed Asia is at the lowest point it can get and now the only way is up.
In Europe, consumers are convinced that their suppliers are still giddy from the heady days of record-high profits and are refusing to acknowledge today's reality – pricing needs to come down for everyone to survive in a cost of living crisis. Producers will beg to differ, high energy and production costs make this impossible, but buyers are reporting that some price drops of 5-10% for October business had been conceded. Values are starting to fall to levels that had seemed inconceivable only a few months ago. So, while the possibility of Asian pricing rising and European values softening may not completely eliminate arbitrage windows, it could help to narrow them.
There was also pervasive talk of plant shutdowns in the petrochemical industry, and while there have been some announcements, it is generally thought that this will not be widespread. Idling or even temporarily shutting a plant has huge financial implications. Any plant shutdown is a clear signal that the producer might well be stepping out of the market with no plans to re-enter in the near future. Market sources say that the European petrochemical industry will have to learn to survive running at 50-60%, possibly for the next two years. The epoxy resins sector already saw Olin temporarily curtail run rates at its Stade plant in Q2 this year; others could soon follow suit.
Security of supply issues
The issue of security of supply has also not gone away. Buyers (not in the epoxy resins markets) are exploring new relationships with US producers for 2023. Supply from here has its attractions – assessed to be more reliable than Asia, which has a tendency to disappear whenever demand in China picks up, and to be not as expensive as European produced material. But discussions here too have quickly dried up as volume commitments remain ever elusive.
All markets agree there is one known unknown – demand for 2023 remains unclear. Buyers face the following conundrum: Pay almost double for secure domestic supply or increase their exposure to a cheap Asian spot market and risk being subjected to violent swings in supply and pricing next year. Buyers have already been warned that if they turn their backs on their domestic suppliers, they will be heavily penalised if they come back during a supply crunch, a real possibility as run rates continue to be lowered. Suppliers and buyers may have to come to an agreement that will allow a degree of flexibility, but this will be limited as plant production cannot quickly adapt to market peaks and troughs.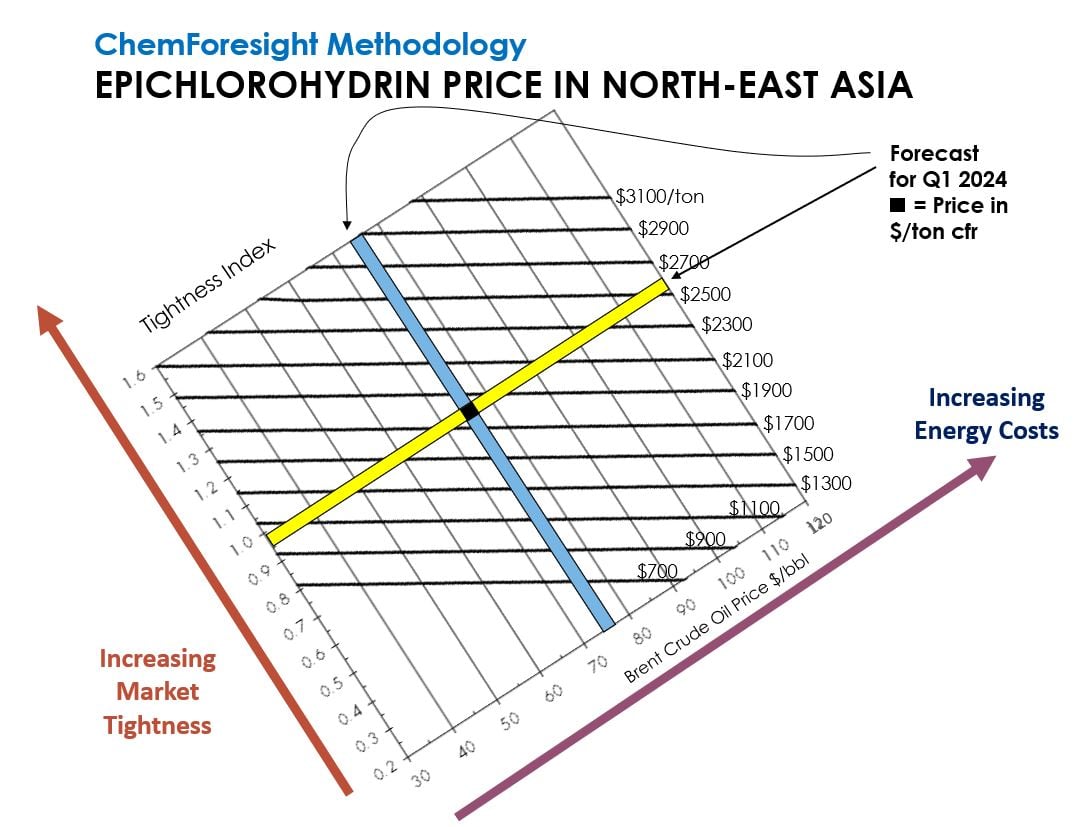 Source: Tecnon OrbiChem
Tecnon OrbiChem's price forecasting service ChemForesight is available for epoxy resins, bisphenol A and epichlorohydrin, and also upstream products such as phenol, acetone, benzene and propylene, and also chlorine. Forecast pricing is always assessed for three different crude oil scenarios, to allow the user to judge the effect of deviations from the base predictions. Feedstock and energy costs are indexed to the Brent crude oil price, with adjustments for non-petroleum sources (mainly natural gas, coal).
In addition to the costs of production thereby indexed, there is an allowance for the effects of the supply-demand balance, as measured by the "Tightness Index" (TI), on the margins achieved in the market. As the buffer between production capacity and market demand narrows, prices get driven higher. This is allowed for in the forecasting methodology by applying the TI for the market in question at the time chosen for the forecast. [The TI is the reciprocal of the buffer, as a fraction of the capacity, expressed on a logarithmic scale.]
The graphic above illustrates how this has been applied for an epichlorohydrin price forecast. The blue bar has been placed at the position for the expected crude oil price, while the yellow bar has been placed at the forecast TI value. The intersection, shown by the black box, indicates the price forecast, in this case for Q1 2024.
The service is updated every month for over 40 chemical markets. Each ChemForesight includes a brief commentary on our medium-term expectations.
For more details contact us at info@orbichem.com.