Congestion at Chinese ports – driven by incapacity to load and unload cargoes under zero-covid lockdown measures and especially in Shanghai – blighted H1 2022 chemical supply chains. Now that has eased, it is European ports at the heart of H2 logistical snags.
The port of Hamburg is Germany's largest and therefore key to the distribution of cargoes for Central and Eastern Europe from overseas.
As a hub port, it is both a direct import port and transhipment site. In the latter instance, cargoes are discharged from incoming vessels and reloaded onto others destined for each shipment's importing port.
North Sea coastal ports
A highly scheduled operation, portside delays to prevent incoming ship cargoes being loaded onto designated vessels. This cargo must wait for available space on a different vessel bound for the intended port.
Both Hamburg and neighbouring North Sea coastal port of Bremerhaven were beset by congestion during September. The Kiel Trade Indicator report of 9 September specified 19 container vessels as awaiting unloading – up from 17 in late August.
The Kiel Institute for the World Economy's 21 September update however, showed a significant drop with just seven vessels awaiting clearance. By its 6 October update, 'the flow of maritime container traffic remained disrupted, with many freighters still stuck'.
'In the German Bight,' it said, 'congestion is receding but there was no figure for the number of vessels awaiting clearance.'
Improvements came in the wake of an industrial dispute settlement between ZDS – the Association of German Seaport Operators – and Ver.di, Germany's United Services Union at the end of 10 rounds of pay negotiations and strike action spanning three months.
---
'At one stage in 2022, ships were skipping ports in Italy and also Tarragona

because of congestion'
William Bann, Tecnon OrbiChem lead business manager
---


Strike action disrupts
However, eight days of strike action by workers at the UK's ports in Felixstowe plus the walk-out planned at the port of Liverpool between 11 to 17 October could derail congestion abatement progress in the German Bight into Q4. With Felixstowe handling about 4 million TEU annually – roughly half of the UK's total freight container capacity – strike action there forces cargoes to the Northern European ports such as Hamburg and Bremerhaven.

Tecnon OrbiChem's lead business manager William Bann monitors global markets and supply chains including acetyls, polyamides and chlor-alkalis.

Bann's contacts have aired frustrations at high levels of congestion at various ports at different times throughout the year, he said. 'At one stage, ships were skipping ports in Italy and also Tarragona because of congestion,' he added.
Reduced and fluctuating water levels in key rivers waterways including the River Rhine and Danube is a factor in logistics – a subject we explore in depth in the section Water & coal underpin continent countries' Plan B in an earlier blog post. However, as of the week beginning 3 October, the water level at Kaub - the Rhine River's key transit point - had reached over 250cms according to Reuters.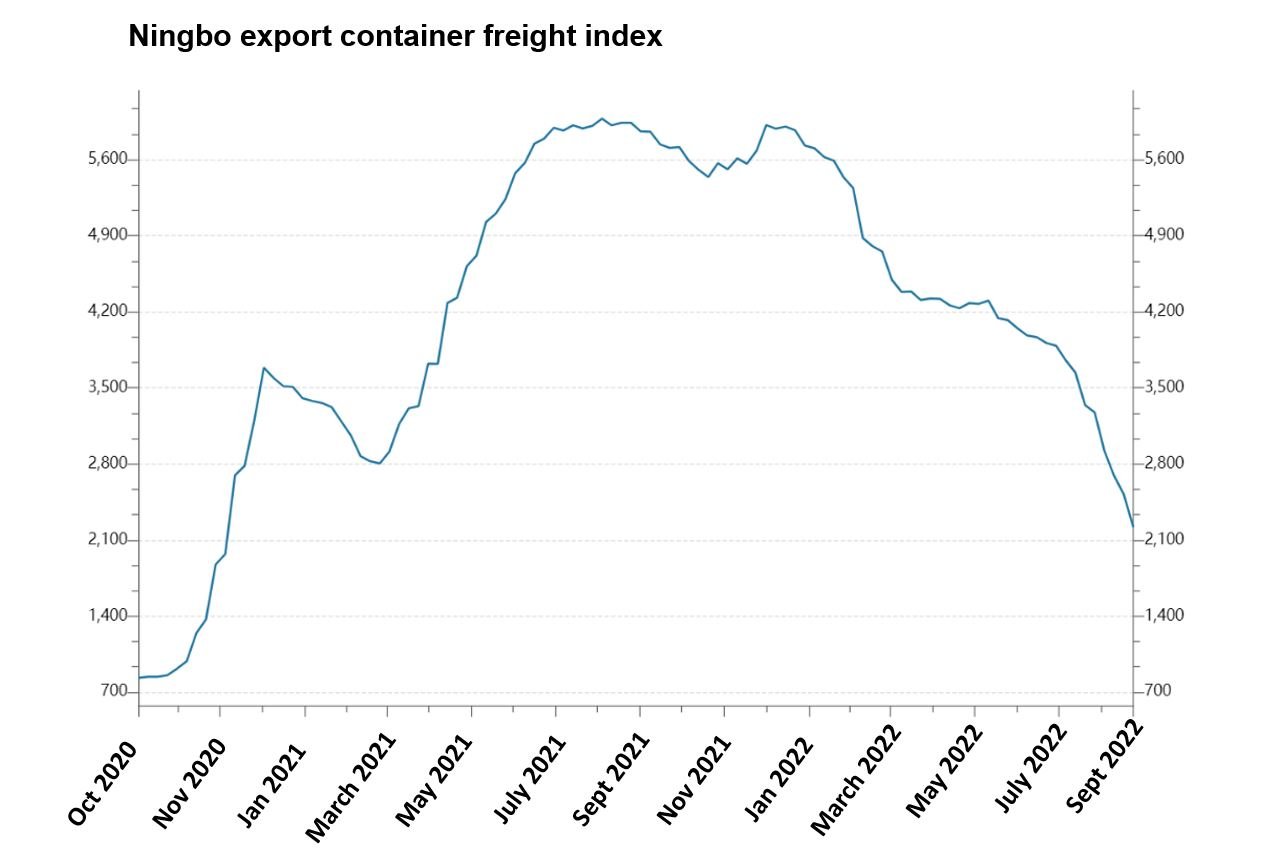 Freight faces downward spiral
Shirley Zhao is Tecnon OrbiChem's China-based senior consultant covering maleic anhydride, acrylonitrile & derivatives markets in Asia. Zhao noted that the shipping industry is facing a downward trend that is likely to continue as spot ocean freight rates weaken.
---
'The situation in Hamburg is as horrible as it had been in China' during zero-Covid lockdown measures'
Jennifer Hawkins, Tecnon OrbiChem business manager
---
Shipping companies substantially reduced the voyages before and after the Golden Week in China (1-7 October), she said. 'Market participants say that one of the reasons for voyage reduction is caused by the congestion at European ports. Some market participants report less bookings against decreasing freight costs,' she adds.
Dire delivery prediction
Meanwhile, Europe-based Tecnon OrbiChem business manager Jennifer Hawkins was told by one contact that the situation in Hamburg is 'now as horrible as it had been in China' – alluding to gridlocked Shanghai ports following the state's rollout of a zero-Covid lockdown throughout. That is a subject Tecnon OrbiChem's experts explored in the blog post Shanghai chemicals logistics disrupted, north ports pick up business back in May.

That particular contact referred to supply from Asia to Europe adding that some suppliers are refusing to ship material to the port. And there have been issues at the Port of Antwerp but this is improving according to sources, Hawkins adds.