The Asia-focused supplement to our January 2023 blog post Orthoxylene - phthalic anhydride outlook for 2023 & year in review contained interviews with market participants within Asia. Our China-based consultant Jane Zhu found those canvassed had strong hopes for how the year would pan out.
With Europe's production stunted by escalating production costs at the time, some buyers turned to Asia for supply. The memory of days when markets looked good in Europe back in early 2022 were fading as 2023 began. European producers had been largely derailed by knock-on effects of the Russian invasion of Ukraine.
The hindrance to European production and output stimulated activity within the Chinese economy - where until then, recovery had been largely halted by ongoing Covid-related restrictions. This is how supply chain dynamics play out in globalised supply chains.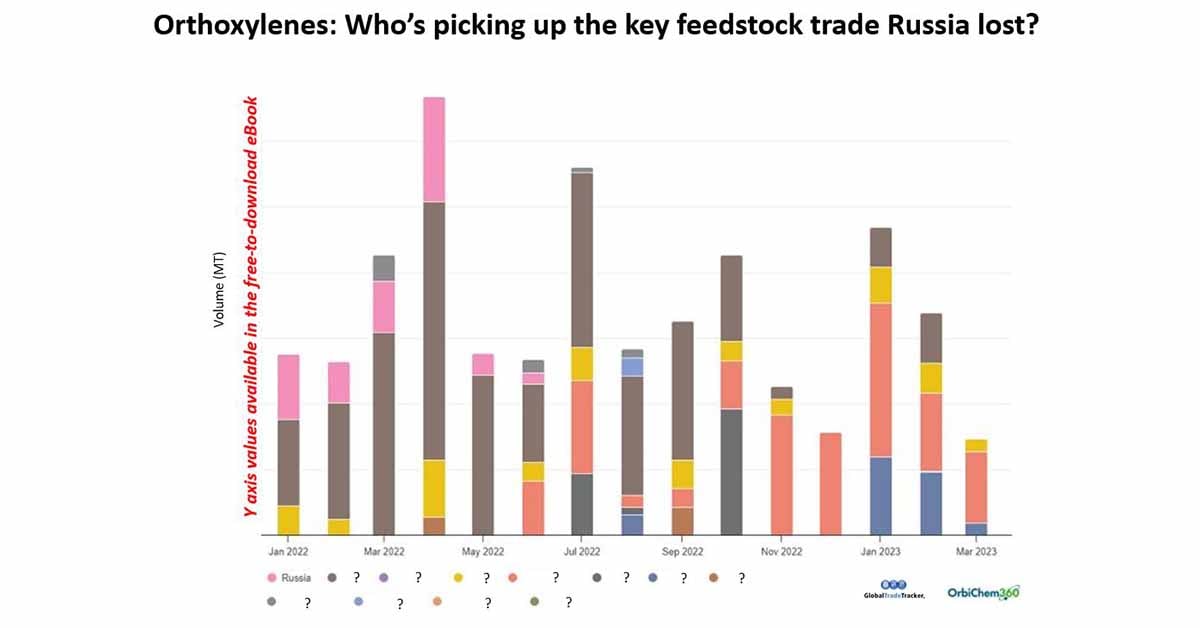 Source

:

Tecnon OrbiChem
Volatile landscapes
A year ago, orthoxylene (OX) supply was tight due to heavy maintenance schedules among some major producers.
In addition to this, poor run rates/economics at orthoxylene/paraxylene combined complexes had been seen and endured.
Phthalic anhydride markets were more balanced supported by better economics and run rates among naphthalene-based phthalic anhydride (PA) producers but lagging downstream demand recovery following the early 2022 holidays.
The Russian-Ukrainian war - and the resulting rise in global crude oil prices - drove prices up in all markets and ortho-based PA markets as they struggled to compete with the cheaper naphthalene-based peers.
---
New free eBook download:
Orthoxylene & phthalic anhydride markets: Mid-year 2023
---
The struggle between high cost pressure, tight supply and poor ortho-based PA margins remained throughout much of 2022, which saw OX and ortho-based PA producers suffering losses on occasion.

Thus, operating rates remained low, at levels designed to satisfy contractual obligations only. The 2023 pressures are slightly different, as explored by Tecnon OrbiChem consultants in the free-to-download eBook. The US faces a unique set of logistical challenges in terms of transporting orthoxylenes in the Illinois region. Reminiscent of the river transportation problems within Germany in 2022, Tecnon OrbiChem consultant Ben Edmunds outlines the specific issues and what mitigating factors have been implemented.
---

'...Producers noted it is hard to read demand trends due to unproductive, unsustainable and volatile purchasing strategies from various downstream industries month to month...'
Tecnon OrbiChem consultant Ben Edmunds
in the free-to-download eBook Mid-year review
---


Orthoxylene market
China's domestic orthoxylene production capacity was around 1600 kt in 2023 – with new capacity at 50 ktpa in 2022. The country imported OX to cover demand from downstream industry during 2022. Industry participants' expectations for a reduction in crude oil market prices in 2023 were considered likely to weaken OX prices. However, demand for PA was expected to improve compared to 2022, motivating OX producers to increase output.

A China-based OX market participant believed 2023 market prices would be unlikely to exceed those of 2022. Rather, they said, prices will fluctuate between Rmb6,000-9,000/ton.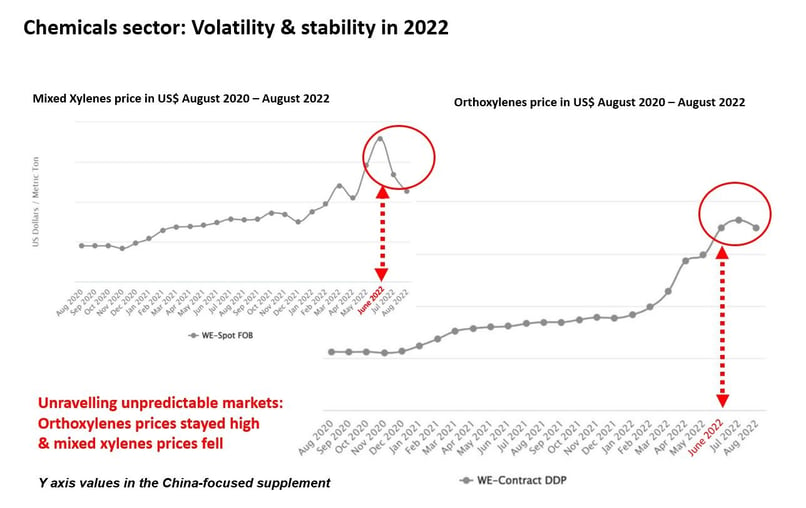 Source

:

Tecnon OrbiChem
The view from Taiwan was that 'Asian OX market prices were very strong in H1 2022, with a gradual downtrend in the latter half of the year. At its peak, OX reached $1,200/ton fob in Korea.

Demand for European imports increased for OX in H2 2022. Demand from India rose too, which made the whole market performance of OX better relatively. At the start of the year, the feeling was high. 'We remain positive and optimistic on OX market development,' said one.
The likelihood of demand for Chinese imports improving after the spring festival, of more product release from India, and the potential for continuing European demand if its local outputs cannot restart underpinned a relatively bullish outlook by that particular contact.
Phthalic anhydride market insight
Domestic capacity for PA production was around 3000 kt in 2022. OX-based PA accounted for nearly 60% with just over 40% naphthalene-based. PA output was over 1700 kt but prices fluctuated a great deal in 2022.
Its performance was not regular and normal, compared with PA market development in previous years. The lowest price was in July – at Rmb6,400/ton and prices peaked in October at around Rmb10,100-10,300/ton in north China.
---
'...What industry participants describe as 'unusual conditions' made OX feedstocks short in supply after April 2022. An increase in the export of domestic toluene meant some refinery plants did not buy feedstock to produce OX....'
Tecnon OrbiChem consultant Jane Zhu
in the free-to-download eBook Mid-year review
---
What industry participants describe as 'unusual conditions' made OX feedstocks short in supply from April 2022. An increase in the export of domestic toluene meant some refinery plants did not buy feedstock to produce OX. Another reason is that some refinery plants were subject to maintenance, impacting operation rates. One OX-based PA manufacturer envisaged a 2-3% growth in demand from the downstream plasticisers industry – namely DOP/DOTP.

This, they said, may trigger better performance in upstream PA markets. This observer says that they remain 'positive and expect the new development and growth of PA market this year'. The source predicted the overall market price for PA in east China at between Rmb6,500-8,000/ton.
A slightly higher PA price prediction came from an OX-based PA producer in south China. The price of PA was predicted to fluctuate between Rmb7,000-9,000/ton during 2023, according to that source. That particular producer's PA output was 60 kt in 2022, leading them to believe that downstream demand could be 2000 ktpa in 2023 based on potential new growth in the UPR market. A feeling of 'optimistic expectation' was pervasive, they said as the year began, and was coupled with hope that downstream demand would recover to 2021 levels.
A naphthalene-based PA producer told Tecnon OrbiChem that for most of 2022, naphthalene-based sales were active and more profitable than OX-based PA. Overall, Chinese naphthalene market prices increased in 2022 and naphthalene-based PA operation rates were above 70% on average throughout the year. They predicted that the spread of OX-based PA and naphthalene-based PA would return to normal status in 2023. Has this been the case so far this year? Download the eBook to find out what is happening so far this year.
Market monitoring
Tecnon OrbiChem has monitored OX and PA markets globally since the 1970s. Our insights support business managers with strategic planning and business optimisation. Our chemicals business intelligence platform OrbiChem360 includes prices, capacities, trade flows and commentary on breaking news relevant to each petrochemicals and biomaterials subsector we cover.
Download the eBook Global orthoxylenes & phthalic anhydride markets: Mid-year outlook by filling in the form below (using a business email). The eBook explores Chinese, North American and European markets.