European orthoxylene – phthalic anhydride markets looked good in early 2022 but things soon took a turn when the Russian-Ukrainian war broke out. Meanwhile, sentiment among US-based market participants remained – and remains – positive.
European buyers buoyed what might have been a wholly depressing year for Asia-based producers. Asian market participants indicate strong hopes for 2023...
Tecnon OrbiChem consultants Ben Edmunds – based in Europe – and Shanghai, China-based Jane Zhu spoke to industry participants.
North American markets
The North American orthoxylene – phthalic anhydride (PA) value chain reportedly had a fairly strong performance in 2022, despite a couple of limiting factors. Firstly, market participants reported a strong Q1 despite the widespread winter storm in early February 2022 affecting infrastructure, power and logistics in some key regions. In addition, the US was not isolated from the effects of the invasion of Ukraine, which was unleashed in late February, provoking volatile and high crude oil and natural gas prices globally.
---

'OX and PA prices soared – particularly in
June 2022 – in both the US and West Europe'

Tecnon OrbiChem consultant Ben Edmunds
---
It resulted in high production costs and high-priced product in the market. Furthermore, disruptions in gasoline markets saw chemical industries competing against gasoline blenders to secure gasoline blendstocks, including mixed xylenes, the necessary feedstocks for orthoxylene (OX).
This situation saw OX and PA prices soar – particularly in June 2022 – in both the US and West Europe. Finally, high interest/ inflation rates have pressured industry and consumer habits in 2022, though US economic indicators have been slowly improving in the latter half of the year.
All that said, market participants consistently reflected positive markets sentiments and fairly strong supply demand fundamentals throughout most of the year. Market participants stated that despite high prices, demand was still there.
Material continued to flow through the market and producers were able to continue making money.
Stateside strengths & challenges ahead
2023 will be an interesting year which will come with its own strengths and challenges. Several key end-use industries are expected to be strong, such as infrastructure/ construction which will continue to be supported by the US Infrastructure Bill as well as an added push from investment as the government tries to boost the economy. In addition, while high interest rates, supply chain issues and recessionary fears were among the main challenges for the global automotive industry in 2022, semiconductor tightness started to ease.
The sector's overall issues are not likely to be resolved particularly quickly, however investment into domestic supply chains (including semiconductors) should stimulate production/availability with some analysts also expecting a rise in sales.

A harsh economic environment may stunt the start-of-year pick up for OX and PA markets following a slower Q4 2022. H1 2023, however, is expected to be largely strong as PA producers are expected to run at high rates and prepare feedstock and finished product inventories before the supply chain disruptions in June – September amid the scheduled lock and river closures. Overall, market participants appear to be optimistic for 2023.
---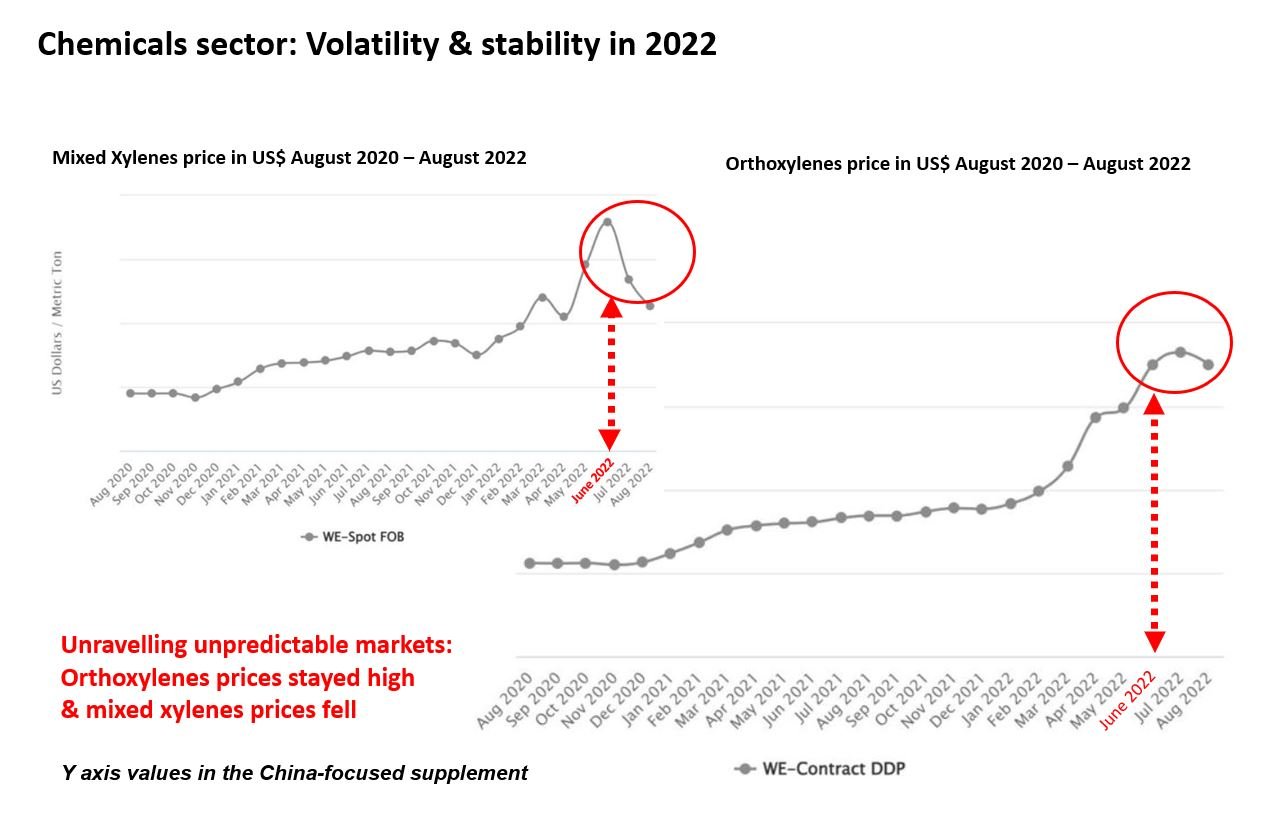 Source: Tecnon OrbiChem
The intrinsic link between PA and OX stems from the fact that more than 95% of the latter's output – upwards of 3000 kt in 2022 – is used to manufacture the former. If OX prices soar, so too do PA prices.
And that's exactly what happened in some regions in 2022.
How

unpredictable the c

hemicals sector remains...
The way that OX and mixed xylenes interacted with market forces in Q3 2022 was markedly different. That difference is shown in the (above/open in a new window) graphs from Tecnon OrbiChem's business intelligence platform OrbiChem360.
The graphs above show how both OX and mixed xylenes (MXY) prices surged during 2022, in the case of the former, this happened almost simultaneously with the outbreak of the Russian-Ukrainian war at the end of February. While MXY did see some increases in this period, this was shortly followed by a retreat and another subsequent surge following the disruptions in gasoline markets in mid-2022, in turn causing a second surge in OX prices. However as MXY prices retreated significantly following the June peak, OX prices remained firm, seeing comparatively modest decreases throughout the latter half of the year.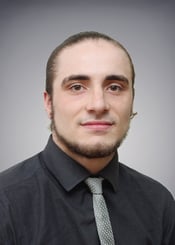 Tecnon OrbiChem consultant Ben Edmunds (pictured right) suggests the anomaly likely stemmed from the fact that MXY is more attuned to changes in the gasoline markets. 'When the disruptions in gasoline markets eased, mixed xylenes prices normalised quite quickly,' he noted.
'While orthoxylene is influenced by mixed xylenes – and to some extent gasoline markets indirectly – it is more centred around petrochemical markets. The sustained higher prices therefore, were more influenced by the rise in natural gas and energy prices and the resulting high production costs.
'Those costs peaked in August and steadily declined in the following months,' Edmunds explains.
Triggered by the reduction in exports of Russian oil and refined products into global value chains, gasoline markets became tight in Europe and the US following Putin's war on Ukraine.
West Europe
The European OX – PA value chain had a difficult 2022, as did many European petrochemical sectors. That said, the European market got off to a good start in 2022 with many market participants reporting a fairly strong Q1, despite the initial increase in prices resulting from the Russian-Ukrainian war. European producers began avoiding Russian material where possible.
The will to avoid conducting business with Russia directly and the shunning of the country's resources was soon enforced by multiple sanction packages laid out by the EU throughout the year. These affected not just the OX – PA value chain but also supply chains in some key end-use industries.
---

'Market participants have mixed opinions on market recovery,

ranging from pessimistic to cautiously optimistic'
Ben Edmunds
---
This raised supply concerns as Russia has historically been a significant exporter to Europe. Throughout Q2 and Q3 2022, Russian natural gas to Europe saw repeated cuts through key pipelines, triggering sky high gas and energy prices, subsequently driving up the cost of production and the price of domestic material. The rising prices were compounded by disruptions in the gasoline markets, such that producers had to compete against gasoline blenders that were purchasing gasoline blendstocks, some of which are necessary feedstocks for OX production. The combination of these factors saw record high prices in July and resulted in a lack of competitiveness compared to material from Asia and reduced rates/temporary shutdowns among European producers in the latter half of the year.
While crude oil, natural gas and energy prices have steadily declined throughout Q3 and Q4, market sentiment continued to be largely depressed amid ongoing global economic pressure and demand outlook uncertainties.

Looking forward
Looking at 2023, market participants appear to be holding somewhat mixed opinions regarding market recovery, ranging from pessimistic to cautiously optimistic. The continued downtrend in crude oil, natural gas and energy prices will be key to improving the European market sentiment/market activity for OX, PA and downstream/end-use industries.

European market outlook is still filled with uncertainty leaving many in a wait and see stance, with some sustaining low rates/temporary shutdowns until market outlook is clearer and demand becomes surefooted. Imports from Asia will certainly continue and the domestic market will remain subdued for early, and possibly even mid, 2023.
---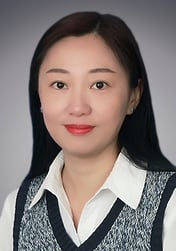 Download our Asia-focused OX

– PA insight supplement
Insight from Tecnon OrbiChem consultant Jane Zhu (pictured left) underpins our free-to-download supplement.
Zhu – the latest expert to join our 10-strong China-based team – holds responsibility for monitoring Asia's BTX, styrene, UPR and PA markets.
Zhu interviewed a number of market participants based in Asia. The insight Zhu gathered into how producers and market participants are positioning themselves there are included in the white paper.
Edmunds monitors markets including OX and PA outside of Asia.
---
Are you interested in plasticisers? Read our blog post An investigation of plasticisers in the 21st century.
Monitoring m

arkets

Tecnon OrbiChem follows orthoxylene–phthalic anhydride market trends and prices globally. We help clients understand the factors influencing the dynamics across the value chain. With our objective analysis and reliable data, chemicals buyers and sellers throughout the chain can respond to industry's biggest challenges better prepared.

OrbiChem360 provides comprehensive chemical business intelligence to assist business managers and purchase teams in their strategic planning and operations optimisation.