The plasticisers segment saw a promising start to 2022 and had expectations of healthy market growth. But it became a year of huge swings in energy costs and much uncertainty across the petrochemical industry, particularly in Europe.
China's market was left stagnant due to the government's zero-covid policy. Meanwhile, the US market fared better, driven by stable demand for much of the year.
Tecnon OrbiChem consultant Rachel Uctas shares her insight.
Gas price volatility
Gas costs have been a huge issue in Europe since the Russian invasion of Ukraine. Dutch Title Transfer Facility natural gas prices shot up briefly to €245/MWh in March following the assault. It then rose to €308/MWh in August as Russia made substantial cuts in supply to Europe. By October however – once European countries had refilled storage and temperatures remained mild – a low of just €26/MWh was reached. This eased the costs for producers of 2-ethylhexanol (2-EH) – a key feedstock for products plasticisers such as DOTP.
European oxo-alcohol producers trimmed 2022 production rates based on the twin effects of high production costs and tepid demand. That low demand was particularly prevalent in downstream sectors including construction – which softened in the second half. With Europe experiencing unusually mild temperatures (on the whole), winter is not proving as difficult as feared. Consequently, there has been no shortage of gas supply to contend with.
Russian roulette
The war in Ukraine brought an end to DOTP imports from Russia into Europe. Imports from Turkey and South Korea have been plentiful, quickly plugging any supply gaps. Geopolitical tension with Russia also means European suppliers no longer have an outlet for products such as DINP into Russia. The latter has contributed to a longer market in Europe.
---

'...DOTP imports from Russia into Europe have ended and European suppliers

no longer have an outlet for products such as DINP into Russia...'

Tecnon OrbiChem consultant Rachel Uctas
---
European plasticiser producers struggled with high energy costs, a factor that pushed up their respective costs bases significantly. At the same time, imports of plasticisers from Turkey and Asia have been competitive while overall downstream demand has softened during H2.
This is expected to remain the case into 2023, with the outlook for the first half looking relatively soft amongst huge uncertainty and the view on longer term volume requirements nigh on impossible to gauge.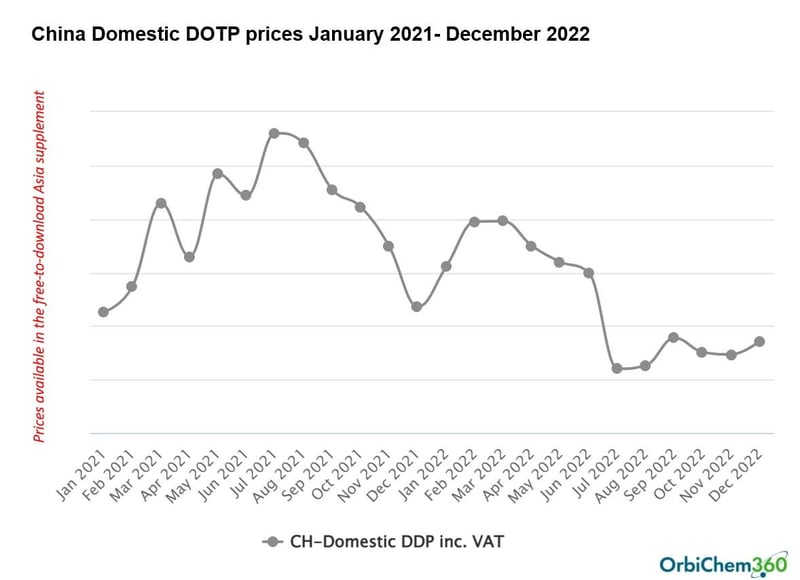 Source: Tecnon OrbiChem
Currents up- & downstream
The European market will continue to struggle under the weight of high energy costs, although these may not be as severe as had been feared, with governmental support in some countries, as well as the EU price cap introduced in 2023.
---

'...the expectation of a strong presence of competitive imports

of key plasticisers is forecast to continue...'
Rachel Uctas
---
The high cost of production will be tough for both upstream and downstream producers, and with the expectation of a strong presence of competitive imports of key plasticisers forecast to continue. Buyers are likely to remain highly cautious, buying on a shorter term basis and seeking added flexibility from producers in their contracts.
Consistently, the US market has been the best performer globally in terms of demand during the past year, and cost increases have not hit the market as hard as in Europe. Overall producers report a healthy year in terms of sales, but demand did wind down in the second half, and in Q4 especially, as buyers destocked intensively. Prices have been softening gradually as demand has dipped down.
The US 2-EH market was quite short in early 2022 as domestic producers were using more product internally, whilst at the same time imports from Europe and Asia were became more expensive due to high energy costs in Europe and costly freight rates from Asia.
Looking forward
Automotive and construction are the two major downstream markets for plasticisers. During H1 2022, US auto sector demand was weak but it did rebound to an extent as parts shortages began to ease. The outlook for 2023 is fairly bright into H1, driven by supply chain restocking and pent-up demand for vehicles. However, concerns over inflation and the impact on consumers' ability to purchase vehicles at high interest rates could be a limiting factor.
Construction sector demand is of most concern going into 2023. Already, data on US housing starts has indicated sharp falls over the past few months. Builder confidence has slumped consistently month by month this past year, on high mortgage rates, the high cost of raw materials, and softening demand for new housing. Weak demand in the housing sector is forecast to continue to weigh on the plasticisers market in 2023.
It is possible that US demand in 2023 may be comparable to the previous year overall, but the economic uncertainties will continue, making for a cloudy picture going forward. We know that so far, 2023 is full of uncertainty. Market participants worldwide await clearer direction from the key Chinese market, which should become more visible after the Lunar New Year.
---
Download our Asia-focused

supplement
The free-to-download Asia supplement explores buyers' sentiment and plasticiser market production rates in China over 2022. What, exactly, is the capacity landscape in China as the new lunar year begins? And how might new capacity for shift the sector's dynamics in Asia?
The supplement features graphs from our ChemForesight service covering DIDP, DPHP and DINP. Each graph demonstrates the difference in prices between 2018 and what we forecast their likely price levels to 2024.
---
In a blog post published in 2022 – An investigation of plasticisers in the 21st century. – we explored the divergence in DOTP and DINP prices that started in 2020. Based on raw materials and energy costs, the change disrupted the historical tendency towards mirroring.
Monitoring m

arkets

Tecnon OrbiChem follows plasticiser market trends and prices globally. Our portfolio of information services includes a mix of current, historical and forecast price data for plasticiser feedstocks including DOP, DOTP, DIDP and DPHP/DINP.

Market commentary for each product is collated by consultants based in both Europe and Asia.

We help clients understand the factors influencing the dynamics across the value chain. With our objective analysis and reliable data, chemicals buyers and sellers throughout the chain can respond to industry's biggest challenges better prepared.

OrbiChem360 provides comprehensive chemical business intelligence to assist business managers and purchase teams in their strategic planning and operations optimisation.