As we reached the mid-point of last year, unsaturated polyester resins market participants in the US were surfing a relatively novel wave. While many chemicals markets were crippled by the ongoing impacts of Russia's invasion of Ukraine, demand for this particular polymer continued. Buoyancy in the construction, infrastructure and marine sectors underpinned that trend.
Producers in the US had turned buyers away demand was so high. Sales could certainly be made, but a lack of qualified truck drivers – plus train transportation issues – proved a hindrance stateside.
By the close of 2022 however, the US unsaturated polyester (UPR) market was marked by a slowdown in demand. Then 2023 started in a similar fashion.
US markets matching pre-Covid
Sectors that normally carry the industry – such as infrastructure and housing construction – started to see some weakening throughout Q1 2023.
That said, volumes are currently down 5-8% compared with 2022 levels. Interestingly, it is a similar level to 2019 pre-covid volumes. This indicates that whilst the market has slowed down in the US, it has by no means crashed there. What we are seeing in the US is not the dire picture in terms of demand that we have seen in the European market.
---
...Europe's hopes for volume recovery have dwindled. It is clear markets will not recover until Q4 2023 at the earliest...

Tecnon OrbiChem consultant Sam Uctas
---
Feedstock prices generally remained flat in H1 2023, with maleic anhydride contract prices down from 166 c/lb in January to 158.5 c/lb in June. Phthalic anhydride prices dropped from 80 c/lb to 77 c/lb over the same time and the styrene contract price firmed at 4 c/lb. As a result, UPR prices have seen very little change this year.
Progressive softening
The European market has seen progressive softening throughout 2023. Hopes of some volume recovery at the start of the year have dwindled as it has become clear that markets will not recover until Q4 2023 at the earliest. Volumes for Q2 have finished 10% down compared to Q1, as downstream sectors such as construction and infrastructure, which take up a large market share, have continually slowed down.
Some market participants are expecting a further 10% slowdown in Q3, which is a typically slower period, with most of southern Europe taking long holidays.
One of the main problems facing European producers is the cheap UPR imported from Turkey. As Turkish producers still have access to cheap Russian raw materials, they are able to significantly undercut the rest of the market. Tecnon OrbiChem has been 200-300 euro/ton.
The graph below is from Tecnon OrbiChem's chemicals data intelligence platform OrbiChem360. Drawing on data from our partner GlobalTradeTracker – whose datasets are converted to highly visual graphics and tables within the platform in realtime – shows the increase in UPR exported from Turkey throughout Q1 2023.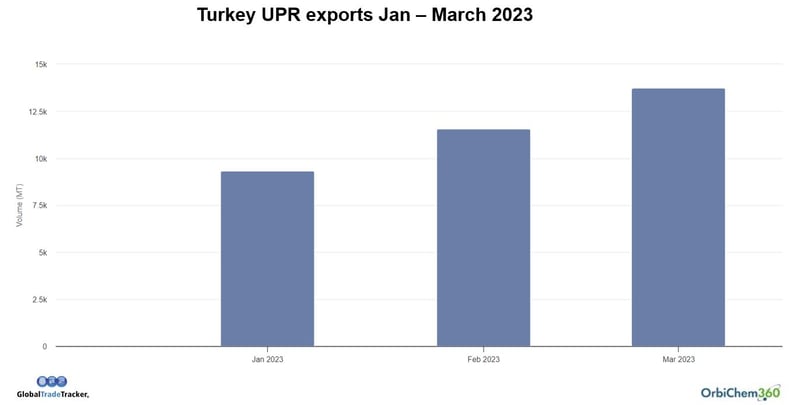 Source: Tecnon OrbiChem
Chinese construction market in chin-up mode
In the past few months, the Chinese UPR market has been through a tough period, due to the – demand of downstream end-users being depressed. The poor market activity has prompted the Chinese government to implement new policies to improve the environment and progress investment faster. Recently, it was reported that there was new added 1.9 trillion yuan of local government special bonds.
---
...infrastructure progress is beneficial to the reinforced products of the UPR market, it helps it rise from the current poor performance...
Tecnon OrbiChem consultant Sam Uctas
---
The aim was to improve the shortage of infrastructure project funds and quicken infrastructure progress, which is beneficial to the the UPR market. The move was designed to help the sector rise from its current poor performance.
In mid-May, a series of the latest economic data was published by the National Bureau of Statistics of China. Among the datasets, real estate and infrastructure industries data returned lower than expected results. From January to April, the amount of national real estate development investment decreased by 6.2% year-on-year. Meanwhile, the accumulated area of new construction also reduced by 21.2% year-on-year.
Looking at the newest data on commercial housing sales, residential housing sales increased by 11.8%. That means though investment and construction of the real estate industry remained slow, the speed of sales recovery has fastened. Thus, demand within the real estate market is recovering. This puts it firmly in an 'adjustment period' currently.
On the other hand, construction activities were sluggish and demand for building materials was weak in April. In the same period, the building materials supply index was 185.93, it was down 12.87% year-on-year and declined by 6.36% month-on-month, according to the bureau.
---
What chemicals are used to make unsaturated polyester resins?
The production of UPR draws on a number of petrochemical supply chains.
Among them are maleic anhydride, monoethylene glycol (MEG), triethylene glycol (TEG), diethylene glycol (DEG) and phthalic anhydride. Tecnon OrbiChem's global team of consultants canvass market participants in each of these subsectors to set price benchmarks on a monthly basis.
UPR feedstock phthalic anhydride (PA) was once largely supplied by Russian producers. In the months after Putin's invasion of Ukraine, the state's exports have been severely curtailed. In fact – as explored in our most recent blog post – Russia is not registering as having exported PA anywhere.
To see which countries are picking up the sales Russian producers traditionally made, read our blog post Orthoxylene & phthalic anhydride markets: Mid-year 2023 and download its eBook.
---
The one-minute video above outlines the benefits of a subscription to our business intelligence platform OrbiChem360. For a demonstration of how Tecnon OrbiChem's insights into global chemicals markets can inform your business, hit the button below.