In the wake of Covid-19, governments globally are turning their attention to the bioeconomy. Poised at a historic crossroads, they seek to manage short-term economic pressures against a medium to long-term backdrop of uncertainty in a climate change crisis.
Brands across several industries – from oil and gas to chemicals and consumer products – are taking the initiative to lower their carbon footprints. It is a move they are making largely independent of policy levers. Furthermore, by favouring firms with sustainability goals in place, the finance sector is proving a key driver too.
People, planet and profit
Economists and industry analysts believe bioeconomy initiatives could minimise volatilities like shipping issues – which we covered in our last blog post Retreat of Western investment in - and reliance - on China – and energy and fuel disruption (explored below). Besides these major obstacles, business operations are being disrupted by pandemic-related effects, supply chain tightness, higher demand as well as digitalisation, blockchains and Artificial Intelligence.
Chemical feedstock prices have surged from mid-2020, more especially since late last year when post-Covid, normal life resumed for many. Chemical inventories, on the other hand, were depleted thanks to low operating rates throughout 2020-21. More recently, the Russo-Ukraine war exacerbated the tightening supply of oil and gas in Europe. This in turn triggered fuel and petrochemical feedstock price hikes – as we covered extensively in our blog post Ukraine/Russia: Trade impact analysis
Biofuel price surge
Prices for some agriculture feedstocks – wheat and vegetable especially as explored in our blog post Vegetable oil squeeze: Implications for fuels and chemicals – rose significantly. These feedstocks are essential in the production of oleochemicals and biofuel. Palm oil production, and export from Southeast Asia, dropped due to Covid quarantines in those regions – Malaysia in particular. Sunflower oil prices surged as Russia and Ukraine are the two biggest exporters of this type of oil. Both Canadian and European rapeseed production has fallen, while the remaining vegetable oil prices are being dragged up with the overall high-price sentiment in the global vegetable oil market. The renewable diesel sector meanwhile, has boosted demand for fats and oils feedstocks.
---
'...the production, and utilisation of biological resources and innovations in order to provide sustainable goods and services ...the bioeconomy might contribute to green growth, innovativeness and sustainable development...'

Bioeconomy definition as outlined at The Global Bioeconomy Summit 2015
---
Decarbonising the chemical industry
ClimateWatch data indicates that 3.9% of the world's entire carbon emissions come from the oil and natural gas industry, shown in this World Resources Institute visual dataset. And direct CO2 emissions from primary chemical production were 920 million metric tons during 2020, according to the International Energy Agency.
It's why the Intergovernmental Panel on Climate Change warned that '…without immediate and deep emissions reductions across all sectors, limiting global warming to 1.5ºC is beyond reach,' in its Sixth Climate Change Assessment Report 2022 earlier this year.
ESG-driven
Chemical companies are taking initiatives toward decarbonisation goals as part of their Environmental, Social and Governance (ESG) objectives too. Increased recycling, increased use of recyclates as well as moves to monetise waste streams; carbon capture storage/utilisation as well as replacing fossil-based feedstock and fuels with renewables and sustainable energy sources are some routes being taken or explored. Brands including Dow, Shell, BASF and SABIC are developing electric cracking technology. Many more brands are investing in new low-energy intensity, net-zero carbon manufacturing processes. Compliance with energy transition targets and increasing the efficiency of storage and logistics are further business practises under scrutiny and transformation to support sustainability.
Regulatory push
Carbon offsets/Carbon Taxes process is another avenue, although there has been considerably less advancement in policies to reduce chemical production emissions. Notable examples include the EU Emissions Trading System, which covers the chemical sector. India's PAT Scheme, a market-based mechanism to improve energy efficiency, has covered chlor-alkali and fertilisers since its first cycle in 2012 and the rest of petrochemicals since its fourth cycle beginning 2018.
Canada is exploring a carbon tax and what happened in China with the dual energy policy offered a glimpse of what strict control measures may do to the chemical sector there (and in the wider economy).
Bioeconomy… What is it exactly?
At the The Global Bioeconomy Summit 2015, it was 'broadly defined as the production, and utilisation of biological resources and innovations in order to provide sustainable goods and services in all economic sectors. The bioeconomy might contribute substantially to green growth, innovativeness and sustainable development.' On the supply side, the bioeconomy has emerged as a globally impactful transformative force in industries. On the demand side, there is a transformative force for consumption changes and waste reduction. Our recent blog post Retreat of Western investment and reliance on China explores the increased trend towards localised production as opposed to importing goods in future. More localised production actually favours the biobased market because it typically uses local feedstock in the production of biobased chemicals and materials.
US bioeconomy snapshot
As of 2017, various industrial sectors had been contributing to the US economy using plant-based feedstock. The US Department of Agriculture's (USDA) BioPreferred Program acts to increase the purchase and use of biobased products. Its directives include mandatory purchasing requirements for federal agencies and their contractors, and a voluntary labelling initiative for biobased products. Currently, there are 139 product categories and about 14,000 biobased products in the program.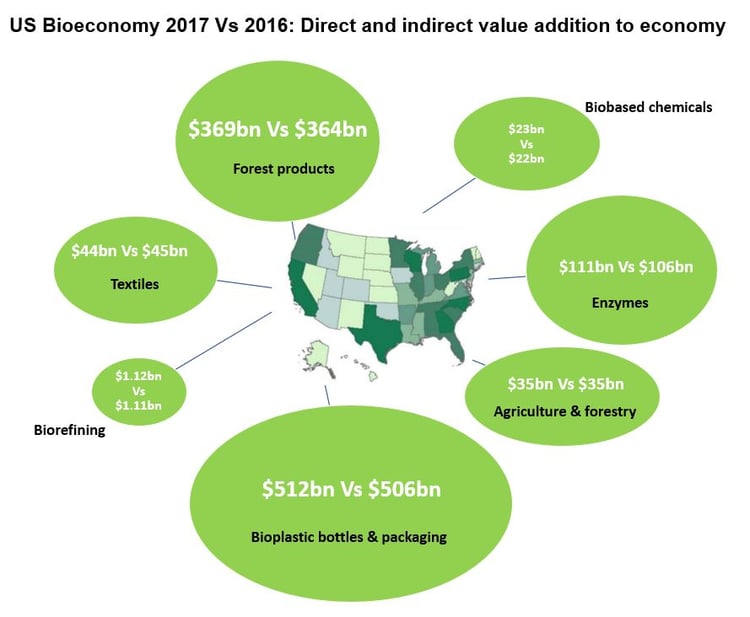 Source: USDA BioPreferred Program
In 2017, the biobased products industry in 2017 generated a total of around $470 billion value added to the US economy. That figure represents a 2.4% year-on-year (yoy) increase on 2016 according to the USDA (Economic Impact Analysis of the US Biobased Products Industry 2020). The total figure reflects $162 billion in direct sales and $309 billion in spillover sales. In 2019, the biobased sector's contribution from pine chemicals generated an additional $3.5bn to the North American economy.
The biobased products industry reduces greenhouse gas emissions by about 12.7 million ton of CO2 equivalent annually, the USDA estimates.
European bioeconomy snapshot
In Europe, total biomass value added in 2019 by the EU27 was €658bn – up 14% on the 2016 total of €576bn. Biobased chemicals accounted for €10bn of the 2019 figure, up from €9bn in 2016. At €3bn, biobased rubber and plastics values remained unchanged between 2016 and 2019, while pine chemicals value addition was €2.5bn in 2016, according to data from the European Commission Joint Research Centre.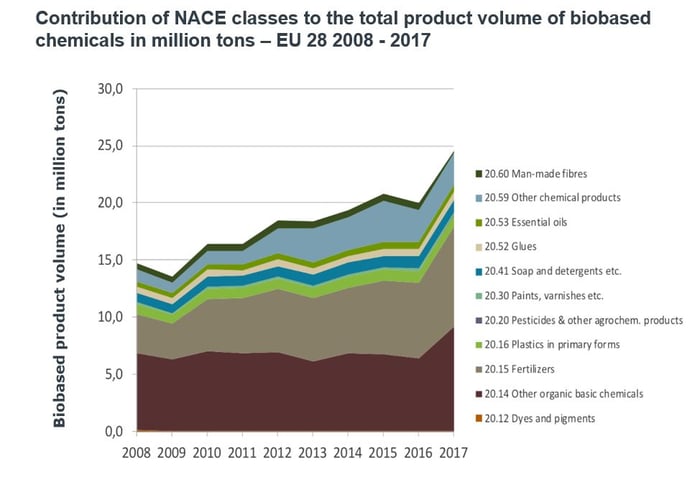 Source: Bio-based Industries Consortium and nova Institute
In the report European Bioeconomy in Figures 2008–2017 – a Bio-based Industries Consortium and nova Institute collaboration – raw material composition within the region's chemical industry is estimated to be half organic (fossil and biobased) and half inorganic (minerals, metals). Data shows an overall increase in the biobased share within the EU-28 to 7.5% in 2017 – up from from about 5% in 2008. Taking only organic compounds into account, the overall biobased share, therefore, increased from 10% in 2008 to 15% in 2017.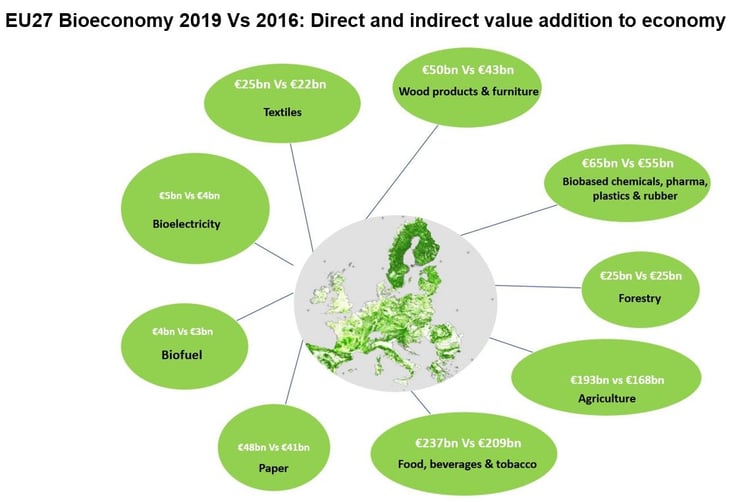 Source: European Commission Joint Research Centre
Single-use plastic bans
Contrary to the expected Covid-driven slowdown, investment in renewable chemicals and plastics have surged since 2020. And, single-use plastic bans are driving investments into biodegradable and compostable plastics particularly in China and certain countries in Asia such as Japan, South Korea, Thailand and even Vietnam.
With the technology risks related to producing biobased chemicals and materials being significantly lower today than five years ago, we are seeing more products commercialised. And with fossil feedstock costs currently so high, some of these bio-based chemicals are expected to become even more competitive. Coupled with government credits and grants targeting biofuels, bioenergy, bio-products and biorefineries, prevalent in the US, Europe, Japan, South Korea, Thailand and parts of China – the market is becoming more attractive. Growing consumer preference for biobased and sustainable materials is another driver.
Managing risk
Commercialising products in the biobased space, however, continues to present risks to investors, startups and developers. The volatility of agricultural and forestry feedstock prices is a major issue. And, whether an agricultural feedstock should be used for food alone – as opposed to in fuel, chemicals or plastic – remains at issue, especially in Europe.
Lastly, for many biobased chemicals price premiums abound – especially for drop-in biobased chemicals like glycols, bio-PET, bio-ethylene and their derivatives. Plus, the scale of production for these biobased chemicals is still very low compared to fossil-based chemicals.