Following the success of the June webinar Chlor-Alkali in 2022, which Tecnon OrbiChem hosted along with its three-decade conference partner ICIS, we give you this presentation from event chairman Charles Fryer.
In it, Fryer shares insights he's diligently gathered since the 1970s – including observations from Tecnon OrbiChem's collaborative study with Hong Kong-based consultancy Lantau Group from 2021.
Not only will China account for about 80% of the total new capacity expected to come on stream worldwide over the next few years, Fryer explains, but scrutiny of the sector's trade flows informs the wider economic world.
Watch Charles Fryer in this video on chlor-alkali industry cycles below
---
---
Pointing to the emergence of certain trends and behaviours when a recession nears its end, Fryer verbalises exactly what we have been seeing as economies have clawed back into growth following Covid-19 lockdowns and restrictions.
'People start to think about buying a new house – or repairing their current house – having made savings during the downturn, helped also by interest rates that are likely to be still low,' Fryer says.
---
'As the economy starts to emerge from a recession, builders merchants rush to stock up on materials like PVC pipes, rainwater goods and sidings resulting in a boom in chlorine offtake'

Charles Fryer, Tecnon OrbiChem Founder and Senior Advisor

---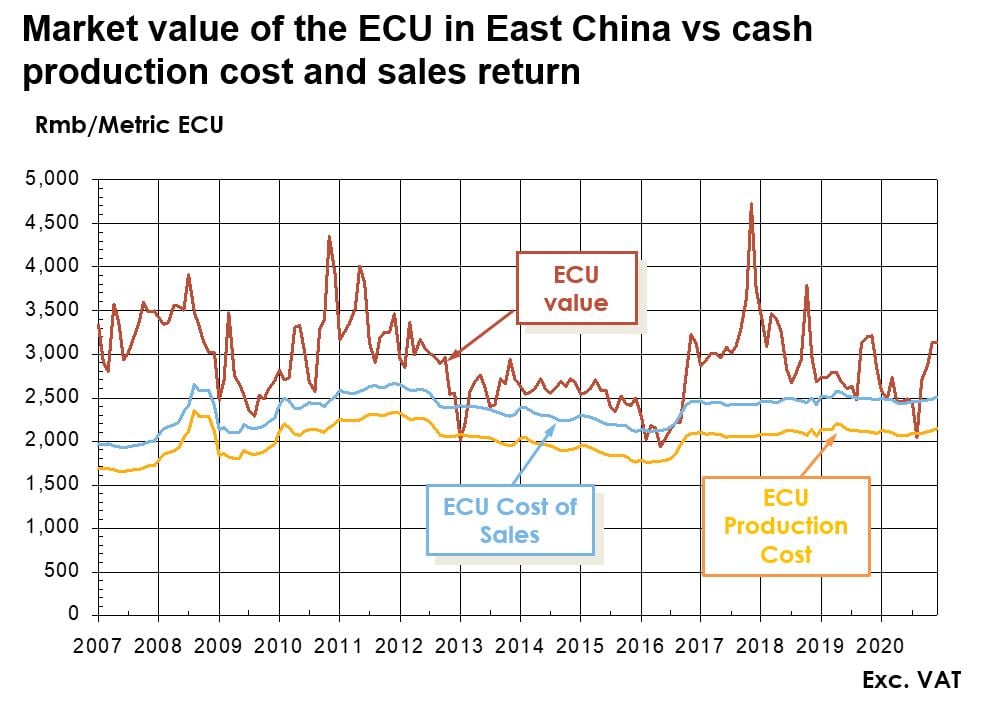 Source: Tecnon OrbiChem
Coming full circle
The cyclicality of profitability is clearly seen in the graph above, with points of zero profitability coming up at intervals of a few years.
The 'relative competitivity of chlor-alkali producers over the wide extension of territory and huge diversity of operating conditions that China reveals' present distinct challenges. This collaborative study provides an overview of the factors shaping the cost structure of the industry, and compares the costs of production of the ECU throughout China.
Download Fryer's full presentation
And as Fryer explains in the full version blog post Business cycles in the chlor-alkali industry and benchmarking in China, it is vital that any business looking to trade with China's chlor-alkali producers or consumers has access to this unique insight.
To access the graphs and infographics shown in the video, fill out the form below and we will send it straight to your inbox.