Just as Tecnon OrbiChem consultants began preparing presentations for the Chlor-Alkali in 2022 webinar we are presenting in collaboration with ICIS, our 500th Caustic Soda ChemFocus issue was published.
That milestone affirms Tecnon OrbiChem's unique position at the coal face of chlor-alkali sector intelligence since the 1970s. In this upcoming webinar, our team will share valuable insights to help business professionals make informed decisions and mitigate chlor-alkali project risk.
The webinar – at 10am (UTC+1 London time) Wednesday 22 June 2022 – is the first in a series leading up to the 26th World Chlor-Alkali Conference in 2023.
A team of Tecnon OrbiChem and ICIS chlor-alkali experts will explore topics including:
Caustic soda market

Developments in PVC

The future of chlor-alkali
Agenda

(starts 10am

UTC+1 London time

Wednesday 22 June)
Navigating the new world: A review of the chlor-alkali markets and insight into the future direction
– Jonathan Chou, markets editor, ICIS
A review of the China Chlor-alkali market and key factors driving its future direction
–

Carol Li, senior consultant, Tecnon OrbiChem
The US & European caustic soda market: Analysing trends and what lies ahead
–

Hira Saeed, consultant, Tecnon OrbiChem
Q&A Panel
Charles Fryer, founder & senior advisor, Tecnon OrbiChem
Carol Li, senior consultant, Tecnon OrbiChem
Hira Saeed, consultant, Tecnon OrbiChem
Jonathan Chou, markets editor, ICIS
Besides drawing on Tecnon OrbiChem's long-term monitoring and analysis of chlorine, caustic soda and PVC subsectors, our consultants' presentations will reveal insight gained from caustic soda and chlorine databases from our interactive business intelligence platform OrbiChem360.
A study has been published recently by Tecnon OrbiChem in
collaboration with the
Lantau Group
– a Hong Kong-based consultancy which benchmarks
power
consumption/intensity. The study –

Benchmarking chlor-alkali plants in China

– informed Charles Fryer's video presentation

Business cycles in the chlor-alkali industry
broadcast earlier this year.
Source:
Tecnon OrbiChem
---
Classic to vintage insight
Our early ChemFocus publications, which comprised just four A4 pages, were printed and posted to customers originally, but later with increasingly rapid communication being used until the digital era began. Nowadays, subscribers download their Caustic Soda ChemFocus from OrbiChem360 in a few clicks. The monthly publication's breadth of coverage has increased over time too, and it now features multiple pages of commentary, tables and graphics.
As OrbiChem360 subscribers enjoy their respective Caustic Soda ChemFocus 501, we urge you to take a trip down 'chem-ory' lane (image opens in a new window)... Snippets from previous editions (below left) remain as relevant now as the quick access Caustic Soda ChemFocuses of the 2020s, which subscribers download via the OrbiChem360 platform (below right).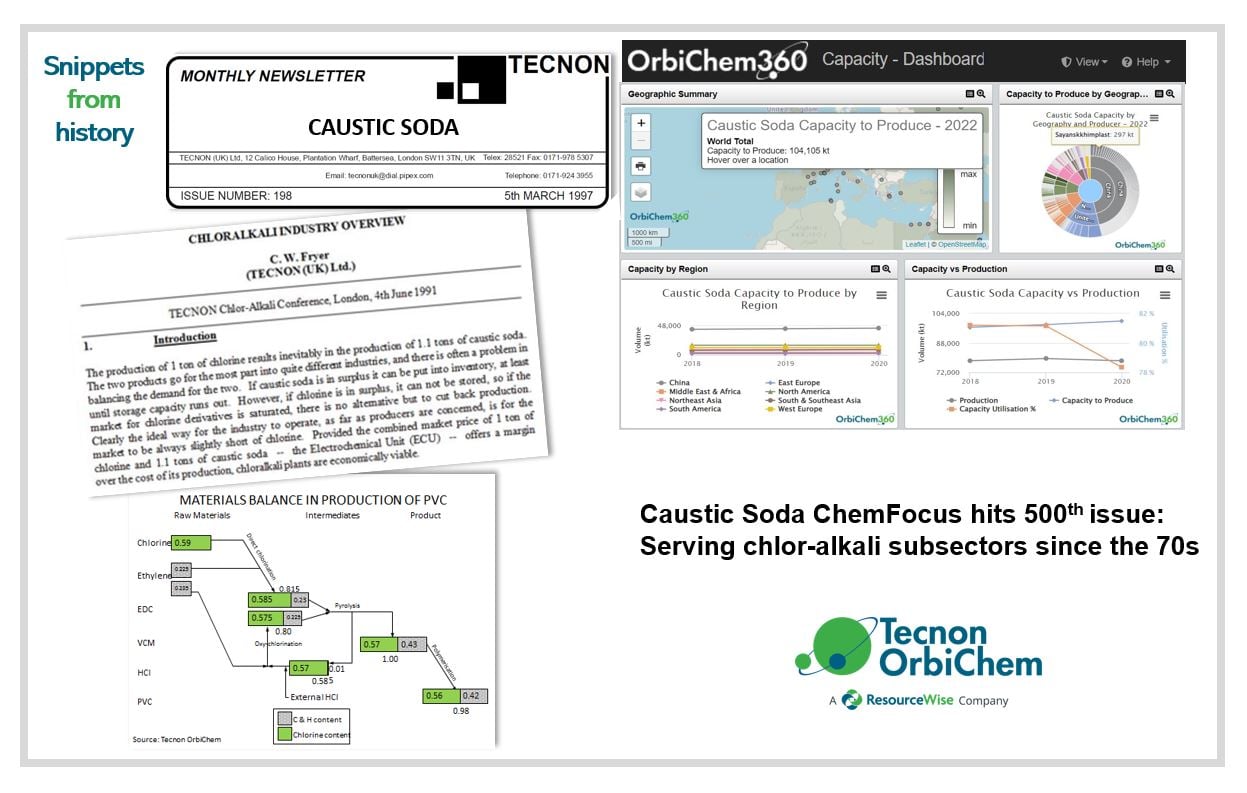 Source: Tecnon OrbiChem
...And join us in the webinar later in June. Click the button below to register or, if you want to get in touch with Tecnon OrbiChem to discuss a chlor-alkali project send an email. Just note, we no longer use the pipex email address you see pictured above. It is now info@orbichem.com.