There is little doubt that the Chinese government's zero-covid measures will significantly affect its industrial sector's ability to meet the relatively low 5.5% GDP economic growth target set earlier this year.
Production downturns and stoppages in epoxy resin, chlor-alkali, vinyls, PET resins, UPR as well as caustic soda and acetyls chemical subsectors are are being reported by our consultants both within China and globally.
Our previous blog, Shanghai chemicals logistics disrupted, north ports pick up business outlined the issues at Shanghai ports and the difficulty of getting product in and out of facilities within the municipality.
Fears over the erosion of demand from the world's largest commodity consumer have already dragged down metals prices, according to this Wall Street Journal report.
Meanwhile, a survey from the joint state and industry-owned agency Business Sweden shows the measures have negatively affected short-, mid-, and long-term outlooks for Swedish businesses operating in China.
The organisation's survey of 120 members reveals that just over one third are experiencing a severe negative impact on production and manufacturing. In supply chain terms, a quarter said the impact was severe.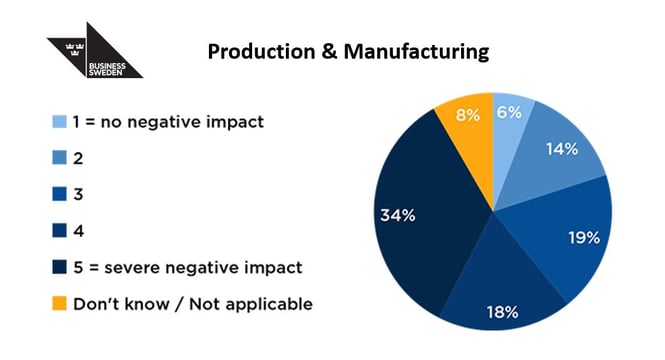 Source: Business Sweden
In spite of this, anecdotal insights from within China – and from the wider industrial community – suggest pockets of opportunity have been triggered by the situation.
MDI & TDI
China is a significant exporter of these products and current operating rates in China for MDI and TDI are very low. Logistics and employee shortages are the most important factors needed to be solved in order to guarantee normal production.
---
'MDI imports are entering US markets... offered at very competitive prices, some around 10-15% cheaper'

from a US importer of MDI from China
---
Stuck logistics limits factories from purchasing raw materials and transporting goods to other areas. Plants in Shanghai are operating at an average rate of 50-60% for MDI and TDI sites dropped to 30% under covid-related controls in April.
The US is an importer of MDI from China but one market participant reported that MDI imports are entering US markets. Offered at very competitive prices, some around 10-15% cheaper than US produced MDI, the source says.
Another market participant said prices in other regions could start to feel the pressure from Chinese closures and prices could firm as a result.
Chlor-alkali & vinyls
Reduced operating rates rendered chlorine demand weak. Mid-March operating rates were around 80%, then 76-77% during April. With restarts after turnarounds in early May however, they returned to mid-March rates.
China's domestic EDC market has been soft since late March with weak demand and lower feedstock costs caused by the worsened Omicron situation. It costs more time to transport owing to lockdowns to prevent the rapid spread of virus. One major trader said ongoing pandemic issues had an 'evident effect on domestic market, so demand is weak overall'.
Lower Chinese market prices and Rmb depreciation against the US Dollar is however, having a positive impact on PVC exports demand. 'Domestic PVC producers are active to export amid soft demand in China,' said one exporter.
Epoxy resins
Shanghai phenol/acetone producers – CEPSA, Gaoqiao Petrochemical and Sinopec Mitsui – reduced their operating rates as delivery methods within China, and shipping options, are largely limited to waterways. BPA producers in Shanghai – Sinopec Mitsui and Covestro (Shanghai) – were also forced to cut operating rates to some extent due to limited options to offload supply within the municipality. While Sinopec Mitsui produces phenol/acetone in-house, it reduced run rates as shipping option dwindled.
Covestro (Shanghai) – which produces BPA for captive use – also reduced run rates due to difficulties in shipping polycarbonates out of Shanghai. With supplies, including imported BPA, backing up at Shanghai ports, early April saw BPA supplies tight in other areas leading to attempts by traders and buyers to reroute to other ports.
Major epoxy resin producers Nanya and Kukdo – based in Kunshan, Jiangshu – shut down throughout April due to lockdown measures, leaving just one small producer operating in Shanghai. Although operations at the former facilities restarted in May, operating rates remain low amidst ongoing logistical issues.
Shanghai polycarbonates (PC) producers – Covestro and Shanghai Lingyou – reduced operating rates during April. Logistic issues impacted capacity to deliver both internally and externally, although internal demand was weak anyway. Despite three other producers restarting operations within the month, PC prices did not drop as the trio cannot make up the volume lost due to Covestro (Shanghai)'s reduced output. Logistics of imported PC to Shanghai port also is impacted.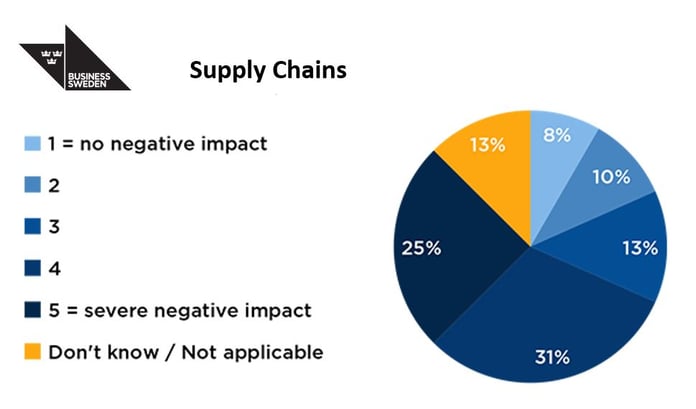 Source: Business Sweden
PET resins
Transportation disruption, raw material supply and availability forced two major PET resin producers – located in Shanghai and Zhejiang province – to cut operating rates in April. With some downstream customers – such as food and beverage sector plastics and APET sheet makers – running at lower rates due to absenteeism, demand has slowed. In spite of peak season for PET resin consumption approaching, overall beverage producer utilisation rates were 60-70% in April.
PET resin exports are disrupted too. Many 'overseas customers are very cautious about delivery schedule', said one export manager at a major East China PET resin producer.
Short-term, the outlook for PET resin markets remains unclear but there are concerns for both domestic and export business. However, a quick rebound is expected if/when covid restrictions are lifted as the hot summer/ high beverage consumption season approaches. Opportunity from pent-up demand is also expected when logistics and mobility resume.
Caustic soda & acetyls
Certain chemical producers are enjoying higher spot prices due to strong downstream demand internally. In terms of export business, a major Chinese caustic soda exporter in Jiangsu was forced to cancel an order due to an inability to deliver goods to Shanghai YangShan port in time for shipping overseas. Another major caustic soda exporter said demurrage charges in Shanghai Yangshan port and Ningbo Zhoushan port had risen.
Late March brought an increase in the spot price of caustic soda across most of China. In fact, caustic soda has remained a relatively strong market so far this year with buoyant downstream demand. Downstream buyers have purchased more aggressively to make sure they can receive goods in time.
A major acetic acid producer however, said that cuts to downstream industry operating rates had caused the spot price of acetic acid in China to bottom out twice in past two months.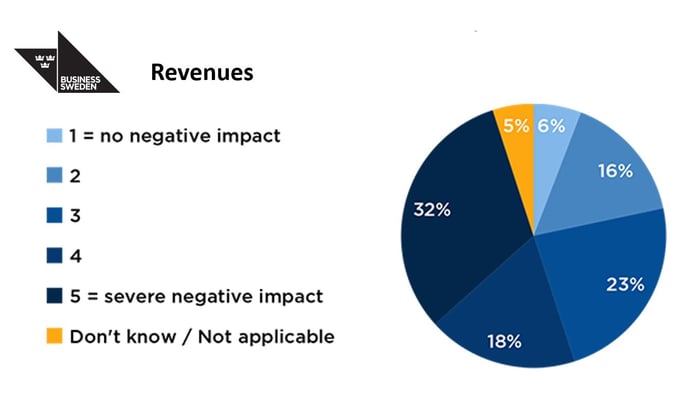 Source: Business Sweden
Benzene & Styrene
As a product from crude oil refining and cracking/reforming complexes, benzene is less impacted by zero-covid measures. Buffered by its own healthy supply and demand structure, as well as relatively smooth transportation due to reliance on ship transportation.
Benzene's key derivative, styrene monomer is struggling to break even as demand for downstream styrenic polymers has depressed amid covid-induced restrictions. There had been oversupply even prior to zero-covid restrictions as domestic expansion surpassed demand in recent years. Production cuts and unplanned maintenance shutdowns among the styrene monomer industry have been reported since March.
However, further downstream industries are more adversely affected by the recent issue. Styrene's downstream polymer products are widely used in construction, industrial, packaging, some everyday objects, among others.
Unsaturated polyester resins
The average operating rate of Chinese unsaturated polyester resin (UPR) producers dropped by almost half year-on-year for the period March to May. A high-demand season traditionally – albeit an oversupplied subsector that operates no higher than 50% nameplate capacity rates generally. High season 2022 however, ushered in 25% – and somewhat lower – operating rates. Logistical difficulties caused by widespread lockdowns, and sluggish demand in downstream end-user sectors has been blamed.
Where manufacturers have managed to keep production activity at normal levels, daily cost for covid-prevention has increased considerably.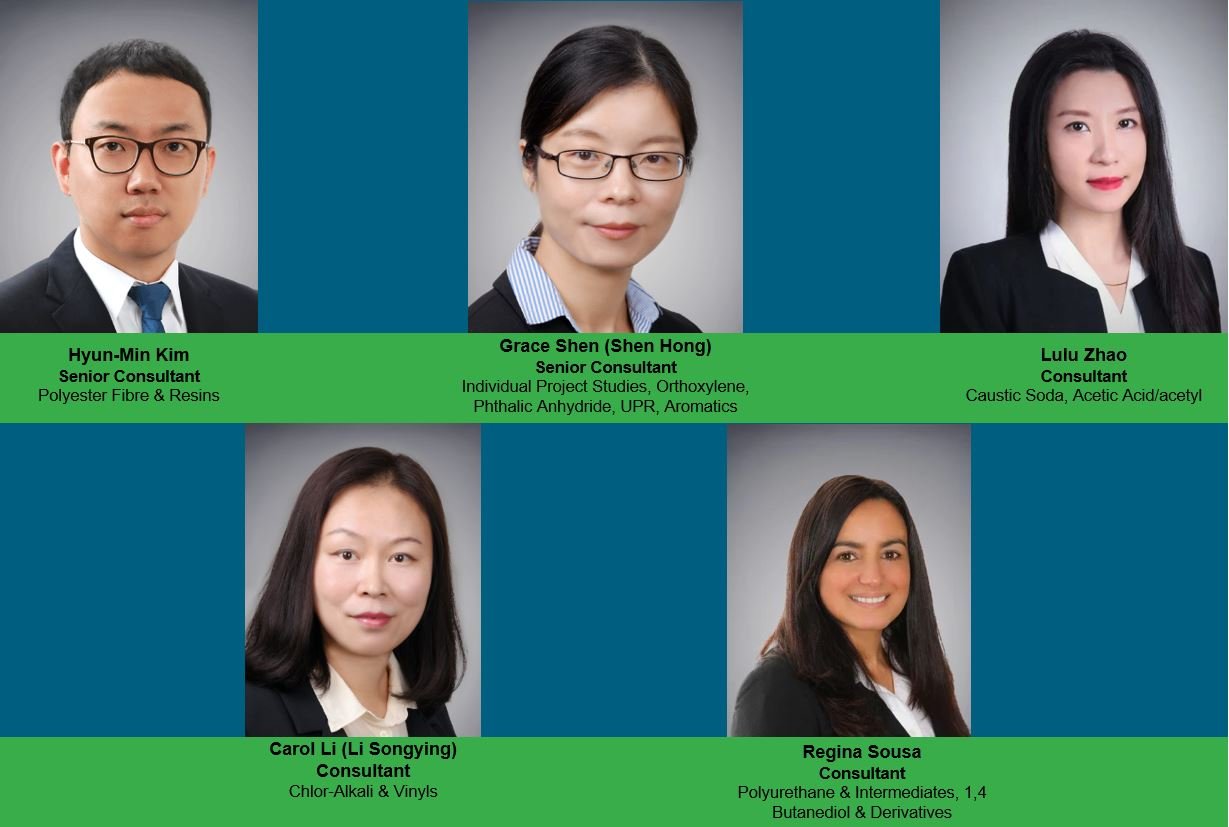 The reporting team that created this blog is pictured above.