Chemicals companies have a six-and-a-half-year window to realise the ambitious sustainability goals they've been publicising with aplomb in recent years. But we are just six and a half months from 2024, which heralds new regulatory emissions accounting responsibilities.
And when the International Sustainability Standards Board (ISSB) – or indeed, the US Securities & Exchange Commission (SEC) come calling – all the promises and pledges in the world won't cut it.
That's the message from Tecnon OrbiChem sister company Prima Markets. Exactly why and how is explored in a presentation by Prima business development director Fiona Ribbins. We have distilled the presentation in a free-to-download eBook.
Prima – from ResourceWise – monitors availability and prices in low carbon fuels and low carbon feedstocks markets.
A UK-based enterprise, Prima has provided intelligence to businesses – most significantly those within the heavily mandated energy industry – since its founding in 2014.
---
...Sustainability standards are cascading through all industries....
Prima Markets' business development director Fiona Ribbins
speaking at AFPM's International Petrochemical Conference
---
'Sustainability standards,' says Ribbins, are 'cascading through all industries. They are affecting all industries – particularly non-mandated industry.'
What's a non-mandated industry in ESG terms?
If you don't know what constitutes a non-mandated – or mandated – industry, the chances are it's an industry sector in which your business sits.
The energy sector
–
as a mandated area of business – was very much the forerunner in low carbon matters, Ribbins explains.
This is largely based on the fact that government legislation has mandated that certain amounts of biofuel be blended into energy companies' respective annual outputs. Both European
countries
and the US are mandated in this way.
The chemical sector has so far not been subject to these types of mandates 'but this is changing,' says Ribbins. 'Sustainability standards are now dictating that companies pay more attention to sustainability reporting.'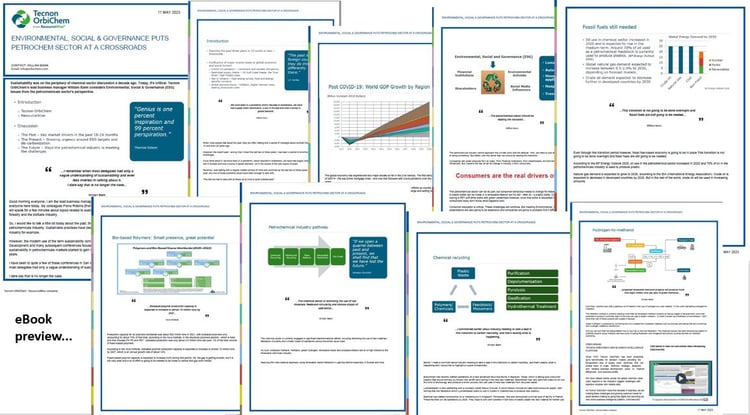 Regs, legs & sustainability spotlight
'The US Securities Exchange Commission is pushing forward regulations that will make sustainability reporting a must for so-called 'large filers'.
These companies must disclose material information regarding climate risks, corporate ESG policy and greenhouse gas (GHG) emissions. Although still at proposal stage, the SEC's climate disclosure rules are likely to start impacting business practice within a matter of months, not years.
---
...It means companies must declare what they are doing to reduce the greenhouse gas emissions for their products...
Fiona Ribbins
---
Besides the ISSB's introduction of stringent rules with regard to sustainability reporting, companies will increasingly have to consider exactly how their realworld practices mitigate carbon emissions.
According to Ribbins, this is feeding down to all industry. 'It means everybody must declare what they are doing to reduce the GHG emissions for their products,' she adds.
Balancing the fossil fuel-guzzling business
As William Bann outlined in his presentation How will the petrochemicals industry meet ESG expectations? – by its very nature – the petrochemicals sector is a significant consumer of fossil fuels.
In fact, the International Energy Agency (IEA) pinpoints the sector as the biggest growth driver in the demand for fossil fuels to 2030. 'So, firstly, these businesses are set to expand their use of fossil fuels. But, at the same time, they have to cut emissions. This is a difficult position to be in,' says Ribbins.
Companies, Ribbins says, not just those in the petrochemical sector but all types of companies are lagging behind the declarations that they have made. 'Many companies are promising to reduce GHGs. But most companies are not on track to reach the goals they have set for themselves.
'Between now and the end of this decade, companies must do increasingly more to reduce the carbon in their products and in their supply chains.'
How can companies reach for net-zero?
There are currently two options. Companies can buy carbon offsets to compensate for their emissions. Alternatively, companies can physically mitigate the emissions their processes create.
'In the energy sector, what we are seeing is an increasing amount of customer-driven – what we call discretionary demand – for low carbon fuels to meet these carbon mitigation targets. Compared to carbon offsetting, carbon mitigation is seen as a more favourable way to reduce carbon emissions .
'Offsetting is coming under some scrutiny and in terms of companies' reputations, this method of carbon emissions management is becoming less popular. Physically mitigating the carbon that companies produce is seen as a much more favourable way to reach net-zero,' Ribbins says.
A circular sweepstake gain
Circular economy feedstocks – such as those yielded by recycling – are emerging as the favoured way to reach net zero. 'The replacement of fossil fuel inputs with low carbon inputs should feature waste feedstocks rather than crop-based feedstocks.
On the energy side, Europe has already reduced the amount of crops that can be used to make biofuels. 'We see that same pattern playing out across the board,' Ribbins says.
---
..A price premium is derived from replacing fossil with low carbon inputs.

Essentially, that captures the green premium...
Fiona Ribbins
---
Used cooking oil
So, how is Prima relevant to the petrochemical sector? Prima is expert in all low carbon feedstocks. We have been looking at them for years. We map the whole market for feedstocks. We have a used cooking oil future listed on the Chicago Mercantile Exchange.
Used cooking oil (UCO) is one of the most available low carbon inputs that exists today. Animal fats and other waste oils are available at similar capacities – comprising around 40 million tons annually. Prima has a futures listing for UCO (T1 UCO CIF ARA ) on the Chicago Mercantile Exchange, which offers a hedging tool to market participants.
Prima delivers insight and market intelligence on the dynamics of low carbon feedstocks. Chemical companies looking to decarbonise their inputs can use this pricing to understand the cost of replacing their inputs with low carbon alternatives.
Leveraging Prima insights and datasets, says Ribbins 'businesses can pinpoint the price premium derived by replacing fossil inputs with low carbon inputs.
'Essentially, it is about capturing the green premium of the product by changing the inputs.'
Increasing demand
With the demand for waste low carbon feedstocks expanding exponentially moving forward, now is the time for businesses to fortify a knowledge base. There are two ways that companies can reduce their emissions. They can change the inputs that they use on their chemicals, or they can change the fuel used in their logistics supply chains.
While the resources for a more sustainable world do indeed exist, navigating the markets in which they are bought and sold is an endeavour best done with a trusted partner. Prima is here to fulfil that role.
Ribbins shared her presentation International competition for low carbon feedstocks at the American Fuel & Petrochemical Manufacturers (AFPM) annual conference in San Antonio earlier this year.
Fill the form below and we will send the full presentation straight to your inbox.