The unprecedented challenges of the past two to three years has brought the petrochemical industry to a crossroads.
Concepts such as 'sustainability' and 'low carbon' were firmly on the periphery of discussions 10 years ago. Today, they are critical to the sector's need to meet aggressive targets for slowing climate change.
Tecnon OrbiChem business manager William Bann took to the podium at the American Fuel & Petrochemical Manufacturers (AFPM) annual conference in San Antonio earlier this year.
In his presentation The future is now: How will the petrochemical industry meet Environmental, Social & Governance (ESG) expectations? Bann (pictured) presents a snapshot of post millennium sustainability in a petrochemical-focused landscape.
The presentation slides outline the steps petrochemical companies are taking to satisfy growing consumer demand for greener 'climate-friendly' products and closely-watched ESG goals.
Drawing on data and insight from German research agency nova Institute, Bann compares the growth of sustainably-made plastics and polymers compared to fossil-based production.
Ratios for output are both surprising and cause for optimism, but says Bann, industry cannot do it alone, consumer education is key to the journey to net-zero.
---
...When it comes to this transition to carbon neutrality, the petrochemicals sector should be approaching with the sense that it should be leading it...
Tecnon OrbiChem business manager William Bann
speaking at AFPM's International Petrochemical Conference
---
Bann references a handful of projects in development globally, exploring their outputs individually and as a whole. These include biobased methane, methanol, green hydrogen, renewable diesel and biobased ethanol.
He urged the sector to think about its position as the world becomes ever more conscious of the need to protect the environment and those that inhabit it.
Bann urges the petrochemical industry not to approach the climate crisis with the attitude, 'Well, we need to look at this and we need to be seen to being something.' But rather, he said it should approach 'with the sense that 'we should be leading this transition.'
He has covered and analysed petrochemical value chains for more than 30 years.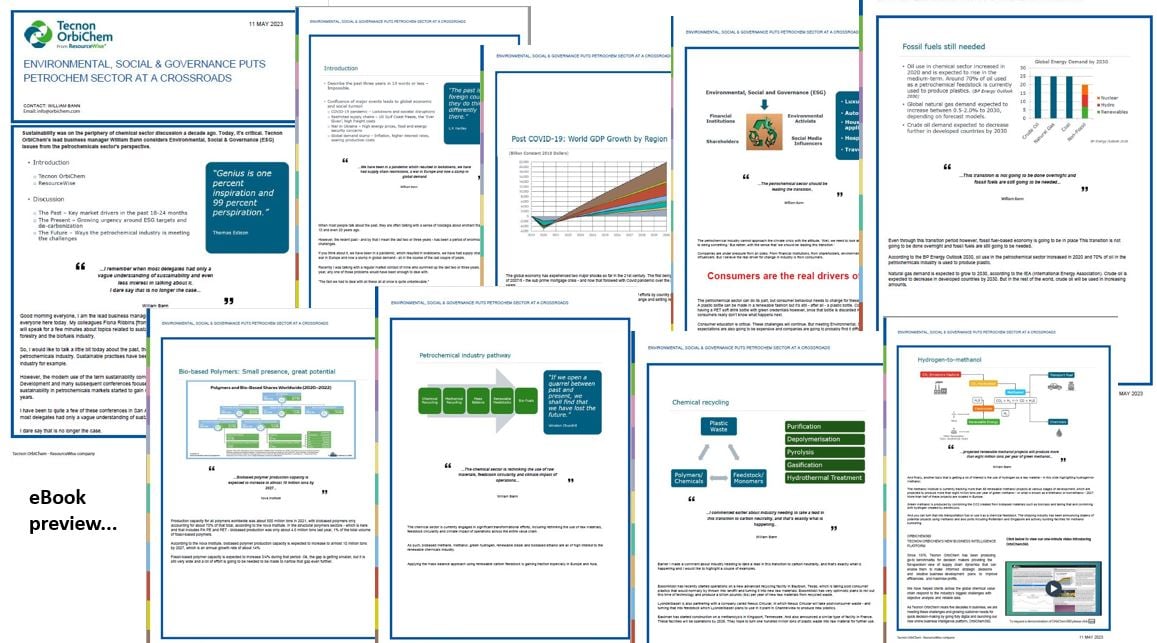 Forest fibre baskets

A presentation entitled

From the forest to fuels & chemicals: Trends & issues

from ResourceWise VP of global sales Matt Elhardt (pictured right) explores forest fibre basket potential. He considers investment targets alongside the issues faced by timberland owners and operators, and producers in 2023.

What can different regions – particularly the US south

–

offer a burgeoning biomass to useful chemicals sector? What are the options for harnessing the potential of lignin, cellulosics and paper/pulp mill output? And how is the legal landscape for residual wood feedstocks changing?

As the biomass sector grows, how can

R&D scientists

, chemical engineers and manufacturers harness the potential of lignin, cellulosics and paper/pulp mill output? And what legal frameworks surround residual wood as a chemical industry feedstock?

If you have ever wondered what the answer to these questions might be, fill the form below and be the first to see Elhardt's video and receive his presentation.

---
Low carbon fuels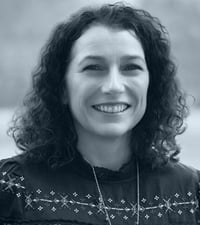 Prima Markets' business development manager Fiona Ribbins (pictured left) tackles the hot topic of International competition for low carbon feedstocks in her presentation. Prima provides price reporting and market commentary on the renewable fuels market.
Prima and Ribbins (along with ResourceWise) were making their debuts at what is widely considered one of the petrochemical sector's premier global events.
A renewable fuels-focused business intelligence provider based in the UK, Prima is the newest addition to the ResourceWise companies – which also include Forest2Market, Wood Resources International and Fisher International.
As the chemicals industry looks to source its feedstocks from renewable and sustainable supply chains, the price benchmarking of wood raw materials that Forest2Market offers will be invaluable.
Similarly, the forest products industry price reporting of Wood Resources International and pulp & paper industry insight of Fisher International will help businesses identify the raw material streams that will replace fossil fuel-based feedstocks. ResourceWise will also be uniquely-positioned to allow decision-makers to compare the cost of each offering against traditional supply costs, wherever in the world a resource is located.
The remaining video presentations from this year's AFPM event are in production and will be available next week. Fill the form below and we will send the videos and presentations straight to your inbox.