Millions of molecules and megatons of biopolymeric materials from wood sources will meet new, and old, petrochemical-focused markets going forward. While the Tsunami of feedstocks envisioned has potential in sustainability terms, the sheer volume of need will spur intense competition.
That's the take-away message in a presentation From the forest to fuels & chemicals from Tecnon OrbiChem's parent company ResourceWise.
In it, ResourceWise's VP of global sales Matt Elhardt combines his forestry industry expertise and chemical engineering background to unravel the issues.
Untapping Potential
Already, biofuels markets have grown exponentially since the turn of the millennium. As the air transportation sector switches to sustainable aviation fuel (SAF), trillion-dollar deals will emerge. And carbon negative materials forerunner Origin claims to be scoping business opportunities to the tune of $10 billion. The opportunity for a wood-based bioeconomy is enormous.
Logs of all sizes, branch tops, slash, pins, thinnings and residuals already act as fuel and feedstocks for infinite applications. Whether a log destined to be lumber—harvested wood for light-frame construction—or pins and thinnings mixed with bark and biomass to power a boiler, the managed wood industry is already significant.
---
'...An adult pine tree grows in about 40 years versus a couple of hundred million to convert peat to coal...'
Matt Elhardt, Global Sales Manager, ResourceWise
---
But Elhardt is seeing its potential open up further—and specifically in markets fed traditionally by fossilised carbon—petrochemicals. "Increasingly, what we are seeing is that companies prefer [wood-based carbon sources].
"Here's a couple of reasons: The formation is much quicker. You can grow an adult pine tree in the US south in about 40 years versus a couple of hundred million to convert peat to coal," Elhardt adds.
Is this really about old carbon versus new carbon?
It's a key question that Elhardt asks, but also, what form of carbon do businesses want in a new zero-focused world? Watch the clip below to find out.
---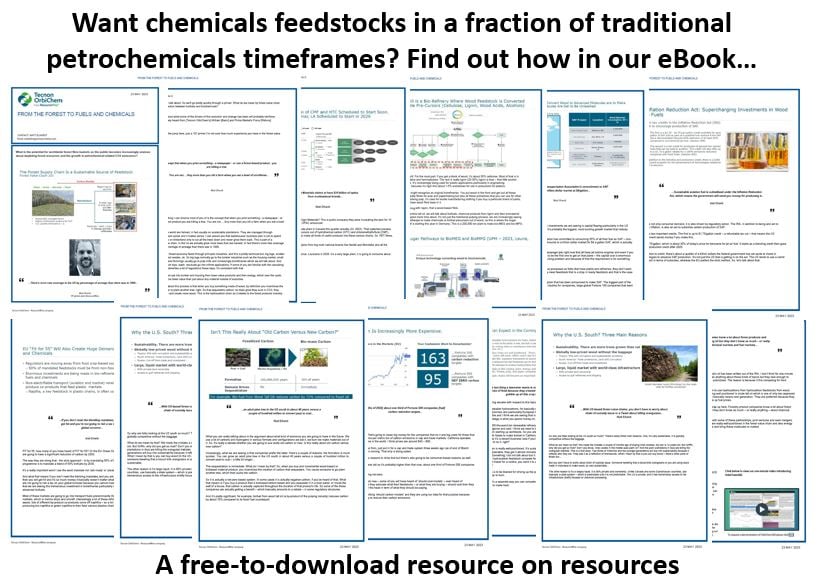 ---
Newer carbon sources within plants and trees can underpin sustainable value chains way beyond those—such as the pulp and paper industry—it supports today.
Lignin and cellulose, which are the structural components of wood biomass, are used for fuel. But it can also be used to make feedstocks for end products like plastics.
The chemical precursors Origin makes from wood include hydrothermal carbon (HTC) and chloromethylfurfural (CMF). These can be used as feedstock for paraxylene, for conversion to plastics end products such as PET and PTA.
A new Origin plant scheduled to start-up in Geismar, Louisiana in 2026 will consume around four million tons of wood annually.
Next generation chemicals
Finnish forest industry company UPM is poised to meet a growing need for key next generation biochemicals from a new 220 ktpa plant in Germany.
Due onstream later this year, it will deliver biobased monoethylene glycol (MEG) – used in de-icers and antifreeze products as well as coolants, aircraft anti-icers. It will also meet an increasing need for biobased monopropylene glycol (MPG).
MPG finds uses in a number of downstream industries but its key use is as a monomer in unsaturated polyester resins (UPR). Intensely unsustainable, its traditional production routes consume petroleum at a rate in excess of two billion pounds annually.
---
'...A lot of biomass-based sources of hydrocarbon feedstocks do compete for food...'
Matt Elhardt, Global Sales Manager, ResourceWise
---
Sustaina

bility substantiated
As Elhardt outlines in the presentation, wood and its value chain is really well-positioned to meet the growing need for biobased chemicals in a net zero future.
What is key is that wood resources do not create competition with the food value chain. 'A lot of biomass-based sources of hydrocarbon feedstocks [for fuels] do compete for food,' he explains.
A direct way that grain, palm and even corn-based feedstocks drive up the cost of food is 'because rather than send oil outputs to a food maker, it is sent to a refinery for use in biofuel production processes'.
That, of course, drives up the price of food, particularly when it is subsidised, says Elhardt.
'The last thing a lawmaker wants is to be blamed for driving up the price of food because they created this perverse incentive to gobble up all this crop to burn,' Elhardt adds.
Access the ResourceWise presentation series
Elhardt's presentation marked the final in a three-presentation seminar from ResourceWise company representatives. The seminar was held at the 2023 International Petrochemical Conference hosted by the American Fuel & Petrochemical Manufacturers.
The hot topic of international competition for low-carbon feedstocks was explored by Prima Markets' business development director Fiona Ribbins.

Prima provides price reporting and market commentary on the renewable fuels market.
Chemicals data intelligence provider Tecnon OrbiChem's lead business manager William Bann also presented at the event. Bann explored the question of petrochemical sector buy into ESG in his presentation How Will the Petrochemicals Industry Meet ESG Expectations?
To download the eBook and/or watch the full video, fill your details in the form and we will send what you need straight to your inbox.