The petrochemicals sector isn't ready to cast off its caution as Q2 begins. That's the recurring sentiment shared with Tecnon OrbiChem consultants at the International Petrochemical Conference in San Antonio, Texas last week.
Representatives of the world's leading chemicals producers meet our team at the American Fuel & Petrochemicals Manufacturers annual event to question and infer. In discussion of operational moves and trends, they allow our price analysts and sector experts to frame a snapshot of their business landscapes globally with fair accuracy.
It is clear that – interest rate rises, inflation and energy issues aside – petrochemical sector participants are poised to exploit opportunities as they arise. But post-Covid markets lack direction.
'Among epoxy resins market participants at least,' says Tecnon OrbiChem business manager Jennifer Hawkins, 'the mood was upbeat even though a banking crisis amid a stuttering economy loomed heavily in conversations.'
---
'...The road to recovery seems to be stretching by the day, with no end in sight...'
Tecnon OrbiChem business manager Jennifer Hawkins
---
The road to recovery
However, after a 'terrible' Q4 and January 2023, and a mediocre February, there have been reports that the first signs of life have started to emerge in March, Hawkins adds. 'Producers and consumers now have a reason to be a little more optimistic than they were at the end of last year.

'But the road to recovery seems to be stretching by the day, with no end in sight; in November/December 2022, most participants were hopeful that markets would pick up by the end of Q2, expecting the second half of 2023 to be a little more buoyant.
'But AFPM delegates admitted that they have had to reset these projections; demand is not expected to improve by much before 2024,' says Hawkins (pictured left).
As of now, says Hawkins the whole epoxy resins value chain – in both the US and Europe – is being held back by slow demand. 'This is not only in their domestic markets, but they are also being impacted by the downturn in China.'
Hawkins notes that Asian producers have had to find a home for their surplus material, while simultaneously competing with China in the export market. Consequently, prices spiralled down in the second half of 2022 and beyond.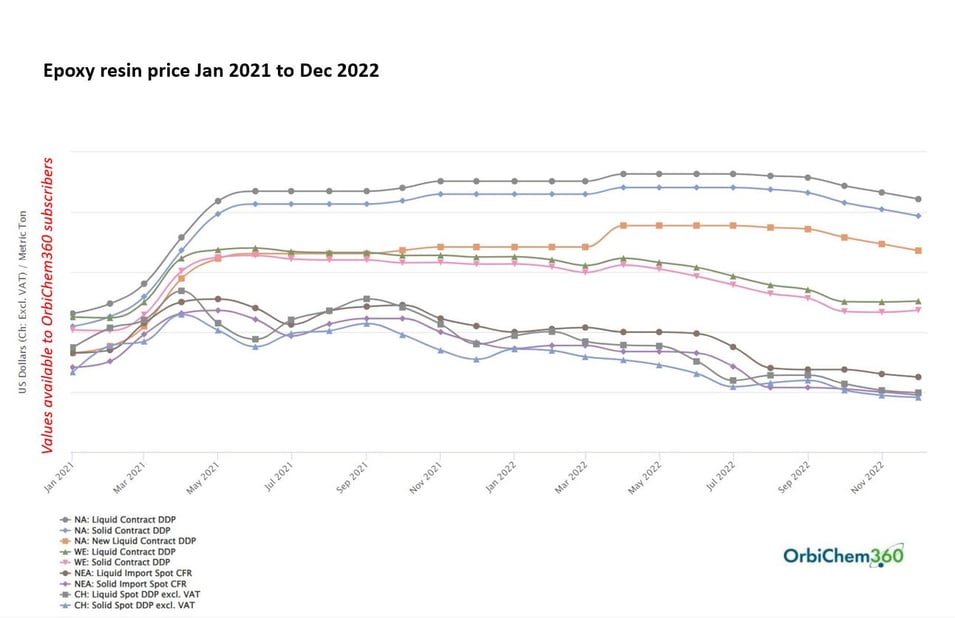 Source:

Tecnon OrbiChem
'But times are changing. Asian producers continue to cut production rather than sell at no margin. Import supply to the US and Europe has already been reduced and it is expected to carry on dwindling in the coming weeks.
'Chinese material, a few months ago, had been attractive when it was $2000-3000/ton cheaper than domestic material. But both European and US buyers say that the price differential between domestic and Chinese imported material has shrunk to levels that no longer justify the long, unreliable deliveries they have to put up with,' Hawkins explains.
---
'...ask for Q2 2023 volume commitment, they can't tell you.
No one knows what demand will look like next month, never mind the next quarter...'
Epoxy resin supply chain participant speaking to Tecnon OrbiChem business manager Jennifer Hawkins at AFPM
---
'Buyers are now being driven back to their domestic markets. Producers can see this and report that some customers have been approaching them, keen to lock into quarterly pricing. This is an about-turn from their previous positions in Q1 2023, when buyers put contracts on hold in favour of cheaper, spot-only purchases.
Says Hawkins, one supplier put it to me like this: 'When you ask them what volumes they want to commit to for the second half of 2023, they can't tell you. No one knows what demand is going to look like next month, never mind the next quarter.'
---
'...The ordering of oxo alcohols now happens later in the month than was previously the case...'
Tecnon OrbiChem senior consultant Rachel Uctas
---
Oxo alcohols: S

low, but stable





Oxo alcohol buyers and sellers attending the AFPM event reported markets in

March

as 'slow but stable' says Tecnon OrbiChem's senior consultant Rachel Uctas. 'Overall, the expectations for April and Q2 are rather muted,' adds Uctas, who monitors plasticisers and oxo alcohol markets.
Although there is optimism in volumes improving, 'underlying concerns around construction sector weakness and the impact of high interest rates and inflation on downstream demand remain,' Uctas says.
'These factors make it very difficult for companies to plan ahead because buyers tend to be cautious. Ordering now happens later in the month than was previously the case,' she adds.
As of the end of March 2023, freely negotiated prices for 2-EH and n-butanol were generally expected to remain flat to slightly firmer this April,'

adds

Uctas (pictured right).





Asian oxo alcohol producers were generally pessimistic about the state of their local markets. 'Some have a very negative view on the prospects for the Chinese market with little expectation of significant improvement this year.
Source:

Tecnon OrbiChem
Plasticisers





US plasticiser market participants also tended to report a stable demand picture going into the second quarter, with no real change to current market

dynamics expected in April, Uctas says.

Wire and cable and automotive industry demand remains positive, whilst the construction sector continues to underperform. Medical applications are stable.
---
'...Exports from Asia will continue to target markets like the US and Europe...'
Rachel Uctas
---
'Price expectations for April varied between stability and further small reductions, (depending on plasticiser) driven by competition from imported plasticisers from Asia.
'The Chinese market's failure to rebound significantly thus far is a concern for US and international producers as it is likely to mean that exports from Asia will continue to target markets like the US and Europe,' Uctas adds.



Mixed signals in acetyls

'The general outlook for the US Gulf Coast acetic acid market,' says Tecnon OrbiChem's lead business manager William Bann, 'remained mostly positive moving into the second quarter of 2023.' However, some vinyl acetate monomer market sources shared less positive sentiment about potential market conditions during the next three-month period, Bann adds in his reflections on the AFPM event.
Acetyls market participants noted 'some mixed signals with regard to demand in key downstream markets at the end of Q1 – with paints and coatings demand reportedly under pressure due to weaker construction activity,' according to Bann (pictured left).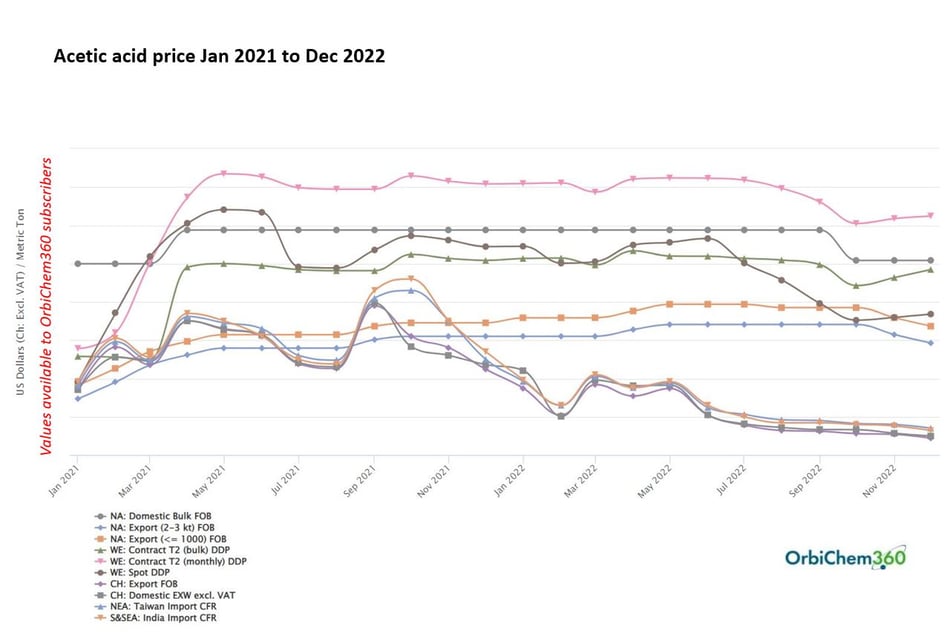 Source:

Tecnon OrbiChem
Peaking PET with bottle season upon us
Acetic acid consumption into the PTA markets was looking stable heading into the peak demand season for PET bottle resin,' says Bann. 'Recent production problems in the US Gulf Coast, mostly caused by severe weather, have been solved and acetic acid market participants are looking forward to an extended period of stable operations.
'Polyamide resin market participants at the AFPM conference also were taking a wait-and-see approach to North American markets in early Q2. The downstream markets were much weaker than anticipated in the first quarter, which lead to sharp price corrections earlier in the first quarter.

'Prices have stabilised, more or less, heading into Q2, but questions remain over downstream demand in automotive and construction sectors.



'High interest rates coupled with already elevated levels of inflation are expected to keep consumers on the sidelines in the near term. Some recovery is expected later in second quarter, but market sources said it is difficult to know when downstream demand will improve given the current economic headwinds,' says Bann.
Polyester & PET
At least two polyester and PET chain products – paraxylene (PX) and purified isophthalic acid (PIA) – are primed for volatility. PX because of the criticality of its feedstock mixed xylenes to gasoline blending – more especially on the cusp of the driving season – during the Northern Hemisphere summertime.
And PIA – which will likely be subject to disruption due to capacity expansions in Asia.
Tecnon OrbiChem's South Korea-based senior consultant Hyun-Min Kim (pictured below right) focuses on polyester fibre & resins and PET resin markets. Kim says participants remain cautious about Q2 demand as 'there is no clear outlook yet due to global economy uncertainty'.
Since PET resin is an essential product – for beverages mainly – in consumers' daily lives, overall demand for PET resin should hold up in Q2 and in the summer season, he adds.
New capacities coming onstream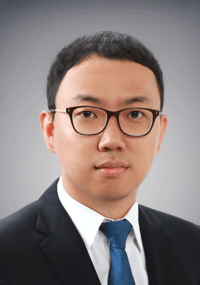 'However, with huge capacity expansions scheduled for realisation in China in the second half of 2023, there is an expectation that market fundamentals will be weakened from Q4 2023.
'The operating rates of European Union-based PET producers was around 50% in February and March, however there is an expectation that utilisation rates will increase from April as demand may start to pick up.
As Tecnon OrbiChem explored in a blog post Chinese PET imports in EU Anti-dumping investigation last week, there is an expectation among EU PET producers that the EU commission will impose anti-dumping duties on Chinese origin PET resin.
While such a move would help to protect EU PET resin producers against the uncompetitively low price of Chinese PET resin imports, EU PET resin buyers may suffer from rising prices.
Asian PIA participants face push out
PIA producers in South Korea are enduring poor market conditions, which they expect to worsen as more PIA capacity comes onstream. For example, India's Reliance will start its new PIA production from Q2, 2023.
'As South Korean purified terephthalic acid (PTA) producers suffered from massive capacity expansions in China and were forced to shut down PTA production permanently in the past, PIA will be likely to go through the same process, says Kim.
So eventually, other PIA producers in Korea and Japan, will be facing severe low profitability PIA business. One PIA producer in Japan is only able to run one line at present.
Dwindling demand
Tecnon OrbiChem business manager Javier Rivera notes that there is currently a lower than expected end demand for PET related products in North America's polyester chain. 'This is impacting operating rates of PX, PTA, PET, monoethylene glycol (MEG) and PIA plants in North America,' he says.

'Changes in consumer habits due to the pandemic benefited consumption of PET-related products in the last two years with uncertainty about whether these were structural or just temporary improvements.
'The PET, PTA, PIA industry is placed between the high cost to produce in North America (high PX disparities encouraging higher PET imports), and uncertainty about what the final demand level for PET-related products will be in the coming months.
'The start of the driving season and high demand for high-octane products could increase PX disparities in Q2 2023, which could encourage PET, PTA and PIA imports, reducing domestic operating rates,' adds Rivera (pictured left)
The price graphs pictured are drawn from Tecnon OrbiChem's business intelligence platform. Find out more about OrbiChem360 here and email info@orbichem.com for a demonstration.
A blog post we published earlier this week was based on a panel discussion that took place during the event. Read our blog post Reflections from the C Suite: AFPM panel report.