Worldwide demand for fibres has strongly mirrored GDP for many decades. Having closely monitored markets since 1975, Tecnon OrbiChem predicts a 135 million ton annual requirement by 2030. Demand is unlikely to encounter a departure from GDP growth, however methods for meeting it may be subject to change. The relative contributions of the different fibre types may flux, though polyester will continue to dominate.
With production having tripled since 2000, fibres derived from natural cellulose – a non-petrochemical source – are gaining interest. In the textile industry, cellulose is the fastest growing fibre group. Analysts at the nova Institut, the German research and consultancy enterprise, also identify cellulose fibres as the bioeconomy's largest investment sector.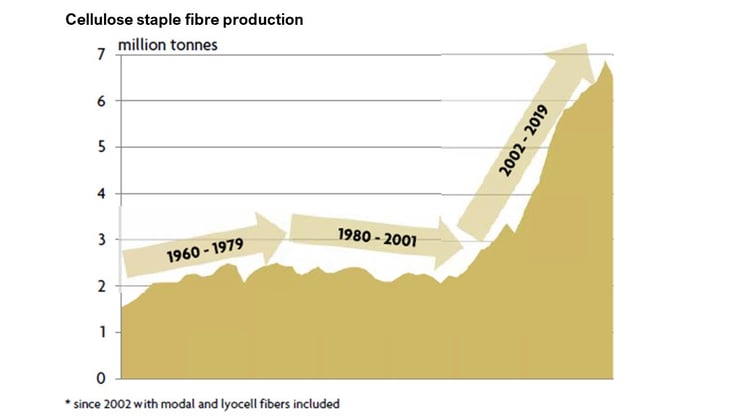 Source: The Fiber Year
Tecnon OrbiChem's chemical industry business information platform OC360 indicates annual demand is currently six million tons – mostly in staple, with filament in decline.
Presenting at the 8th Beijing International Man-made Fiber Conference in 2000, Tecnon OrbiChem founder Charles Fryer, alongside former colleague Tim Johnson, spoke of 'a great future' for a fibre that had a strongly hydrophilic nature. The reason was that production of cotton was unlikely to grow, since it is a crop with high demands on prime agricultural land.
There was a need for a fibre with as good a moisture-absorbing character as cotton. 'Viscose is the major contender,' he advised.
---

'We thought this hydrophilic fibre could be either polyester microfibre or viscose

but microfibre was quite new and we were not sure if it would meet the need we saw developing'

Charles Fryer, Senior Advisor, Tecnon OrbiChem

---
In recollection 22 years on, Fryer says: 'Tim and I were not sure what the new hydrophilic fibre might be, although we clearly saw the market opportunity. We thought it could be either polyester microfibre or viscose but microfibre was quite new and we were not sure if it would meet the need we saw developing.'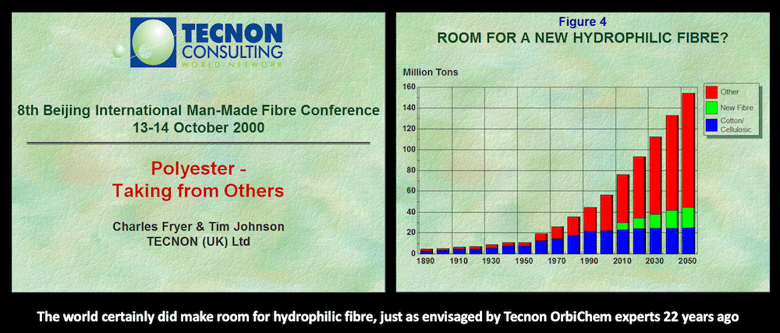 'In fact, we should have thrown in our lot with viscose. Polyester microfibre has had a certain success in the following 20 years. However, we now see it was viscose that had the hydrophilic character to meet the market need for a cotton replacement,' Fryer adds.
Hydrophilic material is water-loving, hydro – from the Greek terms for water and philos means love. The surface allows water droplets to easily spread, thereby wetting a larger area than hydrophobic fibres. Non woven hydrophilic materials make ideal disposable wipes in both personal care and cleaning product application. Softness, water absorption and degradability are the properties these products need. But increasingly viscose or lyocell fibres are being used, usually in blends, in clothing.
Cellulose fibres surge
Cellulose fibres – or cellulosic fibres – include a variety of sub-types of fibre. Often, they are better known as rayon (particularly in the US), or by their sub-type name, viscose, lyocell or modal. Their key feature is that they are manufactured from natural cellulose pulp or using a proportion of recycled cellulose pulp.
Non-natural fibres are often sub-classified as synthetic if they are petroleum-derived. If they are obtained by working up natural materials, they are classed as artificial. Both together are termed 'man-made fibres'. Cellulosic fibres are generated by treating wood pulp with chemicals that covert it to a liquid form which can be spun into fibre, used in non wovens or extruded as cellophane film.
Cotton on to cellulose
The properties of cellulose fibres are closer to cotton than synthetic fibres to the touch. Aside from the quality feel, brand owners are attracted by cellulosic fibres' green credentials. Driven to reduce reliance on petrochemical feedstocks to reduce CO2 emission, plant-based starting materials are gaining increasing traction.
Viscose fibres' softness also makes them suitable for use in garments worn next to the skin, such as underwear. For outerwear clothing where softness is at a premium – such as for cardigans and jerseys – it is a popular choice too. Viscose staple sportswear is also a growing trend. But 100% viscose would wear out rapidly, so it is usually blended with cotton or synthetic fibre in clothing.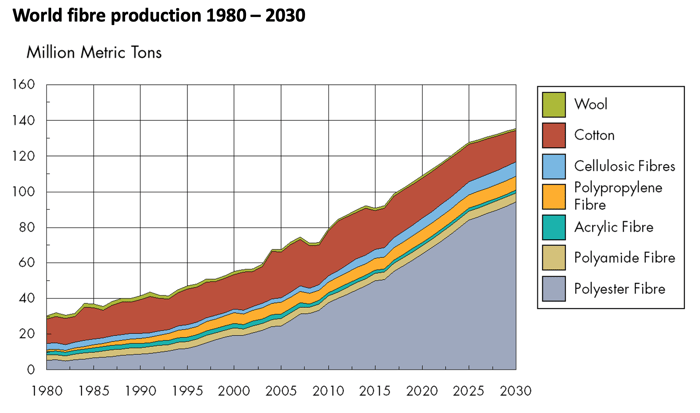 Source: Tecnon OrbiChem
There are two key processes in operation worldwide. There are two key processes in operation worldwide. The viscose process produces almost 90% of the world's viscose filament and staple fibre. The lyocell process is used for much of the remaining percentage. There is also cellulose acetate staple, in a declining market for cigarette tow, but potential to expand into other applications.
Greening, not whitewashing
The cellulose fibre industry freely admits more could, and should, be done to make the chemical processes for cellulose fibres more environmentally friendly.
The viscose process uses carbon disulphide (CS2) as a solvent and although this is recovered within the process, there is the challenge of handling this unpleasant material as well as discharges to atmosphere of wastes including sulphur and sulphuric acid. With more widespread use of new technologies, standards have improved in recent years. The lyocell process, in contrast, uses N-methylmorpholine N-oxide as the solvent. With its reduced waste volumes, and almost full recovery of all chemicals used in the process, it is seen as more environmentally friendly. Another development, the cellulose carbamate process is currently seen as the most viable option to substitute, or retrofit, existing viscose technology to decrease CS2 input.
Recycling key to cellulose benefit
Recycling post-consumer garments back to cellulose pulp has been mooted as a potential way to increase the sustainability to the cellulose fibre industry. The process involves the extraction of cellulose fibres from cotton or viscose scraps, garments or mixed textile containing cellulose fibres. This is followed by a process for blending the resulting pulp with a virgin feed generated from wood.
Although there is strong push towards the use of sustainable materials, it is inconceivable that cellulose fibres will come anywhere close to substituting synthetic fibres in the foreseeable future. Polyester/polyamide demand will continue to grow in tandem with global population and GDP increases. As with green chemicals and polymers, cellulose fibres are a tool for reducing CO2 output and achieving global warming targets. Cellulose fibres, however, lack the hard-wearing properties of polyester and polyamide.
Besides textile recycling, brand owners and consumers must be willing to pay higher prices for sustainable materials.
In fact, cellulosics are growing faster than mature fibres like acrylic or polyamide because of their softness, water absorption character and cotton-like qualities.
Tecnon OrbiChem's business information platform OC360 covers international fibres markets whilst our Bio-Materials ChemFocus provides insight into developments in the bio-based chemical sector.