Tecnon OrbiChem's founder and senior advisor Charles Fryer first attended the European Petrochemical Association's (EPCA) Annual Meeting in 1978 and almost all since.
Attending this year will be Tecnon OrbiChem's experts who cover a range of chemical family groups and products key to industries including plastics, polyesters, personal care, engineering materials and textiles.
What started as a cohort of Europe's petrochem industry managers over half a century ago, Fryer says, is exceeded in attendance by the American Fuel & Petrochemical Manufacturers' conference only.
Fryer recalls EPCA starting in 1968 'as a small association of managers in the petrochemical industry in Europe, with the main objective of meeting annually to discuss the environment in which the industry operates.
'Over the next years the meeting expanded and by the late 1970s had become the major chemical industry event for exchange of information, operating within the limits of competition legislation,' Fryer adds.
Demonstrating digitisation
EPCA will be only the second in-person event at which we showcase our chemicals business intelligence and data platform OrbiChem360 – launched in 2021. The event can also be attended virtually.
The platform leverages all of the valued data and analysis on petrochemicals supply/demand/capacity streams globally gathered by Tecnon OrbiChem during a history spanning six decades.
---

'By the late 1970s EPCA had become the major chemical industry event for exchange of information'

Charles Fryer, founder & senior advisor, Tecnon OrbiChem

---
The event centres around the Hotel InterContinental Berlin, Berlin, Germany from 4 – 6 October 2022. Tecnon OrbiChem will be hosting client meetings at the Pullman Hotel, Suite-Genf Room – a three-minute walk away just across the street. Besides our expert guidance, we will offer refreshments and OrbiChem360 demonstrations.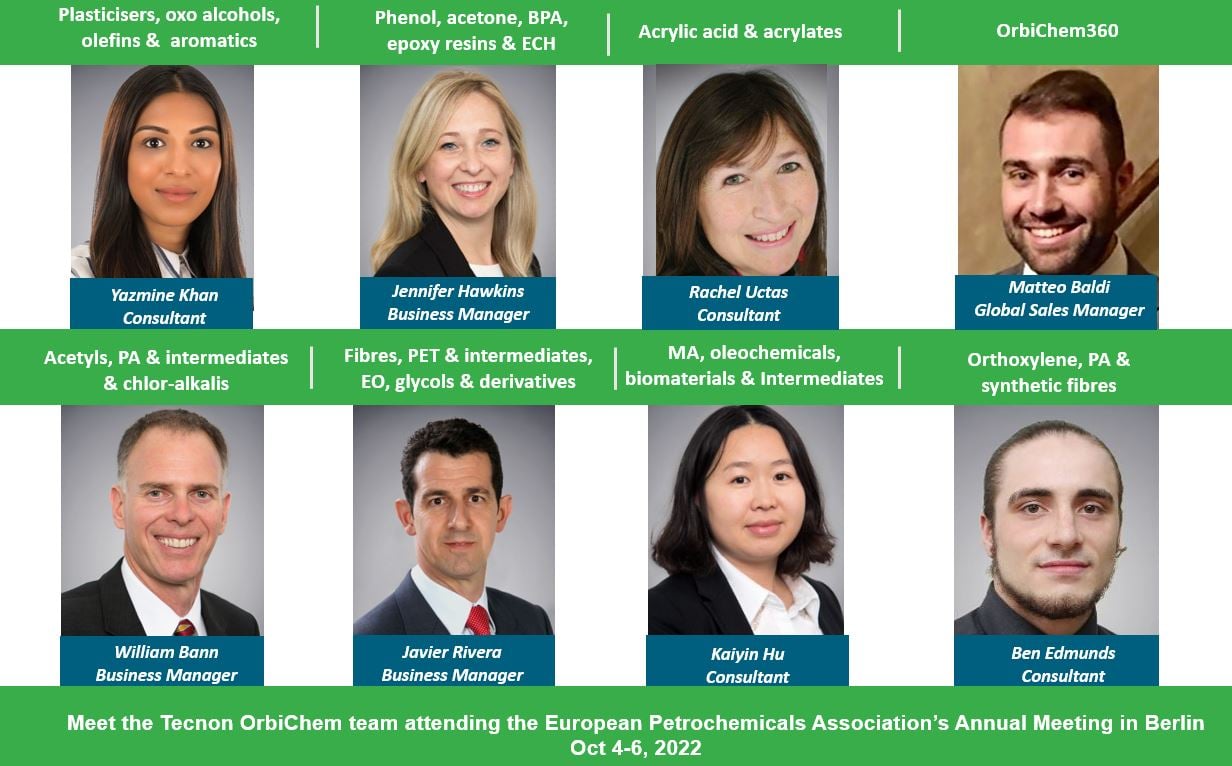 Specific expertise in acetyls, chlor-alkalis, fibres, ethylene oxides, glycols & derivatives as well as polyamide and PET intermediates will be available from business managers William Bann and Javier Rivera.
Fellow Business Manager Jennifer Hawkins will be on hand for phenol, acetone, bisphenol A, epoxy resins and epichlorohydrin-related inquiries. For plasticisers, oxo alcohols, olefins and aromatics, be sure to schedule a meeting with consultant Yazmine Khan.
Fellow consultants Rachel Uctas, whose area of expertise includes acrylic acid and acrylates, Ben Edmunds who covers orthoxylene, phthalic anhydride and synthetic fibres and Kaiyin Hu, our expert in maleic anhydride, oleochemicals, biomaterials & intermediates.
Global sales manager Matteo Baldi is attending EPCA for the first time. He joined Tecnon OrbiChem earlier this year and is already an accomplished user and demonstrator of the OrbiChem360 platform.
To schedule a meeting with a member of the Tecnon OrbiChem team, email us at info@orbichem.com and tell us a little about what we can help you with. Be sure to identify the chemical/chemical family or families relevant to your query and we will ensure it reaches the right expert.
We look forward to meeting you at this prestigious members only event.