As the chemical industry strives to reduce its carbon footprint, Tecnon OrbiChem is following the steps being taken. A variety of such steps are being developed, covering recycling of plastics, reducing energy consumption, moving to sustainable raw materials such as bio-derived feedstocks, employing blue hydrogen and renewable electricity, to name those leading the march. Tecnon OrbiChem, together with its partners in ResourceWise, monitors the evolution of the chemical industry towards sustainability.
And what better place to showcase that evolution than the American Fuel & Petrochemical Manufacturers' (AFPM) springtime event – the International Petrochemical Conference (IPC) – which Tecnon OrbiChem has attended for over 30 years.
It is at this petrochemicals' premier global event that Tecnon OrbiChem will introduce its sister companies from ResourceWise later this month. The group of companies – Tecnon OrbiChem, Forest2Market, Fisher International, Wood Resources International and Prima Markets – have successively merged starting in 2019 and continue to grow in 2023.
Feedstock flexibility
Tecnon OrbiChem's commentary, data and price analytics span feedstocks for multiple industries including plastics, coatings, fibres, engineering materials and textiles. Our global team of consultants have scrutinised their supply chains from a petrochemicals feedstock angle since the 1970s, and a biomaterials perspective since the 1990s.
As manufacturers within these industry sectors look for sustainable alternative value chains, the ResourceWise group of companies' combined insight will increasingly provide for the chemical industry's widening information needs.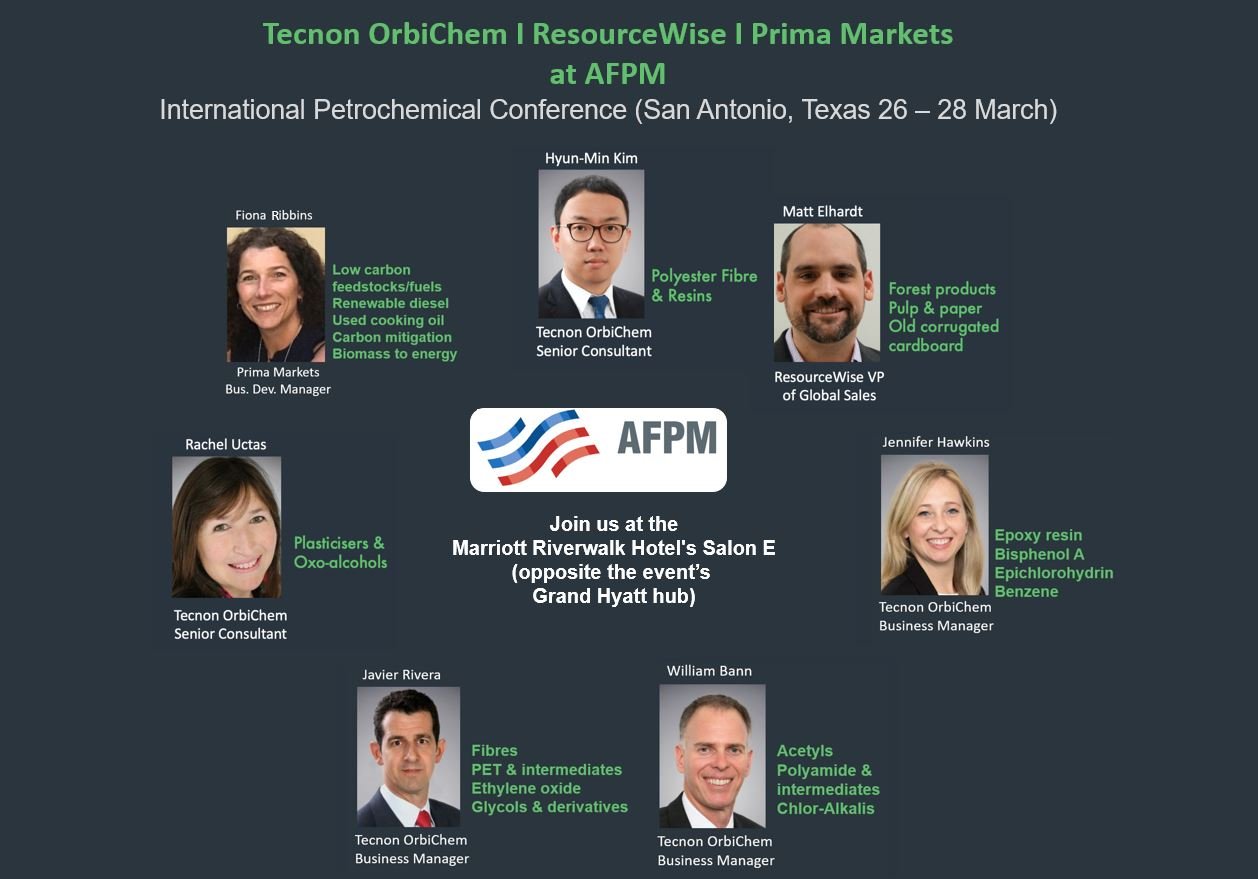 ---

'...The petrochemical industry is at a crossroads. Concepts such as 'sustainability' and 'low carbon' - topics on the periphery of discussions 10 years ago - are now critical...'

William Bann, Lead Business Manager, Tecnon OrbiChem

---
The three-day event centres around the IPC's HQ at the Grand Hyatt San Antonio, Texas from 26-28 March 2023. Tecnon OrbiChem will host client meetings in Salon E at the San Antonio Marriott Riverwalk Hotel across the street.
William Bann, Lead Business Manager, Tecnon OrbiChem says: 'The petrochemical industry is at a crossroads following unprecedented challenges during the past two to three years.
'Concepts such as 'sustainability' and 'low carbon' - topics on the periphery of discussions 10 years ago - are now critical in helping companies meet aggressive targets set for slowing climate change.'
Expert insights
Bann will attend the event alongside the consultancy team. He has more than 25 years' experience covering and analysing petrochemical value chains. He has helped Tecnon OrbiChem customers identify the solutions that will assist them in business for over 13 years.
Specific expertise in acetyls, chlor-alkalis, fibres, ethylene oxides, glycols & derivatives as well as polyamide and PET intermediates will be available from Bann and fellow business manager Javier Rivera.
Another Tecnon OrbiChem business manager Jennifer Hawkins will be on hand for epoxy resins, bisphenol A, epichlorohydrin, benzene-related inquiries. She is the Tecnon OrbiChem representative to see for a demonstration of our new weekly reporting capacities.
Our latest weekly price reporting product monitors epoxy resins, bisphenol A, epichlorohydrin across 12-week timeframes using charts that also present production margins for China/Asia output. Such frequency in updates can be a vital tool for purchasers considering arbitrage opportunity or simply frustrated by the volatility of the region's price movements. To find out more read Weekly reports launched: Epoxy resins, epichlorohydrin & bisphenol A in Asia & China.
For plasticisers and oxo alcohols, look no further than our senior consultant Rachel Uctas, a Tecnon OrbiChem team member of 15 years. Joining us from our China-based team of consultants is Hyun-Min Kim, who joined Tecnon OrbiChem 17 years ago. Min brings his knowledge of polyester fibre & resins markets - both globally and in his home region of Asia - to the event.
Platform demo
Tecnon OrbiChem's team will be available for meetings throughout the conference. Whether you wish to explore its consultancy services, learn more about our chemicals business intelligence and data platform OrbiChem360 or see its potential in a demonstration.
OrbiChem360 leverages all of the valued data and analysis that subscribers have received from Tecnon OrbiChem for nearly 50 years. Launched in June 2021, it provides analysis for petrochemicals supply/demand/capacity streams globally.
From our sister company Prima Markets comes business development manager Fiona Ribbins. Low carbon fuels & feedstocks, sustainable aviation fuels, renewable diesel (hydrotreated vegetable oil), biomass to energy and used cooking oil – an international benchmark price Prima supplies to the Chicago Mercantile Exchange.
Ribbins will be available to demonstrate the latest innovation in the ResourceWise group of companies' line of data-driven research and reporting platforms. It's Carbon Mitigator Report compares the costs and benefits of physical decarbonised fuel types and technologies.
Finally, ResourceWise VP of global sales Matt Elhardt – who honed his strategic planning expertise over 20 years and joined the ResourceWise company Fisher International in 2012 – will be in attendance. Elhardt's broad knowledge includes forest products, pulp, packaging, old corrugated cardboard/containers.
Elhardt will demonstrate both Forest2Market's wood and fibre supply chain data intelligence platform SilvaStat360 and Fisher International's pulp and paper-focused platform FisherSolve at the event. Providing insight on pulp, paper waste and wood-based investment streams, mill strategies and innovation using biomass and wood residues are his forte.
If you would like to meet with one or more of our experts, do get in touch at info@orbichem.com.
Join our AFPM Breakfast Talk

Attendees from our sister companies will give presentations during a Breakfast event we have scheduled in our event hub Salon E on 27 March.
Elhardt will explore the role that global wood resources can play in the journey to net-zero. Ribbins will share insight on how waste streams such as used cooking oil and biobased compounds can meet 21st century feedstock and fuel demand.
Bann meanwhile will outline what he believes these raw material alternatives can bring to the petrochemical sector. There will be an opportunity to delve deeper into the issues raised during a Q&A session directly after the presentations.
---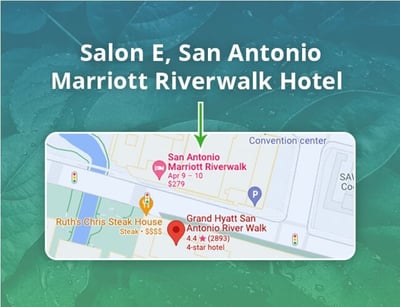 Click the image above to go to the event location in Google Maps