With annual capacity at almost 120 million metric tons globally, current polyester output is sufficient to meet any realistic demand level on the horizon. The technology underpinning the polyester sector – and the fossil-fuel based feedstocks that facilitate it – remain largely available (if costly) and efficient so the industry is unlikely to wane any time soon.
As of 2022, polyester remains the material of choice for many applications including blending into fabrics for clothing, textiles and plastic bottle manufacture. Importantly, all the products in its chain – paraxylene (PX), purified terephthalic Acid (PTA), monoethylene glycol (MEG), purified isophthalic acid (PIA), polyethylene terephthalate (PET) – remain abundantly available.
Still though, the sector is changing and June's World Bio Markets event made that abundantly clear...
---
VIEW FROM TECNON ORBICHEM'S GLOBAL SALES MANAGER MATTEO BALDI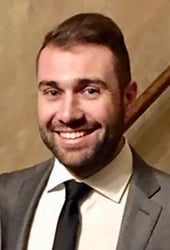 Misconceptions around the properties and capabilities of various materials, and the terms used in the bioeconomy, are common. The renewables sector is evolving so quickly, I am not surprised it's confusing to some participants.
IKEA's representative told delegates that the firm uses around 500 ktpa of glue and the same weight in coatings annually. Volumes like this will be difficult to scale up as new biomaterials in the near future.
When commodity materials are replaced by new materials, not only are the features important but also how long this product will last, the amount of energy needed to replace, as well as assurances that the product isn't competing with the food chain or harming the environment in some way.
---

I understand [only] because I'm immersed in businesses that clarify,

monitor and measure petrochemical and biomass resource use

---
Listening in at World Bio Markets 2022 in Barcelona in June, I instinctively recognised how vital comparative standards are to understanding sustainable feedstock streams, the need for indicators of how much fossil feedstock/CO2 is eliminated from a process, or how much energy is saved. The LCA, mass balance and recyclate ratio matters highlighted by the dozens of bioeconomy stakeholders presenting at the event were concepts I understood... But I understand them only because I'm immersed in businesses with platforms designed to clarify, monitor, measure and illuminate petrochemical and biomass resource availability.
Driving sustainable supply chains
Big brands are not the only ones to set strict limits for carbon use in the coming years, such as targets to integrate more biomass for products by 2030. We see such strategies developing widely. Soon enough, they won't simply be 'nice-to-have' policies but legislated mandates instead.
Sustainable management – and procurement – of biomass, pulp and paper is the purview of ResourceWise sister companies Forest2Market, Wood Resources International and Fisher International. Well-established within these brands are mechanisms for analysing the carbon footprint of raw materials underpinning many of the solutions explored during the event.
In the journey to Net Zero 2050, Tecnon OrbiChem offers vital chemical value chain expertise, without which, incrementally replacing petrochemicals with recycled and biobased feedstocks may prove overwhelming to market participants.
Without knowledge and understanding of where a global industry like ours has been, how can we possibly know where we can take it?
---
China drives the world's polyester market. The global superpower is responsible for around 65% of the world's total polyester output. China's production capacity increased exponentially since the start of the millennium, while European and American capacities have remained constant at around 10 million metric tons annually.
China's domination of global polyester supply means the raw materials settlements put in place by its companies provide the benchmark for procurement outside of the country too. Packaging applications is where the Americas, European and Middle Eastern polyester chain markets retain significance today.
Integral to success
The sector experienced a trend to integration as polyester producers further downstream the value chain opted to integrate upstream processes into their overall production output. While some are produce feedstocks themselves rather than buy them in, others invested in and/or partnered with the companies that might traditionally have supplied them. This is how brands have used integrations to their advantage – especially in China, where some textile filament producers have invested upstream and now have their own refineries.
---
Upstream companies are buying and partnering with companies further downstream to control the new feedstock and gain market share
Javier Rivera, Tecnon OrbiChem business manager fibres,
PET & intermediates, EO, glycols & derivatives
---
With a third of polyester production destined for the textile industry – alongside China/Asia's continued status as the world's biggest textile factory and key exporter of finished products – the Asian region is destined to lead the polyester sector going forward.
Value added collaboration
Sustainability has become a driver for integration based not just on the potential to reduce costs, but also to increase value, says Tecnon OrbiChem's Javier Rivera. 'Participants are purchasing and investing in downstream companies to be closer to the customer.' This is especially evident in recycling. Rivera adds.
'Upstream companies are buying and partnering with companies further downstream – and/or securing access to relevant technologies – with the view to understanding and controlling the new feedstock (bales) while also gaining market share.' In Europe and the US especially Rivera explains, this strategy allows companies to differentiate themselves and platform themselves as more sustainable.
'Is this the end of globalisation? Companies that think globally, act locally and take advantage of cost/value integration and multi-regional presence can prosper,' he says 'but the necessary element of this is a move away from China-based value chains.
'What this means is that the supply disruptions due to Covid, war and geopolitical tensions combined with aspirations for circularity, new feedstocks, production schemes is benefitting and encouraging regional industry. These trends are supported by brands and new technologies' Rivera adds.
World fibre production
Worldwide demand for fibres has closely mirrored GDP for many decades and is expected to do so for the foreseeable future. Despite the strong push towards sustainable materials, synthetic fibres will continue to dominate the polyesters market.
Cellulosics – according to the nova Institute – is the fastest growing fibre group and the bioeconomy's largest investment sector as of today. However, its 7-million-ton output accounts less than 6% of total fibre production in 2019. While there are a number of options for cellulose-based materials – as explored in our blog post

Cellulosic fibres: A world of opportunity

earlier this year, the development of sustainable polyester is beset by a lack of fully commercialised technologies and short supply of both recycled and biobased feedstock.
In terms of developing biobased options, the polyamides, PA 6 and PA 66, have proven difficult to master. However, as explored in our blog post
Recycled synthetics vs renewable fibres: Balancing sustainability

,
the endeavour of US-based Genomatica and

Italian firm

Aquafil to commercialise the technology moved a step closer to realisation in recent weeks.
From its Wusu, northwest China-based production facility, Cathay Industrial Biotech has been manufacturing PA5X at a capacity of 100ktpa since July 2021. The PA5X series – designed for use in automotive parts, electronics and electricals along with the 3D printing industries – is based on the firms biological long-chain diacids and its proprietary biobased DN5 (1,5-pentanediamine). The feedstock is renewable starchy plants.
Terryl PA 5,6 meanwhile, is Cathay's part biobased polyamide fibre for the textile industry. It comprises a minimum 45% renewable carbon content and is comparable performance properties to PA 6 and PA 66 according to the company.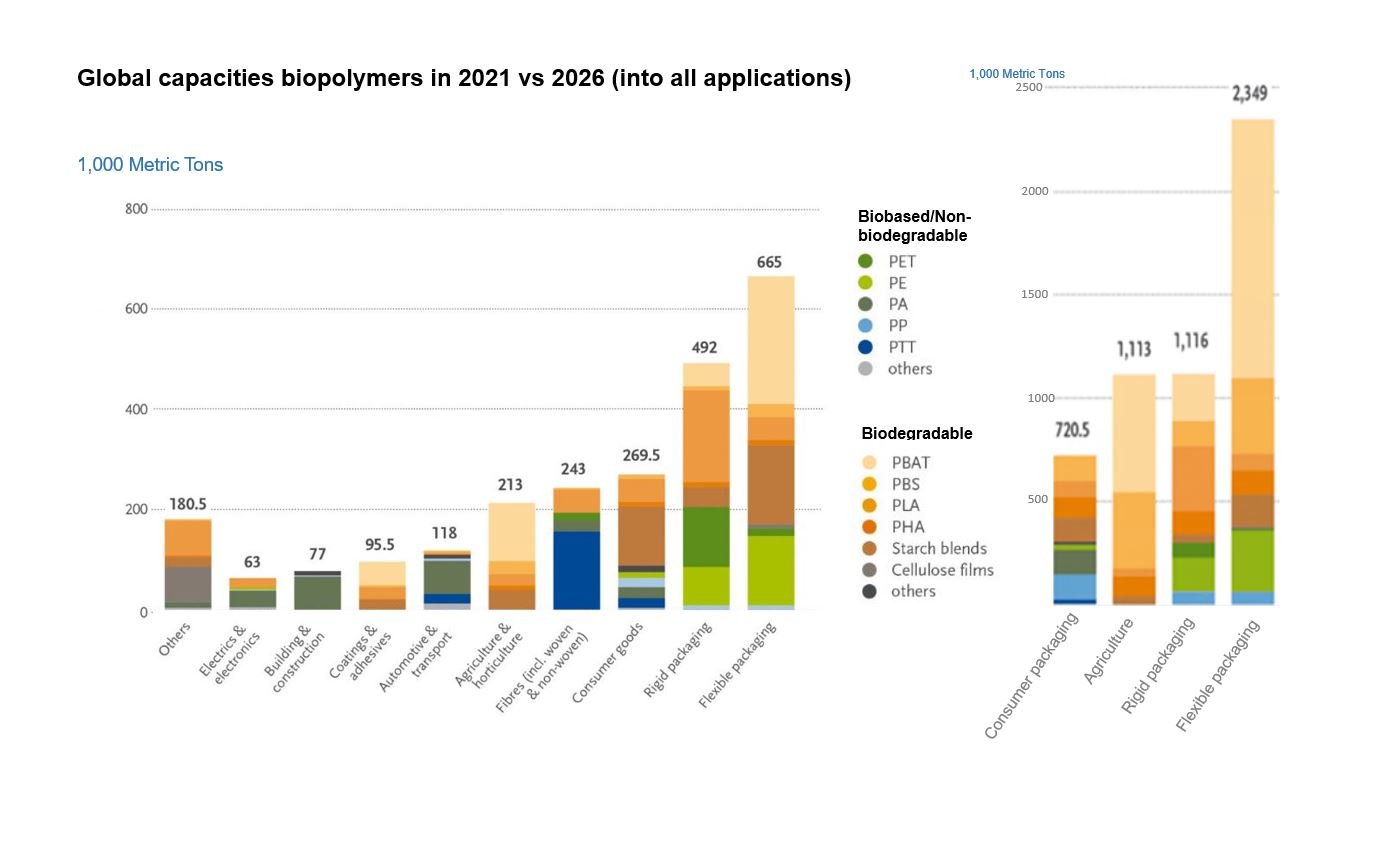 Source:
nova Institute & European Bioplastics
Building block, starting blocks
The polypropylene (PP) manufactured by Austria's Borealis relies on steam cracking or propane dehydrogenation and is polymerised with renewable feedstock. Life cycle assessment (LCA) of the PP yield indicates a 120% reduction compared to the company's fossil-based feedstock processes. And its cradle-to-gate carbon footprint reduction is over 2.1 kgCO2 kg/eq, says Borealis based on LCA by researchers at Germany's ifeu (Institute of Energy).
Borealis also commercialised a biobased polyethylene (PE) based on the same processes as its PP. Brazilian-headquartered Braskem however, maintains the largest market share in bio-PE having developed the world's first internationally-certified linear polyethylene using 100% renewable raw materials around 15 years ago. A copolymer of renewable feedstock-based ethene and butene, Braskem obtained the butene via the dehydration of a biobased butanol produced through the fermentation of sugarcane.
Braskem's production process even captured and locked CO2 into the plastic, it said, helping reduce GHG emissions. Today, the company has five polypropylene plants in the US.
Recent innovation in the bio-naphtha space came from Honeywell Universal Oil Products (OUP) earlier this year. The company's bio-naphtha offering - made from used cooking oil and animal fats - reduces the product's GHG footprint by up to 80% compared with petroleum-based naphtha, says Honeywell OUP.
Trend to sustainability
The Environmental, Social and Governance aspirations of brands, the drive to circularity and even ever-looming climate crises are accelerating bioeconomic trends. In a post-Covid, early 2020s world, sustainability is a priority for companies, consumers, policy markers and investors behind green financing strategies. Technological advances are underpin the use of blockchain for supply chain transparency and traceability.
There are several chemical and agriculture companies now using blockchain for transparency and traceability in their supply chain. Indeed, a University of Cambridge research highlight 'the tamper-proof nature of data stored on a blockchain' and how the technology is 'used to ensure the integrity of supply chain records, enable traceability of the products, and eliminate fraud'.1
Rivera's World Bio Markets 2022 presentation explores cost/price dynamics, global overcapacity and regional tightness in the polyester chain, pointers on how to approach the decarbonisation of polyester chain companies and more. Fill in the form below and we will send the e-Book of the presentation straight to your inbox.
References